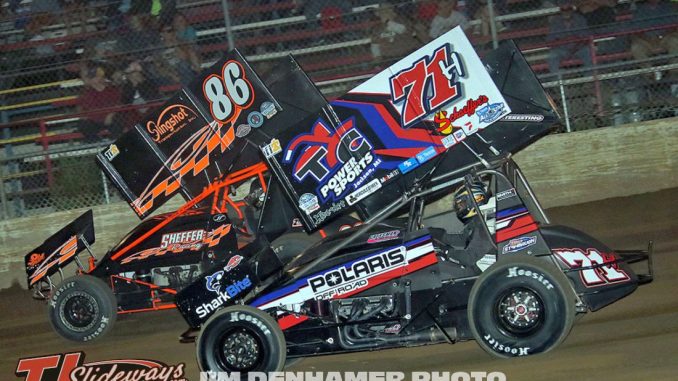 By T.J. Buffenbarger
(April 20, 2023) — The Great Lakes Super Sprints will kick off sprint car racing in the Great Lakes State for 2023 with a two night stand at I-96 Speedway in Lake Odessa, Michigan and Crystal Motor Speedway in Crystal, Michigan. Here are five storylines to follow leading into the season opening weekend.
• There were times in Michigan sprint car racing the past 30 years where the winner was almost a foregone conclusion at certain races and any other result was a pleasant surprise.
That is no longer the case in 2023 with Great Lakes Super Sprints
During the 2022 season GLSS had 10 different feature winners in 20 races. This was impressive parity in a division that has often been dominated by a handful of alpha teams in the area over the past 30 years.
Some of this parity can be attributed to the quality of the race teams participating. Last year GLSS had 5-7 car owners with hired drivers with strong equipment at most of the races joined by several topflight owner/operators with equally as strong equipment.
History has shown that at some point on the local level a team will break away from the pack, but there is a strong likelihood that may not have for a few more seasons as select races on the GLSS tour are likely to be deeper in competition than they were in 2022. Teams that win should celebrate appropriately because there are going to be no easy victories with GLSS this season.
• Over the past two seasons we have seen several young drivers starting to emerge as potential stars of the future. 2023 should be an exciting year to continue watching their development.
22-year-old Danny Sams III nearly came away with a GLSS championship last season. Sams' stand on the gas style caught regional attention last year. After finishing second to Henry Malcuit Saturday at Wayne County Speedway with the Fast on Dirt tour, Sams is slated to return to I-96 Speedway on Saturday with the 360 sprint cars.
Keith Sheffer II was the standout young star of 2022 as a two-way threat winning the Great Lakes Traditional Sprints championship and having strong runs with the wing in GLSS events. While Sheffer has been a force in the area without the wing, he is still looking for his first career winged sprint car victory with GLSS.
Tylar Rankin took advantage of picking up a ride with Greg Wheeler in 2022 and picked up several feature wins with an opportunity to show off his talent outside of his family-owned team. Rankin took some lumps early in the 2022 season, but finished strong and looks to continue that momentum in 2023.
One driver we have not seen as much of locally even though he a resident of the Mitten is Darin Naida, who has done most of his sprint car racing in Ohio at Attica Raceway Park and Fremont Speedway. Naida will drive Steve Harding's #14H this weekend with GLSS to give Mitten fans a rare glimpse of the up-and-coming star in his home state.
• While some of the established stars such as Max Stambuagh, Dustin Daggett, Ryan Ruhl, Gregg Dalman, and Phil Gressman along with some of the up-and-coming stars mentioned above often dominate headlines, there are some other drivers that you will want to keep an eye on early this year that I often classify as "sneaky good".
Brad Lamberson picked up a feature victory last year at I-96 Speedway with GLSS. Lamberson scored a solid podium finish at Waynsfield Raceway Park with a stout field of cars present at the season opener.
Other drivers such as Chase Dunham and Luke Griffith have won features and have been impressive at times against what has become extremely deep competition with GLSS. These are just three of the many drivers that may not grab the headlines every week, but you will want to keep tabs on early this season.
• The youth movement is not just reserved for drivers. Several facilities have new owners/promoters or are still in the infancy of the tenure owning and managing a racing facility.
It was announced this week that Larry Curtis is the new owner at I-96 Speedway with Eric Meyers serving as general manager. The 2023 season is still being promoted by GLSS president Barry Marlow while Curtis and Myers lead improvement projects around the facility before taking the reins in 2024.
Jake LeBaron and Steven Vernon now own Crystal Motor Motor Speedway with Brian LeBaron serving at GM. New boards on the grandstands, a new pit check in and parts building, and several other infrastructure improvements have already been completed. Unfortunately, Crystal was one of the few spots in the start that experienced rain on Saturday, so their stewardship will begin with GLSS coming to town on Saturday.
New owner promoters are also present at Thunderbird Raceway and Winston Speedway (which do not have sprint car programs booked for 2023) while Butler Motor Speedway and Owendale Speedway promoters are also relatively new compared to their counterparts around the state.
Patience will be required from patrons as these new promotional groups find their way, but it is nice to see some fresh blood coming into that aspect of the sport making bold, much needed improvements to aging facilities.
• 2023 is a landmark year for Great Lakes Super Sprints as well. With the National Racing Alliance and GLSS falling under Barry Marlow's leadership, the group has full control over 360 sprint car racing in the area.
With the series divided into a Wolverine, Buckeye, and tour both series embarked on one of their most ambitious schedules in recent memory.
Throw in management of Great Lakes Traditional Sprints and 2023 is going to be hectic for Marlow and the rest of their team. Last season the quality of race day operations significantly improved at events I attended in person. I fully expect the series to build on that success in 2023 and continue to grow an organization that has gained some national attention in recent years.