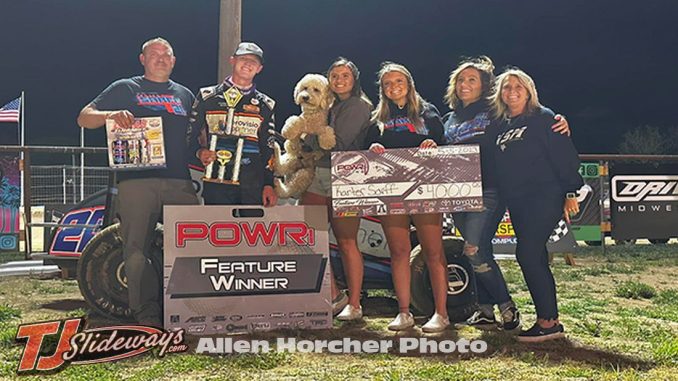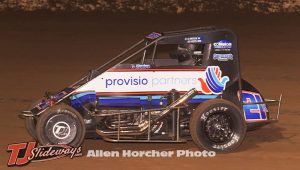 From POWRi
SWEET SPRINGS, Mo. (May 5, 2023) — Karter Sarff would sweep the night at Sweet Springs Motorsports Complex on Friday Night to capture his second career victory with the POWRi National & West Midget League, in a thrilling thirty-lap feature event.
Early SSMC competition with twenty-three POWRi National and West Midget League entrants would see Shannon McQueen start things off in a quick hot-lap time of 11.962 as Andrew Felker, Jacob Denney, and Karter Sarff each earned heat racing wins.
Setting the feature field would find high-point qualifier Karter Sarff and front-row counterpart Andrew Felker each jockeying for positions as the green flag flew with Sarff gaining the slight advantage on the opening lap as Felker, Jacob Denney, Xavier Doney, and Mitchell Davis were all found racing inside the top five.
Battling intently for the full thirty-lap feature would find Karter Sarff leading the first dozen laps with a smooth high line running Jacob Denney briefly overtaking Karter for the front of the field as Andrew Felker continued to cling tightly to the leading pair.
Finding the faster line and smoothest surfaces after a late race restart would witness Karter Sarff drive back to the point position after Denney would jump the cushion off turn four in an epic campaign for the lead.
Holding the prized placement until the checkers waved would find Karter Sarff clinch his first POWRi National Midget League feature victory of 2023 to notch his second career league win in an instant classic event at Sweet Springs Motorsports Complex.
"What an awesome race, it was aggressive but clean and I knew I had to figure something out quickly after that restart. After Jacob got by me when I was on the bottom as the leader there isn't a lot you can do with him finding the high side," said an elated Karter Sarff in the Sweet Springs victory lane ceremony. Adding, "I wasn't going to lead the first twenty laps and lose it on the final ten, thanks again to Jacob and Andrew for running a great, clean race; I owe this win to everyone on the team that makes this whole thing happen."
Leading late and battling determinedly, Jacob Denney would valiantly place a solid runner-up as Andrew Felker would round out the podium placements while being in contention for the feature victory all thirty laps.
Hunting for the front would witness Corbin Rueschenberg finish fourth as Jake Andreotti would hard-charge past nine other competitors to round out the POWRi National Midget League top-five finishers at Sweet Springs Motorsports Complex on Friday Night.
POWRi National Midget League / POWRi West Midget Car Series
Sweet Springs Motorsports Complex
Sweet Springs, Missouri
Friday, May 5, 2023
Advanced Racing Suspension Heat Race #1 (8 Laps)
1. 11A-Andrew Felker[4]
2. 26R-Corbin Rueschenberg[2]
3. 13-Elijah Gile[5]
4. 71E-Mariah Ede[6]
5. 51X-Joe Walker[1]
6. 00-Talin Turner[8]
7. 23-Ashton Thompson[3]
DNS: 89-Todd McVay.
Auto Meter Heat Race #2 (8 Laps)
1. 25-Jacob Denney[3]
2. 3N-Xavier Doney[1]
3. 19K-Riley Kreisel[2]
4. 7-Shannon McQueen[4]
5. 25M-Jake Andreotti[6]
6. 97K-Cooper Williams[8]
7. 11J-Todd Jackson[5]
8. 31X-Alex Midkiff[7].
Schure Built Suspension Heat Race #3 (8 Laps)
1. 21K-Karter Sarff[5]
2. 56-Mitchell Davis[1]
3. 50-Daniel Adler[3]
4. 31K-Kyle Beilman[4]
5. 44-Branigan Roark[7]
6. 60E-Mark Billings[2]
DNS: 7D-Michelle Decker.
A-Main (30 Laps)
1. 21K-Karter Sarff[1]
2. 25-Jacob Denney[3]
3. 11A-Andrew Felker[2]
4. 26R-Corbin Rueschenberg[5]
5. 25M-Jake Andreotti[14]
6. 50-Daniel Adler[9]
7. 56-Mitchell Davis[7]
8. 3N-Xavier Doney[6]
9. 7-Shannon McQueen[12]
10. 97K-Cooper Williams[16]
11. 71E-Mariah Ede[8]
12. 51X-Joe Walker[17]
13. 13-Elijah Gile[4]
14. 23-Ashton Thompson[20]
15. 11J-Todd Jackson[19]
16. 44-Branigan Roark[11]
17. 00-Talin Turner[15]
18. 31K-Kyle Beilman[13]
19. 60E-Mark Billings[18]
20. 7D-Michelle Decker[22]
21. 31X-Alex Midkiff[21]
DNS: 19K-Riley Kreisel
DNS: 89-Todd McVay.