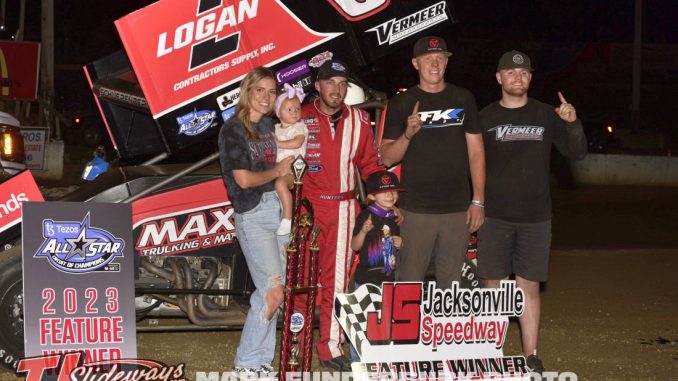 From Tyler Altmeyer
JACKSONVILLE, Ill. (May 12, 2023) — For the first time since 1994, the Tezos All Star Circuit of Champions presented by Mobil 1 invaded Jacksonville Speedway in Jacksonville, Illinois, and for Sikeston, Missouri's Hunter Schuerenberg, the return was worth its weight in gold, perfecting the bullring's tight quarters for the sixth All Star victory of his career, and a $6,000 top prize.
Schuerenberg, who now owns All Star victories in five different states including Illinois, Wisconsin, Pennsylvania, Ohio, and New York, commenced his winning march from the front row, forced to fend off a series of early race haymakers from Lane Racing's Chris Windom. Despite all attempts, Windom was left with no choice but settle for second; a great statistical pad as it was his first podium of the season.
Although it was Schuerenberg's race to lose, the action behind the ace of the Vermeer Motorsports No. 55 was hot and heavy, as former Series champion and Texas hotshoe, Aaron Reutzel, and two-time and defending Series champion, Tyler Courtney, each did their best to solidify hard charger honors. Reutzel would ultimately climb six spots to find third at the finish with Tyler Courtney advancing 11 to finish fourth. JJ Hickle, in control of the Ohio-based Seeling Motorsports No. 97, rounded out the top five.
"This win is really big for us. I can't say I've been too happy with myself so far this year. I think the guys are starting to give me a race that I really like to drive," Hunter Schuerenberg expressed. "I came into the weekend with the goal to really slow my pace down and make better decisions. Looks like that mentality is starting to pay off. This win goes out to our car owner, Tony. I know he's had a rough few days and we're all thinking about him."
Tezos All Star Circuit of Champions
Jacksonville Speedway
Jacksonville, Illinois
Friday, May 12, 2023
Hercules Tire Qualifying
1. 26-Parker Price Miller, 10.204[4]
2. 8-Aaron Reutzel, 10.274[2]
3. 55-Hunter Schuerenberg, 10.278[11]
4. 9X-Paul Nienhiser, 10.403[1]
5. 5T-Ryan Timms, 10.418[10]
6. 22-Riley Goodno, 10.424[20]
7. 97-JJ Hickle, 10.436[30]
8. 70-Scotty Thiel, 10.441[18]
9. 35-Zach Hampton, 10.461[27]
10. 9-Chase Randall, 10.464[23]
11. 21H-Brady Bacon, 10.466[3]
12. 1-Brenham Crouch, 10.508[19]
13. 29-Sye Lynch, 10.616[13]
14. 51B-Joe B Miller, 10.643[15]
15. 7BC-Tyler Courtney, 10.647[7]
16. 5D-Zach Daum, 10.663[17]
17. 87A-Austin Hartmann, 10.671[12]
18. 4-Chris Windom, 10.673[28]
19. 28M-Conner Morrell, 10.732[34]
20. 50K-Kyle Bellm, 10.753[8]
21. 23-Zeth Sabo, 10.830[29]
22. 1T-Trevin Littleton, 10.845[6]
23. 71M-Caden Englehart, 10.901[32]
24. 3B-Shelby Bosie, 10.914[31]
25. 45-Tim Shaffer, 10.920[33]
26. 7-Tyler Lee, 10.960[25]
27. 47-Korey Weyant, 10.985[21]
28. 44-Chris Martin, 11.006[36]
29. 42P-Preston Perlmutter, 11.011[22]
30. 9K-Kyle Schuett, 11.013[38]
31. 10S-Jeremy Standridge, 11.186[37]
32. 44B-Cory Bruns, 11.262[35]
33. 52F-Logan Faucon, 11.267[14]
34. 70S-Eric Shelton, 11.691[26]
35. 15M-Jeff Masson, 11.976[24]
36. 7A-Will Armitage, 12.305[9]
37. 31-Joey Moughan, 12.511[16]
DNS: 12G-Corbin Gurley, 12.511
Hunt Brothers Pizza Heat Race #1 (8 Laps)
1. 9X-Paul Nienhiser[2]
2. 8-Aaron Reutzel[1]
3. 26-Parker Price Miller[4]
4. 7BC-Tyler Courtney[6]
5. 21H-Brady Bacon[5]
6. 5T-Ryan Timms[3]
7. 1T-Trevin Littleton[8]
8. 50K-Kyle Bellm[7]
9. 7A-Will Armitage[9]
DNS: 12G-Corbin Gurley
CSI Shocks Heat Race #2 (8 Laps)
1. 70-Scotty Thiel[2]
2. 55-Hunter Schuerenberg[4]
3. 22-Riley Goodno[1]
4. 29-Sye Lynch[5]
5. 5D-Zach Daum[7]
6. 51B-Joe B Miller[6]
7. 1-Brenham Crouch[3]
8. 52F-Logan Faucon[9]
9. 87A-Austin Hartmann[8]
10. 31-Joey Moughan[10]
All Pro Aluminum Cylinder Heads Heat Race #3 (8 Laps)
1. 4-Chris Windom[2]
2. 9-Chase Randall[1]
3. 35-Zach Hampton[4]
4. 23-Zeth Sabo[3]
5. 47-Korey Weyant[6]
6. 7-Tyler Lee[5]
7. 42P-Preston Perlmutter[7]
8. 15M-Jeff Masson[9]
9. 70S-Eric Shelton[8]
Kistler Racing Products Heat Race #4 (8 Laps)
1. 28M-Conner Morrell[1]
2. 3B-Shelby Bosie[3]
3. 45-Tim Shaffer[5]
4. 97-JJ Hickle[4]
5. 71M-Caden Englehart[2]
6. 44-Chris Martin[6]
7. 44B-Cory Bruns[9]
8. 9K-Kyle Schuett[7]
9. 10S-Jeremy Standridge[8]
Elliotts Custom Trailers and Carts Dash (6 Laps)
1. 4-Chris Windom[2]
2. 55-Hunter Schuerenberg[1]
3. 26-Parker Price Miller[3]
4. 28M-Conner Morrell[4]
5. 9X-Paul Nienhiser[5]
6. 97-JJ Hickle[7]
7. 70-Scotty Thiel[6]
8. 35-Zach Hampton[8]
Classic Ink USA B-Main (12 Laps)
1. 5T-Ryan Timms[1]
2. 51B-Joe B Miller[3]
3. 44-Chris Martin[5]
4. 44B-Cory Bruns[8]
5. 7-Tyler Lee[4]
6. 10S-Jeremy Standridge[14]
7. 1T-Trevin Littleton[6]
8. 7A-Will Armitage[16]
9. 87A-Austin Hartmann[13]
10. 42P-Preston Perlmutter[7]
11. 12G-Corbin Gurley[18]
12. 70S-Eric Shelton[15]
13. 1-Brenham Crouch[2]
14. 52F-Logan Faucon[11]
15. 50K-Kyle Bellm[9]
DNS: 9K-Kyle Schuett
DNS: 15M-Jeff Masson
DNS: 31-Joey Moughan
Tezos A-Main (35 Laps)
1. 55-Hunter Schuerenberg[2]
2. 4-Chris Windom[1]
3. 8-Aaron Reutzel[9]
4. 7BC-Tyler Courtney[15]
5. 97-JJ Hickle[6]
6. 45-Tim Shaffer[13]
7. 5D-Zach Daum[18]
8. 9X-Paul Nienhiser[5]
9. 70-Scotty Thiel[7]
10. 26-Parker Price Miller[3]
11. 22-Riley Goodno[12]
12. 28M-Conner Morrell[4]
13. 9-Chase Randall[10]
14. 29-Sye Lynch[14]
15. 44-Chris Martin[23]
16. 3B-Shelby Bosie[11]
17. 23-Zeth Sabo[16]
18. 51B-Joe B Miller[22]
19. 5T-Ryan Timms[21]
20. 47-Korey Weyant[20]
21. 35-Zach Hampton[8]
22. 21H-Brady Bacon[17]
23. 71M-Caden Englehart[19]
24. 44B-Cory Bruns[24]
Winged 305 Sprint Cars
Heat Race #1 (8 Laps)
1. 21-Aaron Andruskevitch[1]
2. 5H-Joey Moughan[6]
3. B8-John Barnard[3]
4. 4-Chase Richards[2]
5. 79-Gage Montgomery[7]
6. 41-Joe Jiannoni[8]
7. 42-Kevin Battefeld[4]
8. 22K-Kelli Harter[5]
Heat Race #2 (8 Laps)
1. 00-Matt Fair[1]
2. 00R-Patrick Ryan[5]
3. 14T-Evan Turner[4]
4. 56-Matt Krieger[3]
5. 7B-Bret Bunton[7]
6. 7BX-Nick Guernsey[6]
7. 99-Jarrett Weyant[8]
DNS: 1T-Tyler Shoemaker
A-Main (20 Laps)
1. 5H-Joey Moughan[1]
2. 21-Aaron Andruskevitch[3]
3. B8-John Barnard[6]
4. 14T-Evan Turner[5]
5. 79-Gage Montgomery[7]
6. 00-Matt Fair[4]
7. 7B-Bret Bunton[8]
8. 41-Joe Jiannoni[11]
9. 56-Matt Krieger[9]
10. 99-Jarrett Weyant[13]
11. 22K-Kelli Harter[15]
12. 7BX-Nick Guernsey[12]
13. 4-Chase Richards[10]
14. 1T-Tyler Shoemaker[16]
15. 00R-Patrick Ryan[2]
DNS: 42-Kevin Battefeld
Contingency Awards/Results: Jacksonville Speedway | May 12, 2023:
Macri Concrete Hot Laps: Ryan Timms | 10.313
Hercules Tires Fast Qualifier: Parker Price-Miller | 10.228
Hunt Brothers Pizza Heat #1 Winner: Paul Nienhiser
Competition Suspension Inc Heat #2 Winner: Scotty Thiel
All Pro Aluminum Cylinder Heads Heat #3 Winner: Chris Windom
Kistler Racing Products Heat #4 Winner: Conner Morrell
Elliott's Custom Trailers and Carts Dash Winner: Chris Windom
Classic Ink USA Screenprinting and Embroidery B-Main Winner: Ryan Timms
Rayce Rudeen Foundation Contingency Award: Tyler Lee
Tezos A-Main Winner: Hunter Schuerenberg
Tezos A-Main Hard Charger: Tyler Courtney (+11)
Carquest Perseverance Award: Chris Martin