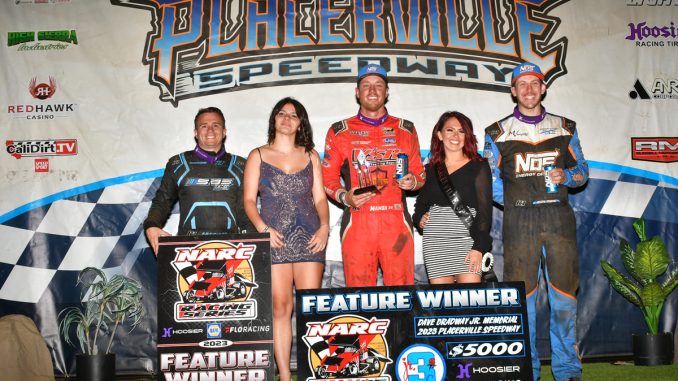 By Ben Deatherage
(6/3/23 – ) Placerville, CA … Colby Copeland scored the biggest NARC 410 Sprint Car Series victory of his career by winning the $5,000 Dave Bradway Jr. Memorial feature event at Placerville Speedway. Copeland captured the lead on the 14th circuit of the 40-lap contest to earn his fifth career NARC win and first with the tour at Placerville.
"This is definitely one we had marked on our calendar, so it's awesome to accomplish this and get this one," commented an ecstatic Copeland in victory lane. "It's no secret that I'm not the best at Placerville.
The main event fired off with the Farmer's Brewing/Mittry Construction #2X Maxim of Justin Sanders seizing the top position. Sanders set a frantic pace and led the 24-car highspeed freight train into lap traffic until the caution appeared on lap seven. On the restart, Copeland shadowed the leaders every move before making a well-timed pass on the bottom groove coming out of the fourth turn on the 14th-lap.
Copeland hit some hefty traffic himself, but the third and final yellow waved on the 21st circuit for Sanders, who stopped with a muffler issue. On the restart, the Jim & Annette Van Lare-fielded Van Lare Steering Repair/Bianchi Farms/NOS Energy Drink #5V Helix created a significant gap over track points leader Michael Faccinto. Despite Copeland getting boxed in slower traffic during the last few circuits, the sixth starting Faccinto was unable to capitalize. Copeland's winning margin was .0692 seconds.
"It's tough because we get to start celebrating, and then we start tearing up for Jim (Van Lare), the car owner who lost his dad last week," continued Copeland. "(Jim) worked his butt off this week to get the car ready to come to the Bradway, and I told him, 'Man, I know your dad would want us at Placerville. Don't sit at home. You can't be upset, let's go racing!' he said, 'Yeah, you're right,' and it was pretty obvious he was with us on this one and got us to victory lane tonight."
With lap money and bonuses, the Copeland and Van Lare team pocketed almost $8,000 for their efforts.
Faccinto finished a NARC career-best second with his performance in the F&F Racing/C&H Motor Sports #X1 Maxim for car owners Alan Bradway and Steve Tuccelli. Shane Golobic put the Matt Wood Racing/NOS Energy Drink #17W KPC in third for the second straight year at the Bradway race. Tanner Carrick's CVC Concrete/Conti Trucking #83T Maxim was fourth, after starting tenth, over fifth finishing Bud Kaeding in his Kaeding Performance/Alviso Rock/Al's Roofing Supply #69 Maxim.
"I can't say enough about this F&F team. We've had some fun this year, and a win is coming," stated Faccinto. "This is only our third 410 race, so we're clicking well, and obviously, Placerville is our home track. I was hoping for a little more lapped traffic with Colby, but he did a good job nonetheless."
Golobic stated in his interview, "Colby kind of ran away with it, so hats off to him, and I'm glad he got the win. A NOS Energy Drink teammate getting the win is really cool. It was a little frustrating race for me; I feel we couldn't quite get into the race for the lead. But good job to Faccinto and the whole #X1 team. I know this race means a lot to them, and I'm really happy for Jim Van Lare because of the rough week for him. I guess if you're going to have two guys ahead of you, it's some pretty cool stories for them both."
The balance of the top ten consisted of 11th starter Kaleb Montgomery, 12th starting Sean Becker, Justyn Cox from 14th, Kalib Henry, and NARC championship point leader Corey Day.
Stephen Ingraham was the Williams Roofing Hardcharger Award winner after charging from 24th to 15th.
Nick Parker and Jake Morgan flipped earlier in the heat race competition, and both were uninjured.
A-FEATURE (40 laps): 1. 5V-Colby Copeland [1]; 2. X1-Michael Faccinto [6]; 3. 17W-Shane Golobic [5]; 4. 83T-Tanner Carrick [10]; 5. 69-Bud Kaeding [3]; 6. 3-Kaleb Montgomery [11]; 7. 7B-Sean Becker [12]; 8. 42X-Justyn Cox [14]; 9. 17-Kalib Henry [4]; 10. 14-Corey Day [9]; 11. 41-Dominic Scelzi [17]; 12. 37-Michael Pombo [16]; 13. 51-Shane Hopkins [21]; 14. 88N-DJ Netto [18]; 15. 93-Stephen Ingraham [24]; 16. 83V-Dylan Bloomfield [13]; 17. 2L-Logan Forler [23]; 18. 94TH-Kyle Hirst [15]; 19. 29-Willie Croft [7]; 20. 46JR-Joel Myers Jr [19]; 21. 83SA-Isaiah Vasquez [22]; 22. 88A-Joey Ancona [20]; 23. 2X-Justin Sanders [2]; 24. 92-Andy Forsberg [8]
METTEC TITANIUM LAP LEADERS: Justin Sanders 1-13, Colby Copeland 14-40
WILLIAMS ROOFING HARDCHARGER: Stephen Ingraham (+9) 24th to 15th
ARP FAST QUALIFIER (29 Cars): Michael Faccinto – 10.662 seconds
BROWN AND MILLER RACING SOLUTIONS HEAT ONE (10 Laps): 1. 17-Kalib Henry [2]; 2. 14-Corey Day [1]; 3. 42X-Justyn Cox [6]; 4. 94TH-Kyle Hirst [3]; 5. X1-Michael Faccinto [4]; 6. 83SA-Isaiah Vasquez [5]; 7. 115-Nick Parker [7]
KIMO's TROPICAL CAR WASH HEAT TWO (10 Laps): 1. 17W-Shane Golobic [1]; 2. 83T-Tanner Carrick [2]; 3. 83V-Dylan Bloomfield [3]; 4. 41-Dominic Scelzi [5]; 5. 92-Andy Forsberg [4]; 6. 51-Shane Hopkins [6]; 7. 2L-Logan Forler [7]
BEACON WEALTH STRATEGIES & RAYMOND JAMES FINANCIAL HEAT THREE (10 Laps): 1. 29-Willie Croft [2]; 2. 2X-Justin Sanders [4]; 3. 3-Kaleb Montgomery [1]; 4. 88N-DJ Netto [5]; 5. 46JR-Joel Myers Jr [3]; 6. 26-Billy Aton [6]; 7. 12J-John Clark [7]
LIFELINE USA HEAT FOUR (10 Laps): 1. 69-Bud Kaeding [1]; 2. 5V-Colby Copeland [4]; 3. 7B-Sean Becker [2]; 4. 37-Michael Pombo [3]; 5. 88A-Joey Ancona [5]; 6. 93-Stephen Ingraham [6]; 7. 4-Burt Foland Jr. [7]; 8. 7-Jake Morgan [8]
SUNNYVALLEY "POWERED BY BACON" TROPHY DASH (6 Laps): 1. 5V-Colby Copeland [3]; 2. 2X-Justin Sanders [2]; 3. 69-Bud Kaeding [1]; 4. 17-Kalib Henry [5]; 5. 17W-Shane Golobic [4]; 6. X1-Michael Faccinto [6]; 7. 29-Willie Croft [7]; 8. 92-Andy Forsberg [8]
KAEDING PERFORMANCE B-FEATURE (12 Laps): 1. 51-Shane Hopkins [2]; 2. 83SA-Isaiah Vasquez [1]; 3. 2L-