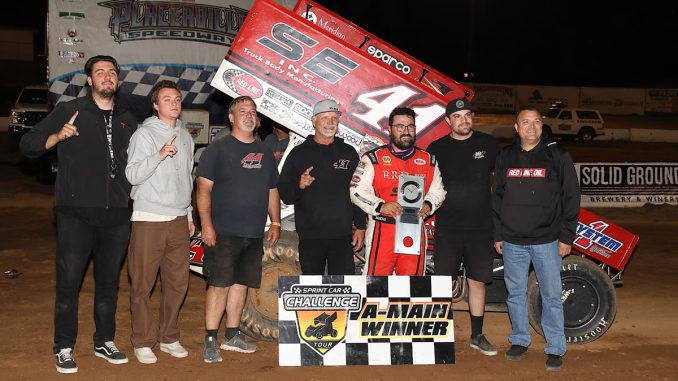 By Gary Thomas
Placerville, CA…Dominic Scelzi claimed his initial Placerville Speedway win during the 2021 Dave Bradway Jr. Memorial and returned Friday to bring home his second, this time around with the SCCT 360 Sprint Cars.
It marked his eighth career triumph with the Elk Grove Ford Sprint Car Challenge Tour presented by Abreu Vineyards, moving him into sole possession of second on the all-time list. The $3,000 win on opening night of the Bradway came aboard his familiar Scelzi Ent./ Red Rose Transportation No. 4D1 machine.
"This place has always been one of those tracks that's been a bit tough on me, but Jimmy Carr keeps giving me great race cars and we've come a long way as of late," said a happy Scelzi in victory lane. "It's such a tough field of cars out here in California that you almost have to be perfect. Corey Day has lit a fire under me as well and he pushed me hard there, but fortunately, I was able to fend him off and get my first 360 win at Placerville."
Aromas racer Justin Sanders snagged the High Sierra Industries Dash and led the early stages of the feature, which saw a long green flag run. Close racing occurred up front with several battles taking place throughout the field. With lapped traffic coming into play things got real as the top-five cars all bunched up.
Sanders was picking his spots well, but on lap 19 caught the berm just hard enough to send him sliding over the edge, allowing Dominic Scelzi the chance to grab the top-spot. Andy Forsberg and Corey Day were also right their looking to pounce on the leader. Day was able to make the pass of Forsberg and then came after Scelzi while running the extreme low line around the bullring.
Day would nip Scelzi at the line to lead lap 24, only to have the two-time NARC champ move back around to lead lap 25. As the race wound down Day hounded Scelzi's tail tank looking for a way by but banged the cushion hard in turn four on lap 38, which let Scelzi escape en route to the checkered flag.
Scelzi became the first two-time winner in SCCT action this year and crossed the stripe ahead of Day, Hanford's Michael Faccinto, Sanders and Fremont's Shane Golobic in the top-five. The remainder of the top-10 was filled out by Forsberg, Fresno's Caeden Steele, Roseville's Sean Becker, 18th starter Dylan Bloomfield and Arizona driver Ashton Torgerson.
Modesto's Tony Gomes must be commended for an excellent run through the alphabet soup on Friday. After winning the C-main he carved his way from 13th to fourth in the B-main, earning the final transfer spot on the last lap. Gomes then went from 24th to 13th in the feature to claim the Pit Stop USA Hard Charger Award. Joel Myers Jr. won the night's B-main, with the four 10-lap heat races going to Scelzi, Forsberg, Day and Colby Copeland.
A stout field of 41 cars competed on Friday night with the Elk Grove Ford Sprint Car Challenge Tour presented by Abreu Vineyards. Justin Sanders opened the night by earning an extra $500 for setting the overall fast time with a lap of 10.860 around the quarter mile.
SCCT Winged 360 Sprint Cars Results at Placerville Speedway- 41 Entries
A Main
1. 4D1-Dominic Scelzi[2]; 2. 41-Corey Day[6]; 3. X1-Michael Faccinto[5]; 4. 4SA-Justin Sanders[1]; 5. 17W-Shane Golobic[13]; 6. 92-Andy Forsberg[3]; 7. 121-Caeden Steele[11]; 8. 7B-Sean Becker[14]; 9. 83V-Dylan Bloomfield[18]; 10. 02-Ashton Torgerson[7]; 11. 69-Bud Kaeding[9]; 12. 17-Kalib Henry[10]; 13. 7C-Tony Gomes[24]; 14. 42X-Justyn Cox[20]; 15. 21-Shane Hopkins[16]; 16. 2L-Logan Forler[19]; 17. 3-Kaleb Montgomery[22]; 18. 83T-Tanner Carrick[12]; 19. 94TH-Kyle Hirst[23]; 20. 7-Jake Morgan[17]; 21. 9L-Luke Hayes[8]; 22. 12R-Mitchell Faccinto[15]; 23. 5V-Colby Copeland[4]; 24. 46JR-Joel Myers Jr[21]
B Main 15 Laps
1. 46JR-Joel Myers Jr[2]; 2. 3-Kaleb Montgomery[3]; 3. 94TH-Kyle Hirst[5]; 4. 7C-Tony Gomes[13]; 5. 94-Greg Decaires V[9]; 6. 88-Austin Torgerson[7]; 7. 21X-Gauge Garcia[8]; 8. 10-Dominic Gorden[14]; 9. 1-Chance Grasty[4]; 10. 98-Chris Masters[12]; 11. 9-Dustin Freitas[10]; 12. 14-Mariah Ede[11]; 13. 54S-Andy Gregg[6]; 14. 12J-John Clark[1]
C Main 12 Laps
1. 7C-Tony Gomes[1]; 2. 10-Dominic Gorden[5]; 3. 37-Michael Pombo[3]; 4. 77-Ryan Lippincott[9]; 5. 83SA-Isaiah Vasquez[6]; 6. 25S-Seth Standley[4]; 7. 8-Colby Wiesz[2]
Dash 6 Laps |
1. 4SA-Justin Sanders[2]; 2. 4D1-Dominic Scelzi[6]; 3. 92-Andy Forsberg[3]; 4. 5V-Colby Copeland[8]; 5. X1-Michael Faccinto[4]; 6. 41-Corey Day[5]; 7. 02-Ashton Torgerson[7]; 8. 9L-Luke Hayes[1]
Heat 1 10 Laps
1. 4D1-Dominic Scelzi[1]; 2. 69-Bud Kaeding[2]; 3. 17W-Shane Golobic[3]; 4. 4SA-Justin Sanders[4]; 5. 7-Jake Morgan[5]; 6. 12J-John Clark[7]; 7. 54S-Andy Gregg[8]; 8. 94-Greg Decaires V[9]; 9. 8-Colby Wiesz[11]; 10. 10-Dominic Gorden[6]; 11. 77-Ryan Lippincott[10]
Heat 2 10 Laps
1. 92-Andy Forsberg[1]; 2. 17-Kalib Henry[2]; 3. X1-Michael Faccinto[4]; 4. 12R-Mitchell Faccinto[3]; 5. 83V-Dylan Bloomfield[6]; 6. 46JR-Joel Myers Jr[5]; 7. 94TH-Kyle Hirst[7]; 8. 9-Dustin Freitas[10]; 9. 7C-Tony Gomes[8]; 10. 5H-Brinton Marvel[9]
Heat 3 10 Laps
1. 41-Corey Day[1]; 2. 121-Caeden Steele[2]; 3. 7B-Sean Becker[5]; 4. 02-Ashton Torgerson[4]; 5. 2L-Logan Forler[3]; 6. 1-Chance Grasty[7]; 7. 88-Austin Torgerson[6]; 8. 98-Chris Masters[10]; 9. 25S-Seth Standley[9]; 10. 93-Stephen Ingraham[8]
Heat 4 10 Laps
1. 5V-Colby Copeland[1]; 2. 83T-Tanner Carrick[3]; 3. 9L-Luke Hayes[2]; 4. 21-Shane Hopkins[5]; 5. 42X-Justyn Cox[7]; 6. 3-Kaleb Montgomery[4]; 7. 21X-Gauge Garcia[8]; 8. 14-Mariah Ede[10]; 9. 37-Michael Pombo[9]; 10. 83SA-Isaiah Vasquez[6]
Qualifying 1
1. 4SA-Justin Sanders, 00:10.860[1]; 2. 4D1-Dominic Scelzi, 00:10.887[11]; 3. 69-Bud Kaeding, 00:10.977[8]; 4. 17W-Shane Golobic, 00:10.980[5]; 5. 7-Jake Morgan, 00:10.981[6]; 6. 10-Dominic Gorden, 00:11.028[9]; 7. 12J-John Clark, 00:11.070[3]; 8. 54S-Andy Gregg, 00:11.172[4]; 9. 94-Greg Decaires V, 00:11.218[10]; 10. 77-Ryan Lippincott, 00:11.301[7]; 11. 8-Colby Wiesz, 00:11.334[2]
Qualifying 2
1. X1-Michael Faccinto, 00:11.074[9]; 2. 92-Andy Forsberg, 00:11.078[8]; 3. 17-Kalib Henry, 00:11.079[1]; 4. 12R-Mitchell Faccinto, 00:11.084[3]; 5. 46JR-Joel Myers Jr, 00:11.116[6]; 6. 83V-Dylan Bloomfield, 00:11.117[10]; 7. 94TH-Kyle Hirst, 00:11.127[7]; 8. 7C-Tony Gomes, 00:11.216[4]; 9. 5H-Brinton Marvel, 00:11.274[2]; 10. 9-Dustin Freitas, 00:11.355[5]
Qualifying 3
1. 02-Ashton Torgerson, 00:10.866[7]; 2. 41-Corey Day, 00:11.109[3]; 3. 121-Caeden Steele, 00:11.183[1]; 4. 2L-Logan Forler, 00:11.183[5]; 5. 7B-Sean Becker, 00:11.230[9]; 6. 88-Austin Torgerson, 00:11.235[2]; 7. 1-Chance Grasty, 00:11.284[6]; 8. 93-Stephen Ingraham, 00:11.307[4]; 9. 25S-Seth Standley, 00:11.566[10]; 10. 98-Chris Masters, 00:11.695[8]
Qualifying 4
1. 3-Kaleb Montgomery, 00:11.116[10]; 2. 5V-Colby Copeland, 00:11.128[3]; 3. 9L-Luke Hayes, 00:11.184[1]; 4. 83T-Tanner Carrick, 00:11.192[9]; 5. 21-Shane Hopkins, 00:11.197[7]; 6. 83SA-Isaiah Vasquez, 00:11.203[2]; 7. 42X-Justyn Cox, 00:11.208[5]; 8. 21X-Gauge Garcia, 00:11.260[6]; 9. 37-Michael Pombo, 00:11.366[4]; 10. 14-Mariah Ede, 00:11.689[8]