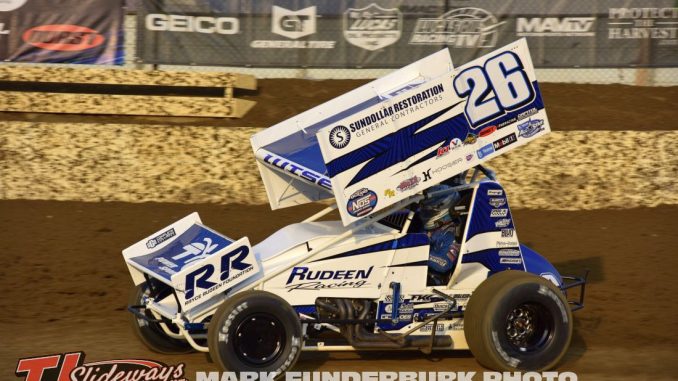 From Tyler Altmeyer
ATTICA, Ohio (June 9, 2023) — If opening night of the 41st edition of Ohio Sprint Speedweek presented by Cometic Gasket gives any indication to what Tezos All Star Circuit of Champions presented by Mobil 1 fans can expect the rest of the week, it's safe to assume that it's going to get wild in the Buckeye State, as Angola, Indiana's Zeb Wise concluded night one at Attica Raceway Park with an impressive highside hustle, resulting in a $6,000 Bert and Brigitte Emick Classic score.
Wise, now a three-time Attica Raceway Park All Star winner, exactly half of his career-total with "America's Series," performed his highside hustle, or "ripping the lip" as most would suggest, in the final corner of the final lap, ultimately driving by race leader and two-time All Star champion, "Sunshine" Tyler Courtney. Courtney and Wise had been battling back and forth for much of the second half of the 35 lapper with Courtney earning the lead initially on lap eight. Zeb Wise took control from Sunshine with a slider on lap 22, only to lose command to Courtney with a dive of his own on lap 31. The pair would resume their near-nose-to-tail campaign until Wise' aforementioned cushion blast on the final circuit, which eventually ended in a drag race; the final margin of victory was .281 seconds.
"That last lap was definitely win it or wear it. I'm not sure I ran three and four that hard all race until the last lap," Zeb Wise, ace of the Rudeen Racing/Rayce Rudeen Foundation/No. 26 sprint car, said. "I kinda made some poor decisions prior to that last lap that put us behind Tyler [Courtney] earlier in the race. I think I was able to move a little bit better than he could. It's just really rewarding to come here and put it all together, and I owe it all to the guys standing behind me.
"I don't know what it is about this place," Wise added. "I've just always been really comfortable here. I'm not sure if it's the banking or the shape, but I've always really enjoyed racing at Attica."
Jordan Ryan, who led the first seven circuits before losing the top spot to Courtney, finished third at Attica Raceway Park, followed by Craig Mintz and Cole Macedo.
"I made the wrong move into three," Tyler Courtney said. "I just feel it for my guys. I think I gave one away there, but hats off to Zeb and his team. It's been fun watching him grow up the last few summers. He's a really good race car driver."
Tezos All Star Circuit of Champions presented by Mobil 1
Ohio Sprint Speedweek
Attica Raceway Park
Attica, Ohio
Friday, June 9, 2023
Hercules Tire Qualifying
1. 55-Michael Kofoid, 12.695[21]
2. 26-Zeb Wise, 12.816[11]
3. 9-Trey Jacobs, 12.818[7]
4. 7BC-Tyler Courtney, 12.870[25]
5. 29M-Cole Macedo, 12.880[35]
6. W20-Greg Wilson, 12.896[14]
7. 23-Zeth Sabo, 12.901[8]
8. 09-Craig Mintz, 12.911[19]
9. 33W-Cap Henry, 12.991[32]
10. 25R-Jordan Ryan, 13.049[16]
11. 22-Brandon Spithaler, 13.057[4]
12. 48-Danny Dietrich, 13.057[22]
13. 70-Scotty Thiel, 13.076[26]
14. 49X-Cale Thomas, 13.081[6]
15. 8M-TJ Michael, 13.108[5]
16. 5T-Travis Philo, 13.153[2]
17. 2L-Logan Forler, 13.162[23]
18. 15C-Chris Andrews, 13.167[20]
19. 35-Stuart Brubaker, 13.184[27]
20. 45-Tim Shaffer, 13.199[28]
21. 25-Chris Myers, 13.233[12]
22. 71M-Caden Englehart, 13.242[13]
23. 4-Chris Windom, 13.273[17]
24. 7N-Darin Naida, 13.284[15]
25. 32-Bryce Lucius, 13.314[36]
26. 99-Skylar Gee, 13.329[18]
27. 2-Ricky Peterson, 13.334[3]
28. 19-Paige Polyak, 13.346[33]
29. 28M-Conner Morrell, 13.361[29]
30. 4S-Tyler Street, 13.435[10]
31. 97-JJ Hickle, 13.470[9]
32. 101-Cody Maroske, 13.480[30]
33. 5-Byron Reed, 13.520[34]
34. 55B-Jake Swanson, 13.596[31]
35. 75-Jerry Dahms, 14.013[1]
36. 29-Sye Lynch, 14.726[24]
Hunt Brothers Pizza Heat Race #1 (8 Laps)
1. 23-Zeth Sabo[1]
2. 22-Brandon Spithaler[2]
3. 9-Trey Jacobs[4]
4. 49X-Cale Thomas[3]
5. 8M-TJ Michael[5]
6. 5T-Travis Philo[6]
7. 97-JJ Hickle[8]
8. 2-Ricky Peterson[7]
9. 75-Jerry Dahms[9]
CSI Shocks Heat Race #2 (8 Laps)
1. 25R-Jordan Ryan[2]
2. W20-Greg Wilson[1]
3. 26-Zeb Wise[4]
4. 71M-Caden Englehart[5]
5. 4-Chris Windom[6]
6. 7N-Darin Naida[7]
7. 4S-Tyler Street[9]
8. 25-Chris Myers[3]
9. 99-Skylar Gee[8]
All Pro Aluminum Cylinder Heads Heat Race #3 (8 Laps)
1. 7BC-Tyler Courtney[1]
2. 09-Craig Mintz[2]
3. 48-Danny Dietrich[3]
4. 55-Michael Kofoid[4]
5. 35-Stuart Brubaker[8]
6. 29-Sye Lynch[9]
7. 70-Scotty Thiel[5]
8. 15C-Chris Andrews[7]
9. 2L-Logan Forler[6]
Kistler Racing Products Heat Race #4 (8 Laps)
1. 45-Tim Shaffer[2]
2. 33W-Cap Henry[1]
3. 32-Bryce Lucius[3]
4. 29M-Cole Macedo[4]
5. 19-Paige Polyak[5]
6. 5-Byron Reed[8]
7. 101-Cody Maroske[7]
8. 28M-Conner Morrell[6]
9. 55B-Jake Swanson[9]
Elliotts Custom Trailers and Carts Dash (6 Laps)
1. 26-Zeb Wise[2]
2. 25R-Jordan Ryan[1]
3. 7BC-Tyler Courtney[8]
4. 29M-Cole Macedo[3]
5. 9-Trey Jacobs[5]
6. 55-Michael Kofoid[6]
7. 45-Tim Shaffer[4]
8. 23-Zeth Sabo[7]
Classic Ink USA B-Main (12 Laps)
1. 5-Byron Reed[4]
2. 7N-Darin Naida[3]
3. 4S-Tyler Street[6]
4. 97-JJ Hickle[7]
5. 29-Sye Lynch[5]
6. 5T-Travis Philo[2]
7. 28M-Conner Morrell[12]
8. 99-Skylar Gee[14]
9. 2L-Logan Forler[13]
10. 55B-Jake Swanson[15]
11. 25-Chris Myers[10]
12. 15C-Chris Andrews[9]
13. 75-Jerry Dahms[16]
14. 2-Ricky Peterson[11]
15. 70-Scotty Thiel[1]
16. 101-Cody Maroske[8]
Tezos A-Main (35 Laps)
1. 26-Zeb Wise[1]
2. 7BC-Tyler Courtney[3]
3. 25R-Jordan Ryan[2]
4. 09-Craig Mintz[10]
5. 29M-Cole Macedo[4]
6. 55-Michael Kofoid[6]
7. 9-Trey Jacobs[5]
8. 45-Tim Shaffer[7]
9. 4-Chris Windom[19]
10. 48-Danny Dietrich[13]
11. W20-Greg Wilson[9]
12. 5-Byron Reed[21]
13. 35-Stuart Brubaker[18]
14. 8M-TJ Michael[17]
15. 32-Bryce Lucius[14]
16. 29-Sye Lynch[25]
17. 97-JJ Hickle[24]
18. 23-Zeth Sabo[8]
19. 33W-Cap Henry[11]
20. 7N-Darin Naida[22]
21. 71M-Caden Englehart[16]
22. 4S-Tyler Street[23]
23. 28M-Conner Morrell[26]
24. 19-Paige Polyak[20]
25. 22-Brandon Spithaler[12]
26. 49X-Cale Thomas[15]