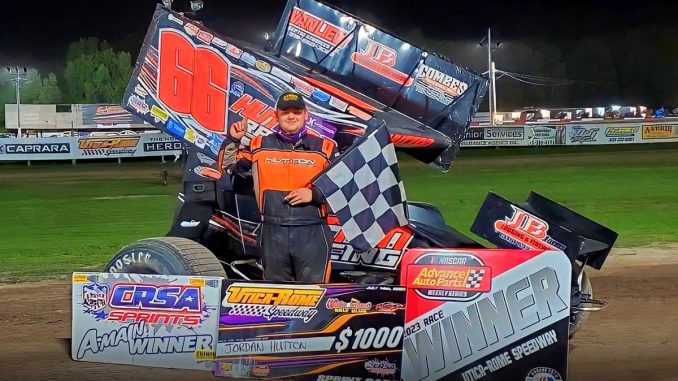 By Steven Ovens
(VERNON, NY) – Jordan Hutton set the tone for the night in his qualifying heat race for the rest of the field in the A-Verdi Storage Containers CRSA Sprints powered by Super Gen Products Friday night at Utica-Rome Speedway.
Hutton advanced from his last starting position to gain eight positions and win Heat Race 1. That earned Hutton maximum passing points to make the redraw- which he drew the three pill for the A-Main. Thomas Radivoy and Dalton Herrick also took qualifying heat checkered flags.
Every time Billy VanInwegen competes with CRSA in the VanDusen-owned No. 56V he has been a contender to win. After redrawing the pole position, the team felt great about their chances for another win in 2023. On the initial start though, things didn't go according to plan. VanInwegen's car stumbled on the green flag and "Billy V" could only watch as Hutton took an aggressive inside pass to Turn 1 to grab the runner up spot.
Grabbing the initial lead was Savannah, NY rookie Dillon Paddock who was making his first ever start at the "Home of Heroes." Paddock has been so close to capturing his first checkered flag in a 305 Sprint Car but would have to wait another night to break through. Paddock was great early on but couldn't make friends with the tricky outside cushion and would finish the event in fourth.
The pass for the lead appeared as though it would come in slower traffic as Paddock got held up on Lap 9. The yellow would come out at the halfway point on Lap 10 as Kirsten Dombroski, in her first start at Utica-Rome, went over the edge in Turns 1 and 2. This allowed Hutton and VanInwegen to close the gap for a restart.
On that restart, Paddock suffered from a lot of wheel spin from the center of the corner to the exit and allowed Hutton to build up a big run to Turn 3. As the pair entered Turn 3 Hutton dove to the bottom and pulled off a slide job to perfection to wrestle the lead away officially on Lap 11.
While most of the lead pack migrated to the top lane, Cory Sparks found just enough brown on the bottom lane to work his way from his seventh starting position to advance to third on Lap 12. While Hutton paced the field, Paddock, VanInwegen and Sparks put on an incredible battle for the remaining spots on the podium.
Coming to six laps to go, Paddock slid the right rear Hoosier over the edge in Turn 4. The miscue in Turn 4 led to another in Turn 1 up on the cushion, allowing VanInwegen and Sparks to slip by to take second and third. That is how they would finish.
Hutton would race away to his second series victory and fourth win of the 2023 season in CRSA-sanctioned competition. It was the young driver's first win at Utica-Rome, a place that he has traditionally struggled to run well at.
"I love more than anything in this world, a track where you can just rip the top," said Hutton post-race.
"I couldn't believe how good the car was, we have struggled here before."
It didn't come without a few hairy moments coming to the end of the race though.
"I went over the edge in two with two or three laps to go. I knew Billy V was there on the board and thought for sure he was going to get right by."
VanInwegen was rather dejected in second as this wasn't the first time that the "Home of Heroes" has left him snakebit.
"I talked to Mike this morning and said we are just cursed at this place, I can't seem to win here," noted the driver out of Port Jervis, NY.
"It's not from a lack of effort. Mike, Debbie and Kent give us everything we need to come compete, it's just frustrating when we let them get away like that."
Cory Sparks, who has raced a limited schedule with CRSA in 2023, was pretty happy with their effort in third.
"I love racing with Billy and we had a great battle going there," said Sparks with a smile.
"This was only our second race out at all this year and to come out with a podium is huge for us. The whole family is here tonight- this was a great night."
Paddock and Outlaw Speedway winner Tomy Moreau filled out the top five.
Moreau gained seven positions from his twelfth starting spot to claim the Powdertech Powdercoating Hard Charger of the race.
Paddock made a move in Turn 4 that potentially saved his racecar, earning him the Maguire Family of Dealerships "Magnificent Move of the Race."
The CRSA Sprints will now prepare for rescheduled back-to-back events next weekend as Land of Legends Raceway will host the second round of the "DisBatch Brewing Company Challenge Series" on Saturday July 22 live on Land of Legends TV and DIRTVision. Thunder Mountain Speedway will play host the next night, Sunday July 23, for the Decker Memorial live on Dirt Track Digest TV.
The A-Verdi Storage Containers CRSA Sprints are powered by Super Gen Products. Associate sponsors for 2023 include Pit Stop Convenience Stores, DisBatch Brewing Company, the Maguire Family of Dealerships, Powdertech Powdercoating, PJC Sprayfoam, Profab Enterprises, Magsarus Ignitions, Hoosier Racing Tire, Insinger Performance with their Stinger Race Fuel, My Race Pass and is owned and operated by Mike Emhof Motorsports.
For more information on the series, results, points and 2023 schedule please visit our website www.crsasprints.com
Please visit the A-Verdi Storage Containers CRSA Sprints powered by Super Gen Products on Facebook (@CRSAsprints) and on Twitter (@CRSAsprints).
A-VERDI STORAGE CONTAINERS CRSA SPRINTS POWERED BY SUPER GEN PRODUCTS @ UTICA-ROME SPEEDWAY OFFICIAL RESULTS- Friday July 14th, 2023:
A-MAIN RESULTS (20 Laps): 1. 66-Jordan Hutton[3] ($1,000); 2. 56V-Billy VanInwegen Jr[1]; 3. 1HD-Cory Sparks[7]; 4. 8-Dillon Paddock[2]; 5. 22-Tomy Moreau[12]; 6. 121-Steve Glover[4]; 7. 29-Dalton Herrick[10]; 8. 9K-Kyle Pierce[5]; 9. 99K-Mike Kiser[15]; 10. J27-John Cunningham[6]; 11. C12-Tyler Chartrand[9]; 12. 21B-Blake Warner[17]; 13. 33-Scott Landers[14]; 14. 99-Adam Depuy[13]; 15. 410-Jerry Sehn Jr[16]; 16. 10-Nathan Pierce[20]; 17. 4T-Ray Preston[19]; 18. 1Q-Thomas Radivoy[11]; 19. 2-Randy Years[18]; 20. 98-Alex Adamsky[24]; 21. 22M-Aaron Shelton[21]; 22. D9-Dustin Sehn[23]; 23. 30-Kirsten Dombroski[22]; 24. 80-Bobby Parrow[8]; 25. (DNS) 88C-Chad Miller
Powdertech Powdercoating Hard Charger Bonus: 22 Tomy Moreau +7 Spots
Maguire Family of Dealerships "Magnificent Move of the Race": 8 Dillon Paddock
Heats (8 laps)
#1: 1. 66-Jordan Hutton[9]; 2. 80-Bobby Parrow[2]; 3. C12-Tyler Chartrand[6]; 4. 121-Steve Glover[1]; 5. 33-Scott Landers[5]; 6. 410-Jerry Sehn Jr[7]; 7. 10-Nathan Pierce[4]; 8. 22M-Aaron Shelton[8]; 9. (DNS) 88C-Chad Miller
#2: 1. 1Q-Thomas Radivoy[4]; 2. 1HD-Cory Sparks[6]; 3. 8-Dillon Paddock[7]; 4. 99-Adam Depuy[1]; 5. 99K-Mike Kiser[3]; 6. 21B-Blake Warner[5]; 7. 2-Randy Years[8]; 8. 30-Kirsten Dombroski[2]
#3: 1. 29-Dalton Herrick[3]; 2. 56V-Billy VanInwegen Jr[5]; 3. J27-John Cunningham[1]; 4. 22-Tomy Moreau[8]; 5. 9K-Kyle Pierce[7]; 6. 4T-Ray Preston[4]; 7. D9-Dustin Sehn[2]; 8. (DQ) 98-Alex Adamsky[6]