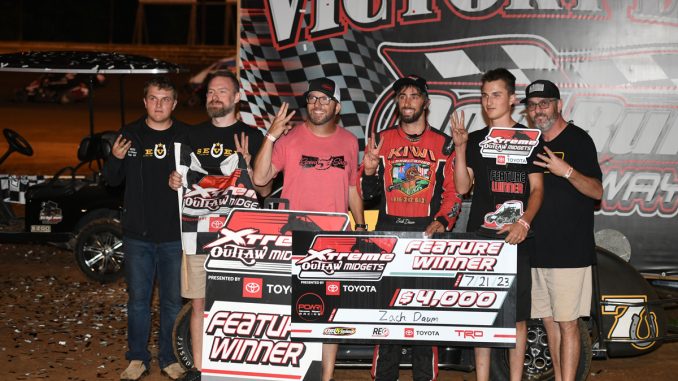 By Jordan DeLucia
DOE RUN, MO (July 21, 2023) – Zach Daum's hot streak is still burning. His third-straight Feature win with the Xtreme Outlaw Midget Series presented by Toyota Friday night came in a thriller, passing Jade Avedisian for the lead coming to the white flag and holding her off to win the first-ever Midget event held at Doe Run Raceway.
The exciting finish was his third-straight Series victory with his new team at Trifecta Motorsports, which he joined after the seat of the flagship #7U car was vacated in early June. One phone call from team owner Steve Carbone was all it took to turn Daum's early season hardships around, as they walked out of their first race weekend together with two wins at Wayne County Speedway before the Series' summer break.
Now, they've got a third. The big smile on Daum's face in Victory Lane said it all – it's a memorable time for him in his open-wheel racing career.
"I don't know that this is the best I've ever done, but it's right up there," Daum, of Pocahontas, IL, said. "Everything's playing together right now. We've been fast, I feel like I'm driving good, I have confidence – just everything it takes to put these types of races and championships together."
A third-place run in his Heat Race set the defending Xtreme Outlaw champion up with a ninth-place starting spot for the Feature. Using his preferred lane around the bottom, Daum surged all the way up to second in 15 laps.
"I had a good rhythm on the bottom and in the middle," Daum said. "I was picking off cars, especially when people would start sliding each other, I could get both of them at once because they both had to check up and I could get ahead and drive back around them."
As he hit the halfway point of the 30-lap Toyota Racing Feature, only one car remained ahead of him – Jade Avedisian.
Avedisian, the 16-year-old championship contender from Clovis, CA, had led all but six laps up to that point and was maintaining a big lead over Daum. A caution flag with six laps left erased that gap and put Daum right on her tail-tank for the restart.
Avedisian got a great start, using her preferred line around the top. But three laps later with Daum right on her heels, she decided it was time to change lanes to protect the lead.
"I wasn't sure what to do [on the restart]; I knew the top was getting really far around and it shelfs-off really bad here," Avedisian said. "I finally saw [Daum] poke his nose, and I still thought with like three-to-go that I would have enough and by that time, he was almost right next to me. So, I decided to go down there, and I had no clue he was in the middle."
"I knew as soon as I peeked my nose down there, she was gonna come down, which she had to," Daum said. "The problem was we weren't running the bottom; we were running the middle and kinda floating around.
"She just had no idea. She ran 20-plus laps on the top and then tried to run the last couple on the bottom. It's hard to transition."
Despite her best efforts to keep Daum at bay, Avedisian was unable to hold the 7U off in the end. Daum countered her new line on the bottom by moving up into the middle, wound-up the momentum and made the pass to her outside as the white flag was displayed out of Turn 4.
"When [KKM crew] told her to move to the bottom, I thought, 'Well, here's my chance,'" Daum said. "If I can get a good restart, and she puts two car lengths on me, she's gonna win the race. She kinda did, and then I just got back to her.
"She moved down, and it was like, 'Okay, it's over now because I know I can roll through the middle better.'"
Avedisian didn't go away silently, however, trying to scrape-up the momentum she needed for a pass-back attempt coming to the checkers, but it wasn't enough. Daum sailed across the line to bank the big check and his fourth career Series victory.
Though slightly dejected after the checkers, Avedisian still held her head high with a runner-up finish, knowing it turned out to be a great points night. Despite her best efforts on the top side of the track for much of the race, she stood by her decision to move down, considering she wasn't gaining anything by trying to race any higher up.
"I ran [the top line] as hard as I possibly could when he was right next to me, and [Daum] was still gaining on me," Avedisian said. "I think I moved down at the right time, I just moved down too low, and he just went around me."
Abacus Racing driver Daniel Whitley came home third to notch his best career Xtreme Outlaw victory. Taylor Reimer crossed in fourth and Series points runner-up Gavin Miller crossed fifth.
The top-five runs by Avedisian and Miller turned out to be very valuable in the championship standings as points leader Cannon McIntosh struggled throughout the second half of the night. Fuel problems in his Heat left him with a 15th-place starting spot for the Feature, where he made it all the way to 10th before a crash sent him tumbling through Turn 2, effectively ending his night early with a 20th-place finish and shrinking his points lead down to 55 on Miller.
UP NEXT
The Xtreme Outlaw Midgets are back in action Saturday, July 22, with a visit to Southern Illinois Raceway in Marion, IL, for the second leg of the weekend doubleheader. Get a ticket at the gate or stream every lap live on DIRTVision.
FEATURE RESULTS
Feature (30 Laps): 1. 7U-Zach Daum[9]; 2. 71-Jade Avedisian[2]; 3. 58-Daniel Whitley[3]; 4. 25K-Taylor Reimer[5]; 5. 97-Gavin Miller[4]; 6. 51B-Joe B Miller[10]; 7. 11A-Andrew Felker[1]; 8. 21K-Karter Sarff[7]; 9. 32-Trey Marcham[8]; 10. 44-Branigan Roark[18]; 11. 33-Kyle Jones[20]; 12. 97K-Cooper Williams[6]; 13. 26R-Corbin Rueschenberg[17]; 14. 40-Chase McDermand[12]; 15. 16-Garet Williamson[11]; 16. 26-Chance Crum[14]; 17. 31K-Jaxton Wiggs[21]; 18. 08K-Brody Wake[16]; 19. 17B-Austin Barnhill[19]; 20. 08-Cannon McIntosh[15]; 21. 19AZ-Hayden Reinbold[13]