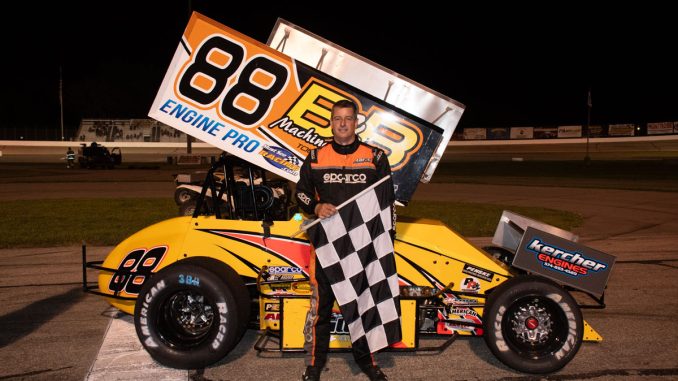 From Must See Racing
BIRCH RUN, Mich. (July 21, 2023) – In a feature as electric as any in the 14-year history of the Must See Racing Engine Pro Sprint Car Series, Jimmy McCune won his third race of the season Friday night at Birch Run Speedway and Event Center.
McCune led 28 of 30 laps at the four-tenths-mile paved oval and fended off a masterful challenge from Bobby Santos III en route to victory lane.
Despite starting on the pole and dominating most of the 30-lap distance, it still took four lead changes and a one-lap dash to glory before McCune could celebrate the win for good.
A masterful dance through slower traffic saw Tyler Roahrig lead lap seven by inches and eventual runner-up Santos do the same on lap 26. Both times, McCune fought back in turn one to retake the lead the next circuit.
Then, after a final-lap spin by Davey Hamilton Jr. set up a restart and single-lap sprint to the finish, McCune pulled away and raced to victory without another thought in the moment.
"I don't know," admitted McCune when asked how he ended up in victory lane for the 41st time in his Must See Racing career. "Somebody had to have been riding along with me there, because Tyler and I and the lapped car we passed on the frontstretch … all I could think about was, 'Don't let me lose this because of a lapped car,' and I just squeezed and didn't lift.'
"I closed my eyes for a second … but we made it through," he added. "Even when Santos got to me, there were a few hairy spots in the closing laps, and we just kept fighting to keep the lead and the clean air. Now that we've finally got the motor running well and we can focus more on the handling of this car, I'm excited to go again rather than worried about what we're going to have. This is a big one, for sure."
Behind McCune and Santos, Jason Blonde converted a last-lap pass into a third-place finish, maintaining a 15-point lead in the championship standings in the process.
Charlie Schultz was fourth and Rick Holley closed the top five.
Santos kicked off the program by setting fast time around the four-tenths-mile paved oval with a lap of 13.422 seconds (107.287 mph). It marked his first top qualifying effort of the season, first at Birch Run, and the ninth of his Must See Racing career.
Schultz, Hamilton and Blonde won their respective heat races prior to the main event.
The Must See Racing Engine Pro Sprint Car Series season continues Saturday night with the second of three visits this season to Berlin Raceway in Marne, Mich.
Blonde won the most recent tour visit to the seven-sixteenths-mile oval on May 20.
For more information on Must See Racing, visit the series website at www.mustseeracing.com.
RESULTS: Must See Racing Engine Pro Sprint Car Series; Birch Run (Mich.) Speedway; July 21, 2023
Qualifying (best of two laps): 1. Bobby Santos III, 22a, Fieler-13.422; 2. Davey Hamilton Jr., 14, Morgan-13.563; 3. Charlie Schultz, 9s, IBT-13.633; 4. Anthony McCune, 8, McCune-13.693; 5. Tyler Roahrig, 36, Statham-13.785; 6. Jimmy McCune, 88, McCune-13.802; 7. Rick Holley, 85, Holley-13.827; 8. Dorman Snyder, 99, Stickney-13.834; 9. Teddy Alberts, 44, Wolverine-13.914; 10. Jason Blonde, 42, Nosal-14.050; 11. Tommy Nichols, 55, Nichols-14.159; 12. Joe Speakman, 72s, Speakman-14.225; 13. Todd McQuillen, 2, Koyan-14.350; 14. Johnny Petrozelle III, 81, Blake-14.365; 15. Tom Geren, 11g, Geren-14.684; 16. Andrew Bogusz, 17, Bogusz-14.700; 17. Bobby Komisarski, 7, Fogle-14.750; 18. Kevin Mingus, Z10, Mingus-14.884; 19. Charlie Baur, 23, Baur-14.912; 20. Quintin Saymaan, 77, Saymaan-15.403.
Heat #1 (8 laps): 1. Charlie Schultz [5], 2. Joe Speakman [2], 3. Jimmy McCune [4], 4. Tom Geren [1], 5. Teddy Alberts [3], 6. Andrew Bogusz [6], 7. Charlie Baur [7].
Heat #2 (8 laps): 1. Davey Hamilton Jr. [5], 2. Tyler Roahrig [4], 3. Dorman Snyder [3], 4. Tommy Nichols [2], 5. Bobby Komisarski [6], 6. Johnny Petrozelle [1], 7. Quintin Saayman [7].
Heat #3 (8 laps): 1. Jason Blonde [2], 2. Anthony McCune [4], 3. Todd McQuillen [1], 4. Rick Holley [3], 5. Bobby Santos III [5], 6. Kevin Mingus [6].
American Racer A-Feature (30 laps): 1. 88-Jimmy McCune [1], 2. 22a-Bobby Santos III [6], 3. 42-Jason Blonde [10], 4. 9s-Charlie Schultz [4], 5. 85-Rick Holley [7], 6. 99-Dorman Snyder [8], 7. 7-Bobby Komisarski [17], 8. 14-Davey Hamilton Jr. [5], 9. 55-Tommy Nichols [11], 10. 81-Johnny Petrozelle III [14], 11. 72s-Joe Speakman [12], 12. 11g-Tom Geren [15], 13. 2k-Todd McQuillen [13], 14. Z10-Kevin Mingus [18], 15. 36-Tyler Roahrig [2], 16. 77-Quintin Saymaan [20], 17. 44-Teddy Alberts [9], 18. 8-Anthony McCune [3], 19. 23-Charlie Baur [19], 20. 17-Andrew Bogusz [16].
Lap Leader(s): Jimmy McCune 1-6, Tyler Roahrig 7, Jimmy McCune 8-25, Bobby Santos III 26, Jimmy McCune 27-30.
Hard Charger: #7 – Bobby Komisarski (+10)