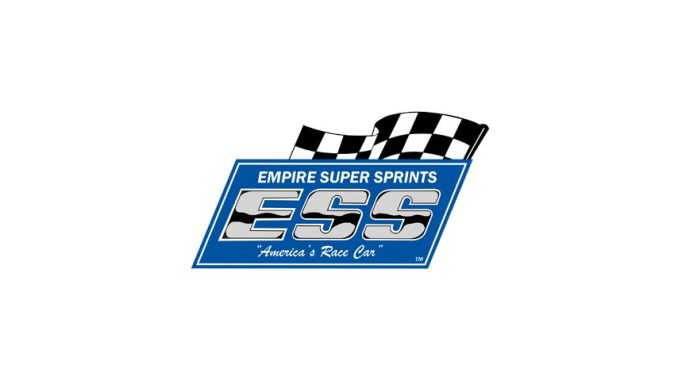 By Curtis Berleue
(Dundee, NY) | With inclement weather causing the cancellation of last weekends scheduled trip to the Albany-Saratoga Speedway, the Empire Super Sprints now turn their attention to the Outlaw Speedway this coming Friday night for the annual running of the Outlaw Summer Nationals.
The 40th anniversary tour for the Empire Super Sprints was originally set to kick off at Outlaw Speedway earlier this season, but a spring with challenging weather ultimately led to the cancellation of that event. The tour will now get another opportunity at the 4/10-mile oval in Dundee, NY, this time for a $3,500 to win main event in a program that will be co-headlined by the ULMS super late models.
Friday's trip will be the first of 3 visits to the Outlaw Speedway that remain on the schedule in 2023. Though the tour has not made a visit to the Yates County oval since 2019, it has a robust history at the track. 80 feature events have taken place in Dundee, with the first dating back to August 3, 1984. The most recent ESS winner at the track is former World of Outlaws competitor Lucas Wolfe in October of 2019.
Leading the charge into Outlaw is defending champion Jordan Poirier, who has been in command of the points lead since early June. Hot on his heals is Shawn Donath, who has been consistently fast since the beginning of the season, followed by Jason Barney, Dylan Swiernik and Jeff Cook.
Fratto Curbing has come on board to sponsor the Cobra Coaches Dash Series dash for cash, paying $100 to the winner. A full listing of admission prices, gate times and the nightly schedule can be found on both the Outlaw Speedway website and social media pages, along with the Empire Super Sprints Facebook page.
For the latest news, information, and schedule updates regarding the Empire Super Sprints be sure to check the series website (www.EmpireSuperSprints.com) and follow along on Facebook (Empire Super Sprints), Twitter (@ESSprints) and Instagram (@empiresupersprints).
The Empire Super Sprints would like to thank the following series sponsors for their continued support: Rifenburg Contracting Corp, PJC Spray Foam, Hoosier Racing Tire, Cobra Coaches, E&V Energy, Fondations 4 Saisons, Pinnacle Investments, LLC, Lacaillade Masonry, Inc., FX Caprara, ASI Racewear, Lanes Yamaha, Ashley Lynn Winery, Bicknell Racing Products, DirtTrackDigest.com and LC Design.
The ESS Road Ahead:
Friday, July 28 – Outlaw Speedway – Dundee, NY ($3,500 to Win Outlaw Summer Nationals)
Friday, August 4 – Utica-Rome Speedway – Vernon, NY ($2,000 to Win)
Saturday, August 5 – Fonda Speedway – Fonda, NY ($2,000 to Win)