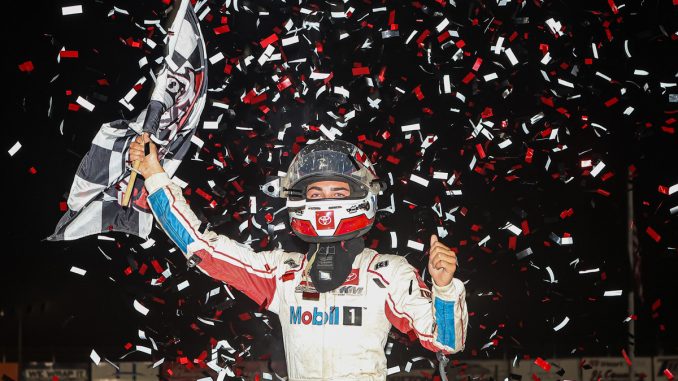 By Jordan DeLucia
CHILLICOTHE, OH (July 29, 2023) – One week after suffering heartbreak on a last-laps pass that denied her of a Feature win, Jade Avedisian reversed the roles Saturday night with a last-lap, last-corner pass of her own to score the win in the Xtreme Outlaw Midget Series presented by Toyota's debut at Atomic Speedway.
Avedisian, 16, of Clovis, CA, followed race-long leader Daniel Whitley into Turn 3 coming to the checkered and capitalized on his failed pass attempt in traffic, pointing the car to the inside of Whitley off Turn 4 and using a full head of steam to win the drag race to the start/finish line.
A sequence of events so fast, even she was unsure of what exactly happened.
"I didn't even know I won the race, either," Avedisian said. "I had to wait until the [in-ear driver radio] talked."
Nearly out of breath in Victory Lane, still stunned from the magnitude of the exciting finish, Avedisian recalled the intensity of the final laps as she clawed her way through a pack of lapped cars, scrambling to keep pace with leader Whitley to afford herself a shot at the lead before the checkered.
"To be honest, I had no idea how many laps [there were] to go," Avedisian said. "I was trying to look in the infield at the board to see how many laps to go and I couldn't see.
"I kind of thought I finished second. I saw the white, and I thought that was the checkered. Luckily, it wasn't."
In second place, Whitley led 28 of 30 laps and came only .132 seconds away from his first career national Midget series victory. The 20-year-old from Ferndale, CA, recalled his thoughts going into the final two corners, knowing Avedisian was right behind him.
"It put me in a spot where I either had to follow the lapper and risk Jade sliding me or slide the lapper and risk Jade crossing me over," Whitley said. "It's racing. We're out here having fun trying to win it, and this [is going to] make winning it that much more special."
The finish culminated a caution-free 30 circuits around the high-banked, 3/8-mile oval of Atomic – where, before Saturday, no national Midget series had previously ventured. Whitley jumped out to the lead at the drop of the green and took off, opening up a lead that stretched to over two seconds at its peak.
Series points leader Cannon McIntosh held the runner-up spot early before Avedisian took it away with a big run off Turn 4 on Lap 14. With only Whitley ahead of her after that point, Avedisian hit the jets and began to work on the leader's two-second gap.
"Honestly, I never thought I could have a shot," Avedisian said, referring to her thoughts on a chance for the lead with Whitley so far ahead. "At the start, I got kinda held up and they left me by like a straightaway and-a-half, and I was able to start hitting my marks, start clicking the laps away and gaining-and-gaining."
Ripping the top side around the high banks, Avedisian closed the gap to Whitley in 10 laps and briefly drove past him for the lead out of Turn 4 to lead Lap 24. Whitley regained the lead with a great run out of Turn 2, and it was then he had an idea of the competition hot on his trail.
"It was definitely surprising to see the Mobil-1 sticker," Whitley said. "I knew it was time to go and get on the hammer."
Approaching the final laps, Whitley quickly closed back in on lapped traffic. By the time he took the white, he was already ducking-and-weaving his way through the slower cars and had only Jerry Coons Jr. ahead of him with two corners left. That's when he decided to throw the slide job in Turn 3, but it fell short, dampening his momentum and allowing Avedisian the lane to get by on the inside.
'[Whitley] made just enough of a mistake into Turn 3 and I was able to follow him in and slide him into 4," Avedisian said.
When she first crossed the finish, she was a bit unsure. Coming around again on the cool-down lap, Avedisian knew she had her fifth career Xtreme Outlaw victory in-hand after one of the wildest finishes the Series has seen to date.
"There's no feeling like winning these Midget races," Avedisian said. "It's just amazing."
UP NEXT
The Xtreme Outlaw Midgets wrap-up the swing through West Virginia and Ohio with a first-ever visit to Brushcreek Motorsports Complex on Sunday, July 30. Tickets will be on sale at the gate; streaming available with a FAST PASS subscription to DIRTVision.
ABBREVIATED RESULTS (view full results)
Feature (30 Laps): 1. 71-Jade Avedisian[3]; 2. 58-Daniel Whitley[2]; 3. 08-Cannon McIntosh[4]; 4. 7U-Zach Daum[6]; 5. 25K-Taylor Reimer[5]; 6. 26-Chance Crum[8]; 7. 19AZ-Hayden Reinbold[11]; 8. 40-Chase McDermand[1]; 9. 7X-Jerry Coons Jr[10]; 10. 17B-Austin Barnhill[9]; 11. 97-Gavin Miller[7]; 12. 11T-Cale Coons[14]; 13. 002-Garrett Mitchell[12]; 14. 001-Greg Mitchell[16]; 15. 19M-Ethan Mitchell[13]; 16. 6K-Kyle Keaton[15]; 17. 002C-Kory Crabtree[17]