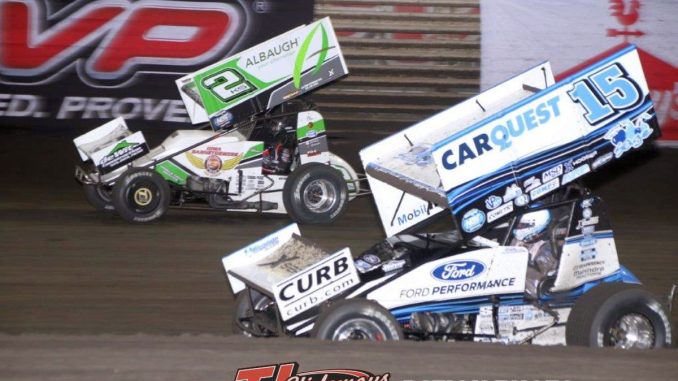 By T.J. Buffenbarger
KNOXVILLE, Iowa (August 9, 2023) — After a wild night of racing to open the 2023 edition of the Knoxville Nationals that saw several top contenders stumble, here are my takeaways from an unusual night at the Marion County Fairgrounds.
Just when you think Donny Schatz might not be in contention at the Knoxville Nationals, he ends up doing very Donny Schatz like things to prove everyone wrong.

In 2022 I could see the momentum building for Schatz leading into the Nationals. Schatz's second place finish at the Kings Royal was parlayed into other strong finishes that eventually led to his 11th Knoxville Nationals title.

This year Schatz won the Kings Royal, but his best finish since has been a seventh place at Federated Auto Parts Raceway at I-55. Schatz also finished 9th and 12th during two nights of World of Outlaws action at Knoxville in June.

Yet on a night when other drivers that were considered favorites to win faltered, Schatz laid down a solid 10th place qualifying lap, was the only top 10 qualifier other than Justin Peck to transfer through his heat race and drove up from seventh starting position for the victory.

Clearly something lights a fire under Schatz and his Tony Stewart Racing team when they come to Knoxville, Iowa in August. He took advantage of the things given to him such as being in the fifth heat race when the track was a little wider, a caution flag with seven laps to go in the feature and capitalized on those opportunities while others made mistakes.

If you look at 2022, Austin McCarl won the pole position at Knoxville with a point score of 477. If the same kind of craziness happens on Thursday it's not impossible for Donny Schatz to earn the pole position for Saturday's A-Main.

As for the statistic that Schatz has never won the Nationals after winning a preliminary night, the Donny Schatz in the early 2000's that won those preliminary features and was runner up to the likes of Steve Kinser and Danny Lasoski was a totally different driver than the Schatz we see today. I don't consider the statistic more than something fun to banter about.
Chaos was the word of the day to describe the Wednesday night preliminary feature at Knoxville Raceway.

We have seen years where many top qualifiers don't transfer to the feature through their heat race, but rarely do we see it happen due to mistakes.

Two of the top contenders on Wednesday, David Gravel and Aaron Reutzel, were involved in crashes in their heat races that made their goal of winning the Knoxville Nationals this season much more difficult having to participate in the Friday "Hard Knox" program.

Brent Marks, seen as a contender for some, also failed to make the main event on Wednesday. Other top contenders such as Justin Sanders, J.J. Hickle, Zeb Wise, Parker Price-Miller, and Tim Shaffer were unable to turn top 20 qualifying efforts into a starting position in the A-Main.

In all two out of the top 10 qualifiers were able to transfer through their heat race. Meanwhile every driver from 28th to 40th in the qualifying order made the transfer.
Chase Randall's career trajectory has been upwards for several seasons now but racing weekly at Knoxville and performing well in the 360 and 410 classes has sent his stock higher. Wednesday night that stock went to soaring after going toe to toe with one of the best to ever wheel a sprint car in Donny Schatz for a preliminary night feature win at the Knoxville Nationals.

Randall has impressed me with every start I've seen him make in person and when watching online (because the weekly program at Knoxville Raceway is appointment viewing when I'm home).

Randall's pairing with TKS Motorsports back in June has proven to be good for both parties. Randall has put TKS back up front of the Knoxville after struggling the past few seasons after Austin McCarl won a track championship with the team in 2018.

At just 18 years of age Randall is becoming one of sprint car racing's hottest young prospects. With all the ride changes taking place who knows what opportunity might come Randall's way sooner than later.