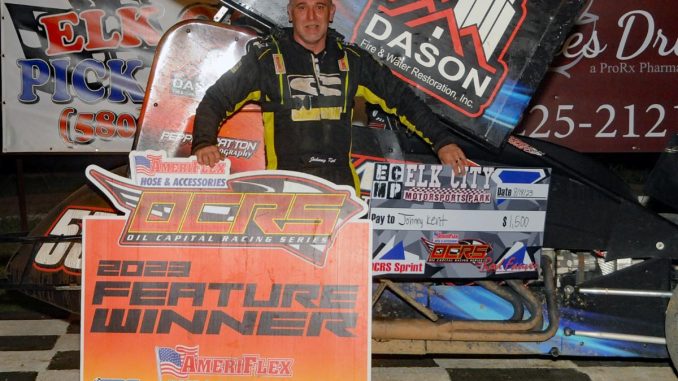 John Rittenoure
ELK CITY, Okla. (August 18, 2023) – it has taken all season, but Johnny Kent raced his way into the AmeriFlex Hose & Accessories Sprint Car winners circle Friday at Elk City Motorsports Park.
Kent picked up his fifth OCRS career victory and became the tenth different OCRS winner this season. But more importantly Kent regained the series points lead he previously held earlier in the season before giving way to veteran Danny Wood.
Starting second row outside, Kent worked his way into third on lap 8, 2nd on lap 9 then passed Fred Mattox on lap 16 for the lead. Joe Bob Lee charged from 8th to 2nd on lap 17 but could not run down Kent. Zach Chappell, who started 3rd and fell back to 10th, roared back to third just ahead of early leader Mattox who fell back to fourth. Sheldon Barksdale came from 9th to finish 5th. Wood, who came into the night with a ten point lead over Kent, could only manage a 6th place finish.
AmeriFlex Hose & Accessories OCRS Sprint Car Results
Elk City Motorsports Park – Elk City, Oklahoma
August 18, 2023
AmeriFlex Hose Accessories A Feature 1 (30 Laps): 1. 55-Johnny Kent[4]; 2. 5-Joe Bob Lee[8]; 3. 50Z-Zach Chappell[3]; 4. 26M-Fred Mattox[1]; 5. 20S-Sheldon Barksdale[9]; 6. 55W-Danny Wood[5]; 7. 72C-Kayden Cole[6]; 8. 15-Brody Brown[12]; 9. 50-Cody Whitworth[15]; 10. 39-Joshua Tyre[11]; 11. 64-Harley Menacher[17]; 12. 29G-Gerald Smith[10]; 13. 54-Michael Gossman[14]; 14. 37-Jack Hall[2]; 15. 17E-Blake Edwards[7]; 16. 12M-Mitchell Barros[13]; 17. (DNS) 4G-Robert Sellers
Schure Built Suspensions Heat 1 (8 Laps): 1. 5-Joe Bob Lee[1]; 2. 55W-Danny Wood[3]; 3. 55-Johnny Kent[4]; 4. 17E-Blake Edwards[7]; 5. 29G-Gerald Smith[2]; 6. 15-Brody Brown[5]; 7. 12M-Mitchell Barros[9]; 8. 50-Cody Whitworth[6]; 9. 64-Harley Menacher[8]
Lightning Wings Powder Coating Heat 2 (8 Laps): 1. 72C-Kayden Cole[2]; 2. 37-Jack Hall[5]; 3. 50Z-Zach Chappell[1]; 4. 26M-Fred Mattox[7]; 5. 20S-Sheldon Barksdale[3]; 6. 39-Joshua Tyre[6]; 7. 54-Michael Gossman[4]; 8. 4G-Robert Sellers[8]
Lap Leaders: Fred Mattox 1-15, Johnny Kent 16-30
Margin of Victory: 3.337
D&G Contracting Hard Charger: Joe Bob Lee +6
Next Event: August 19, Lawton Speedway – Lawton, Oklahoma