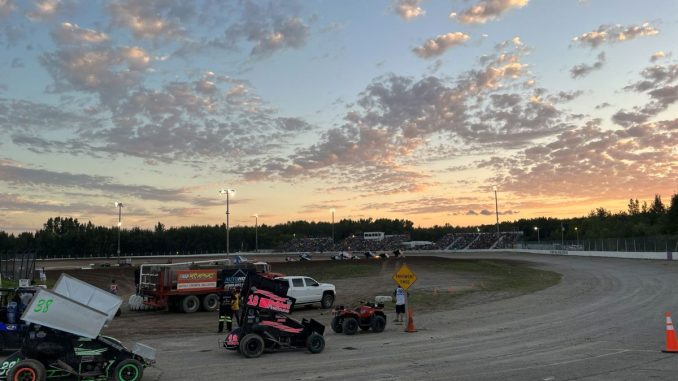 By T.J. Buffenbarger
(August 25, 2023) — After 22 years of dreaming what a major sprint car race would look like in the Bay City/Saginaw/Midland/Flint market, that dream came to fruition on Friday night with Zeb Wise ripping the top on the way to a convincing victory at Tri-City Motor Speedway. Before I seek out some caffeination for my two and half hour drive home to sleep in my own bed, here are my takeaways from the dream come true night.
After the feature event waiting for Zeb Wise to come back from tech, I discovered that I wouldn't have to ask certain questions about how he has put together a stellar second half of the 2023 season. All I had to do was watch his crew pack up the race car.

The Rudeen Racing team was machine like packing up to get down the road to find a car wash while pointing their hauler two hours south towards Butler Motor Speedway. Nobody looked tired, everything went back into toolboxes and the hauler with amazing and efficient precision.

Wise started the night off with that same level of precision, cutting some amazing laps during practice to serve notice he would be the one to beat. Wise drove like he had turned laps at Tri-City his entire life ripping around the top and making it look easy.

With the team hitting on all cylinders and Wise driving as confidently as I've seen him in his career, and I believe we are starting to a possible superstar blossoming with the series.

Wise leads the driver points and more importantly opened some space for his team in the owner point standings with Tyler Courtney dropping back to 10th with power steering issues.

If Wise can drive half as confidently as he did Friday at Tri-City, the sprint car world is being served notice not only for 2023, but what we can expect in 2024.
Tyler Courtney not only looks like he has not missed a beat on the racetrack since coming back from his injury during the Knight Before the Kings Royal, after having that power steering issue you would never have known Courtney was wrestling his car trying to hold on in route to a 10th place finish.

Sometimes when drivers say they are okay after coming back from an injury they are often just giving lip service and playing through the pain, but from my view Courtney seems on point and ready to take on the rest of the season.

It would have been interesting to see what would have happened if Courtney had not suffered, the power steering issue as he was rolling the bottom through turns three and four well all night.

It appears Courtney will be in prime shape to take on some of the major sprint car races that close the season.
The All Star Circuit of Champions by all accounts was as big of a hit at Tri-City Motor Speedway as I hoped it would be when writing my preview article earlier in the week. The Tri-Cities region showed up to check out the series inaugural event at the small 3/8-mile oval.

From the first session of hot laps the entire night was eye opening. Tri-City built a cushion that could only be rivaled in Michigan by I-96 Speedway, was compared by multiple drivers as racing like old school Attica Raceway Park, and had the same feel that Waynesfield Raceway Park has when watching 410 sprint car from the infield.

The tight quarters produced a great feature with third place coming from 11th starting spot, fourth from seventh, and the fifth place finisher starting 13th. Throw in Greg Wilson doing Greg Wilson things driving to 6th from 17th and the feature being complete before 10:00 p.m. and I don't think we could ask more from the first All Star race at Tri-City other than we need more sprint car races at the Auburn, Michigan oval.