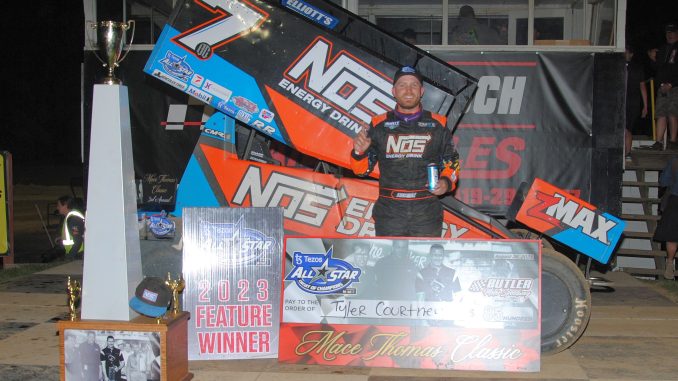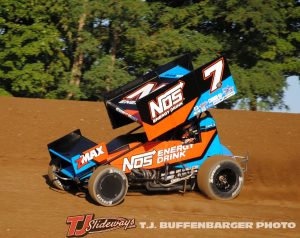 By T.J. Buffenbarger
QUINCY, Mi. (August 27, 2023) — Immediately after the 3rd running of the Mace Thomas Classic at Butler Motor Speedway in Quincy, Michigan I headed to the pit area immediately to find out the answer to the most pressing question of the evening.
How was Tyler Courtney and the Clauson-Marshall Racing team going to get the trophy home?
Along with the $8,500 top prize for winning the race named after the Michigan Motorsports Hall of Fame car owner that won the Williams Grove National open with a guy named Gordon Johncock driving, is a trophy that is over six feet all and is heavy enough that two people are required to move it.
Luckily for Courtney, he has some experience with it as a previous winner of the event.
"We won I-96 Speedway and they had to bring it to us in the trailer and a U-Haul truck they brought it in on, so I'm going to assume it will be a same situation here. We'll find a spot for it in the trailer to take it home."
Along with the money Courtney was happy to take another mammoth piece of hardware back from the Mitten to Indiana.
"It's a badass trophy! I think a lot of races nowadays the trophy kind of is a second hand thought but the Mace Thomas family they make sure to go big and that that trophy is even bigger than the last one so just really cool to people take pride in in a race like that and especially in a trophy and that a thing of be proudly displayed at the Clauson-Marshal shop come Monday."
The trophy was the icing on the cake of a great night for Courtney who not only won the race but was able to get Clauson-Marshall Racing back atop the car owner point standings after Zeb Wise tangled with a lapped car while leading.
"It was getting sketchy like those cars there is kind of all over the place," said Courtney. "Zeb's been damn near perfect the last month and a half and that wasn't even his fault there, he just got caught in a bad spot at the at the at the wrong time."
While Courtney was happy to put CMR back on top of the standings, he would prefer for both teams to determine the outcome on the track with both car running.
"I hate to see that because like I said out there, I respect the shit out of Zeb and their whole team, and I want to I want this thing to you know go the distance without anything happening like that. At the same time, I had to take advantage of it. I had to make sure that when something like that happens you win the race and get the maximum out of points. We're still racing for an owner's championship, and we still have 10 races left, so it's going to be a hard-fought battle."
After thinking his season was over following a crash at Eldora Speedway during the Knight Before the Kings Royal, Courtney is treasuring the remainder of the year competing in races instead of watching from the sidelines after the healing process was faster than expected.
"I was telling somebody the other day that this rest of year for me it's kind of a bonus because I didn't think I was going to get to come back. To be able to come back as quick as I did and take advantage of it and win some races is just special for me. Obviously, our mindset still to win the championship and we're going to try our damnedest to make sure that happen."
Other Notes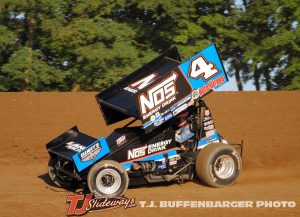 • Chris Windom was one of the drivers to watch climbing through the field for the second night in a row tying for hard charger honors advancing 10 positions to grab a podium position from J.J. Hickle on the final lap Saturday at Butler.
"We were really good through the middle and the bottom, and I felt like after watching the dash and B-Main that was kind of the way the track was trending," said Windom. "It was building a big ledge off two and it was getting a little dirty up there, so it was tough to hit your marks consistently and it's kind of tough to see here on the top, so you know we kind of set up to do that and I figured that's where we're going to pass cars and we were able to."
From there Windom used patience and waited for others to make mistakes to advance his position. While he is happy being able to have nights like Saturday running 13th to third but is still looking to improve on performance early in the night to start further towards the front.
"We've had a few good shots starting up front didn't capitalize, but for the most the time I feel like we got a really good car in the A-Mains, so we just got to get qualified better and run a little better and the heats and getting the getting a few more dashes to put us in a better position."
• One of the biggest "what if's" following the All Star event as Butler occurred with Kyle Reinhardt falling out of the race with right front and steering issues on lap eight after leading the first six laps before yielding the lead to Wise. Reinhardt will be one to keep an eye on the rest of the year as his performance has picked up dramatically from last year with his own car and has shown the same speed so far in Grove Racing #45 entry.
• Darin Naida was the top Michigan driver Saturday making a charge from 22nd to 12th to tie Windom for hard charger honors in the feature event but was left wondering what could have been after a great qualifying effort was thwarted by an unusual circumstance in the heat race.
Naida was fifth fastest overall in qualifying and was solidly in a transfer position that would put him in the dash when fellow Michigan driver Jason Blonde got sideways in turn four, leaving Naida nowhere to go with the two making contact and spinning in turn four, knocking Blonde back in the right direction to keep going.
The way the All Star Circuit of Champions rules are worded Naida was charged with the caution for the 360 spin and was sent to the tail of the field and ultimately failed to transfer and had to run through the B-Main to make the feature.
To add insult to injury for Naida, the incident secured Blonde a position in the dash.
Naida rallied in the feature to pass 10 cars despite having the floor knocked out of his car early in the main event.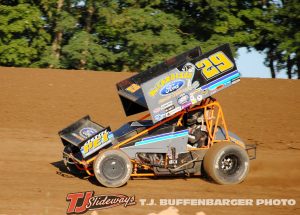 • Blonde, who has been a fan favorite at Butler for over 20 years, was in prime position to earn a starting position in the first two rows of the feature starting third in the dash but got high in turn two and bogged down off the corner, stacking up Corbin Gurley in the process. Blonde eventually went off turn two drawing a caution and finishing eight while Gurley finished seventh.
Blonde eventually DNF'ed in 20th in the feature while Gurley bounced back to hold on for a top-10 finish, dropping one position to eighth position in the feature event.
Blonde's teammate and future son in law, Keith Sheffer II, also had a solid run just missing out on a top 10 finish moving up from 18th starting position to finish 13thin Rhino Racing's first effort competing with the All Stars.
• Other local Michigan drivers with respectable showings included Tylar Rankin moving up three positions to 14th and Thomas Schinderle patiently moving up to 15th from 19th starting position.
One of the best rallies by a local driver happened early in the night after Boston Mead had his time disallowed in qualifying and moved forward in his heat race form eighth starting position to grab the fifth and final transfer spot in the fourth heat race.
• While Windom and Lane Racing picked up the honor of being the top finishing Michigan based car, J.J. Hickle barely missed out on the honor when Windom slide by on the final lap. Hickle rallied back from a disappointing 16th place finish at Tri-City with their fourth place run at Butler.
• Adam Kekich made the biggest jump in performance between Friday and Saturday's in his first weekend in the McCandless Ford entry going from taking a provisional to start the feature at Tri-City and finishing 23rd to finishing 5th in the A-Main Saturday at Butler.