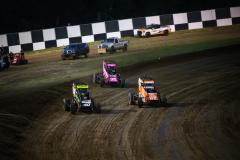 By Jordan Delucia
Paragon,In. (Aug. 30, 2023) – The Xtreme Outlaw Midget Series presented by Toyota dips into the home stretch of the season with its first-ever trip to Indiana this Friday-Saturday, Sept. 1-2, at Paragon Speedway.
Twenty-one races down, eight remain. Only three race weekends are left on the 2023 Series schedule, and the points battle is tightening up in the race for the Series championship and the $25,000 grand prize.
Paragon will play a crucial role in setting the stage for the championship battle going into the final race weekend before the October season finale in Oklahoma. A $4,000-to-win program on Friday night precedes a $5,000-to-win program on Saturday, accompanied by 410 Non-Wing Sprint Cars both nights plus Bombers on Friday and Hornets on Saturday.
A paperclip-shaped, 3/8-mile oval, Paragon is one of Indiana's many dirt tracks home to weekly Non-Wing Sprint Car racing. The track, located 40 miles Southwest of Indianapolis, hosts the Xtreme Outlaw Midgets for the first time in the two-day stretch.
Tickets for each night of racing will be on sale at the gate on race day. If you can't be at the track to watch in person, stream every lap live on DIRTVision.
Here are the drivers to watch and storylines to follow this weekend:
MAC IS BACK – Back-to-back top-five runs for Cannon McIntosh at Davenport have he and the Dave Mac-Dalby Motorsports squad re-energized and ready to take on Paragon this weekend – a place they're already familiar with.
In the last national Midget series event held at Paragon – a USAC-sanctioned event during 2021 Indiana Midget Week – McIntosh grabbed the lead early in the 30-lap main event and led through the white flag but stumbled getting into Turn 3, opening the door for Thomas Meseraull to slip underneath and steal the win coming to the checkers.
This time, the team is coming in with the Series points lead and momentum from a solid outing last weekend. McIntosh was highly competitive on both nights at Davenport – his top-five runs were first in back-to-back fashion since late July – and he now holds a 24-point gap over Jade Avedisian in the championship standings with only three race weekends left.
KEEPING PACE – A difference of a single point was made to Jade Avedisian's gap to McIntosh in the points standings after Davenport. Her ability to keep pace with the leader is setting the Series up for an epic finale in Oklahoma in October, where she and Keith Kunz Motorsports (KKM) will try and capture a national championship in their first season together.
Avedisian, 16, of Clovis, CA, closed her gap from 24 down to 23 points after finishes of seventh and third in Davenport last weekend. Once again, she takes on a track she's not yet seen before this Friday-Saturday, visiting Paragon for the first time in her career.
The last time she ventured into unchartered territory, she nearly won, running second to Daison Pursley in the final race of Appalachian Midget Week at Path Valley Speedway Park. She did win in her first-ever appearance in Ohio at Atomic Speedway in late July, beating Daniel Whitley to the line in a last-lap pass for the win.
To regain the points lead she took after two events at I-55 Raceway three weeks ago, or at least prevent the gap from widening, she'll need to match or better McIntosh's finishes this weekend.
BEEN HERE, DONE THAT – Thomas Meseraull is no stranger to Paragon Speedway. A Midget winner and multi-time Sprint Car Feature starter at the venue, he'll be the RMS Racing representative on the roster this weekend behind the wheel of the Envirofab, Spike/Engler No. 7x.
Meseraull, the veteran open-wheel racer from San Jose, CA, triumphed over the USAC Indiana Midget Week field at Paragon in 2021, beating McIntosh on a last-lap, last-corner pass for the win. Several Non-Wing Sprint Car starts there under his belt will also help his case, entering the event as one of, if not, the most experienced racer on the roster.
This past weekend at Davenport, Meseraull notched a fourth-place finish on Friday before mechanical failure kept his car out of competition on Saturday. The team has since made repairs and will truck to Paragon in search of their first Series victory this weekend.
SO CLOSE – Ryan Timms' first Xtreme Outlaw start since early June last weekend at Davenport showed exactly how close he's come to his first career Series victory.
Timms, the 17-year-old open-wheel star from Oklahoma City, OK, led the first 23 laps of Friday's main event before a stray object punctured a hole in the oil tank of his JBL Audio, Lynk/Toyota #67, retiring him to the infield under green. The Keith Kunz Motorsports team swapped engines for Saturday and Timms rebounded nicely, competing inside the podium all race and crossing the stripe with a runner-up finish.
He'll again be one of four KKM entrants on the roster this weekend, taking on Paragon for the second time in his national Midget career after an 11th-place finish there with USAC in 2021.
THIS WEEKEND AT A GLANCE
When and where
Thursday-Friday, Sept. 1-2 at Paragon Speedway in Paragon, IN
On the internet
Xtreme Outlaw Midget Series presented by Toyota
Twitter – @Xtreme_Outlaw
Instagram – @XtremeOutlaw
Facebook – @XtremeOutlawSeries.WRG
Live broadcast
DIRTVision – DIRTVision.com. Platinum annual FAST PASS for $299 or monthly FAST PASS for $39/month.
Current championship points standings (view full standings)
Cannon McIntosh: 4337 points | Dave Mac-Dalby Motorsports #08
Jade Avedisian: 4314 points (-23) | Keith Kunz Motorsports #71
Gavin Miller: 4248 points (-89) | Keith Kunz Motorsports #97
Zach Daum: 4232 points (-105) | Trifecta Motorsports #7U
Chase McDermand: 4197 points (-140) | Mounce/Stout Motorsports #40
Taylor Reimer: 4118 points (-219) | Keith Kunz Motorsports #25K
Hayden Reinbold: 3643 points (-694) | Reinbold/Underwood Motorsports #19AZ
Chance Crum: 2910 points (-1427) | Rudeen Racing #26
Austin Barnhill: 2649 points (-1688) | Dave Mac-Dalby Motorsports #17B
Ethan Mitchell: 2497 points (-1840) | Bundy Built Motorsports #19M