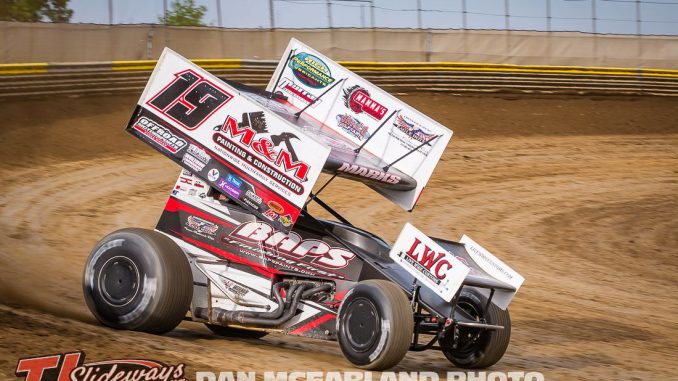 ABBOTTSTOWN, Pa. (August 3, 2023) — Brent Marks capped of an eventful night of racing at Lincoln Speedway by winning the Dirt Classic X Saturday night at Lincoln Speedway. Marks bounced back from a 360 spin during the dash to charge past Troy Wagaman during a mid-race restart and held off a last lap challenge from Danny Dietrich off the final corner, nosing ahead of Dietrich by 0.038 seconds at the finish line.
Marks earned $20,000 for his 10th victory of the year and second of the weekend.
Wagaman led the first portion of the feature event, but was under pressure from Freddie Rahmer and Anthony Macri. Marks was able to drive by both Rahmer and Macri for second through slower traffic just before they pair tangled racing through slower traffic, taking Tanner Thorson and Michael Millard with them.
Wagaman lost the lead to Marks on the restart and shortly after second position from Dietrich. Dietrich them ran down Marks in slower traffic for a final lap slide job in turn three. Dietrich was able to get in front of Marks, but Marks was able to counter by crossing lines and kept his momentum at the end to edge out Dietrich at the finish line.
Wagaman, Cory Eliason, and Justin Peck rounded out the top five.
Dirt Classic X
Lincoln Speedway
Abbottstown, Pennsylvania
Sunday, August 3, 2023
Winged 410 Sprint Cars
Feature:
1. 19m-Brent Marks
2. 48-Danny Dietrich
3. 27-Troy Wagaman
4. 11-Cory Eliason
5. 13-Justin Peck
6. 88-Brandon Rahmer
7. 2d-Chase Dietz
8. 38-Cory Haas
9. 39m-Lance Dewease
10. 75-Tyler Ross
11. 5e-Aaron Bollinger
12. 1x-Chad Trout
13. 71-Anthony Macri
14. 69-Tim Glatfelter
15. 99m-Kyle Moody
16. 8r-Freddie Rahmer
17. 33-Riley Emig
18. 44-Dylan Norris
19. 39t-Cameron Smith
20. 5f-Glenndon Forsythe
21. 58-Tanner Thorson
22. 23-Michael Millard
23. 15h-Sam Hafertepe
24. 8-Billy Dietrich