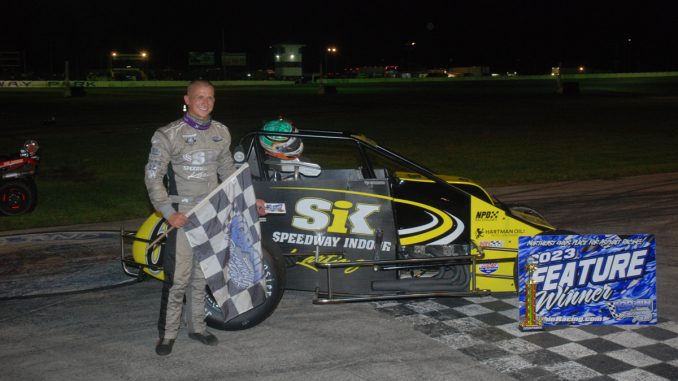 South Amherst, Ohio – September 9, 2023 – Kyle O'Gara sprinted to a dominating win Saturday night at Lorain Raceway Park in South Amherst, Ohio as the 500 Sprint Car Tour presented by Auto Value Bumper to Bumper Parts Stores made its first visit to the speedway.
Polesitter O'Gara got the jump on outside front row started Kody Swanson at the start of the 50-lap feature. Swanson challenged O'Gara briefly during the opening laps of the event before O'Gara began to set a comfortable pace.
It appeared as if O'Gara would go onto victory without any serious challenges. Just after the hallway point Billy Wease caught O'Gara as he encountered heavy traffic entering turn 1. Wease dove to the bottom to steal the lead as O'Gara was trapped behind a group of slower cars. But a caution would thwart Wease's challenge. O'Gara would go on to win his second 500 Sprint Car Tour event of the year, and with it, $4,000.
"It's hard telling without spotters where second place is" explained O'Gara in victory lane. "I saw Billy's (Wease) nose once in traffic when we were on top two wide. I knew the pressure was on at that point. We did our best to get settled in after we cleared traffic. There was a yellow that came out. It made us focus on that restart and nailing it. This place is super hard to drive and easy to overdrive. I focused on hitting my marks all night and we ended up decent".
Fast Qualifier Tyler Roahrig (13.933 NTR) put on the drive of the night. While other competitors were struggling to find grip, Roahrig worked the outside groove much of the contest with fierce battles for position from the drop of the green. Roahrig would end up with a third-place finish at the conclusion, one spot behind runner up Wease.
With Roaring's strong night he was able to finish one spot ahead of current point leader Kody Swanson and now has a three-point lead over Swanson with two races remaining in the 2023 championship chase. Th series will be idle until a rerun visit to Anderson Speedway October 7 for the annual Tony Elliott Classic.
Feature (50 laps): 1. 67-Kyle O'Gara; 2. 80-Billy Wease; 3. 56-Tyler Roahrig; 4. 77-Kody Swanson; 5. 55-Taylor Ferns; 6. 24-Jackson Macenko; 7. 1-Dakoda Armstrong; 8. 22a-Bobby Santos III; 9. 74-Tony Main; 10. 4-Donnie Adams Jr.; 11.53-Justin Harper; 12. 11-Tom Paterson; 13. 3k-Todd Mcquillin; 14.4b-Cory Butler