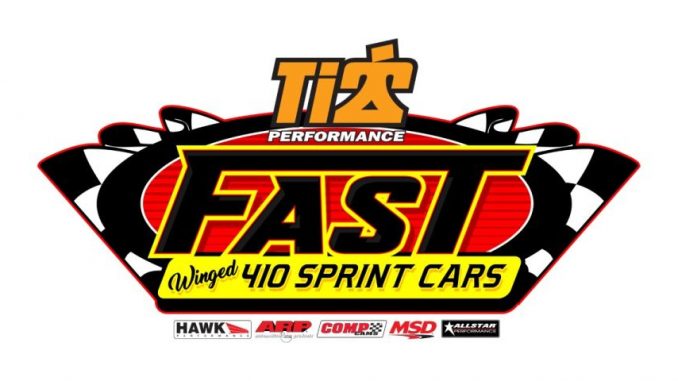 By Aaron Fry
As the 2023 season races down the home stretch, the Ti22 Performance FAST On Dirt tour still has two events remaining. The penultimate program will feature the first event in the modern era of the tour at Mercer Raceway Park in Mercer, Pennsylvania this Saturday, September 16. Track promoter, Ed Michael, has added $1,000 to the winner's share and has guaranteed a starting field of 24 cars for the 30-lap main event that will now pay $4,000 to win and $350 to start.
Evans City, Pennsylvania's Brandon Spithaler is the current FAST point leader and the winningest driver of the season with three tour victories. His wins have come on tracks in 3 different states, including those at Knox Raceway (Pennsylvania), Wayne County Speedway (Ohio), and Paragon Speedway (Indiana). Spithaler will be in search of his fourth tour triumph of the season, but also looking to clinch the championship.
Rawson, Ohio's Ricky Peterson is the only driver with a mathematical shot at Spithaler and the title, but he would need near perfection and a little luck to make it happen. The Sourmugs Tavern team has persevered through a series of bad luck that has seen the team change motors after heat races on 2 of the 16 nights of racing along with some other bad luck. His consistent charges to the front have kept him in the hunt and solidly in the second spot.
The MAR Motorsports team and driver Jordan Ryan have found their stride late in the season and just took over the third spot in the standings. Fresh off his first tour win at Pittsburgh's PA Motor Speedway, he will look to join the fourth-place driver, Danny Sams III as the only other repeat winner of the season. Sams, and the Randerson Racing team scored wins at Hilltop Speedway and Paragon Speedway, but a rough weekend last weekend saw them fall to fourth in the standings. Ryan and Sams are separated by only 6 points with 2 events remaining.
Two more western Pennsylvania drivers are still battling for the final top 5 spot as Jeremy Weaver currently holds it but Jack Sodeman Jr is within striking distance. In addition, Mitch Harble is now back on the tour after missing some shows with no engines in their arsenal. He's fresh off his best run of the year at Pittsburgh and looking to make a late surge up the tour standings.
Mercer Raceway Park will make the twelfth different track the teams have seen this year in 16 events across 4 states. Thirteen different drivers have visited victory lane. Mercer promises to be a battle between the touring stars and the Western PA locals, but as FAST events have proven, you never know WHO may show up and win!
For Saturday, the following payout is slated for the 30-lap main event: 4000, 1500, 1000, 750, 650, 550, 500, 475, 450, 425, 400, 390, 380, 370, 360, 350, 350, 350, 350, 350, 350, 350, 350, 350. Heat races will pay the top 4 finishers 40, 30, 20, 10 thanks to NAPA Of Fremont, Ohio, MadTree Brewing of Cincinnati, Ohio and Outsider's Merchandise & Apparel, the official merchandiser of FAST and BOSS. Bonus awards for the hard charger and hard luck drivers will be provided by All Star Performance and E A Home Supply of Chillicothe, Ohio.
For competing teams, there are no membership fees or entry fees. All cars must be on 4 Hoosier Racing Tires. The rear tires must be 2022 or 2023 national wing spec tires. The following are legal: H12, D12A, Medium, H15 or D15A. We do not mark tires. All wings must be flat top only with maximum 2″ wickerbill. We will be using the MyLaps transponders and rental will be $10. Raceiver radios are mandatory at all times cars are under power.
Pit gates will open at 4 with grandstands opening at 5. Driver meeting is set for 5:45 pm with engine heat at 6. General admission is just $17 with seniors $15 while kids 10 and under are free. Pit passes are $35 with senior pit admission just $30. The FAST tour will have fuel and tires available. Please contact Aaron to reserve specific chalk marks at 740-703-3768.