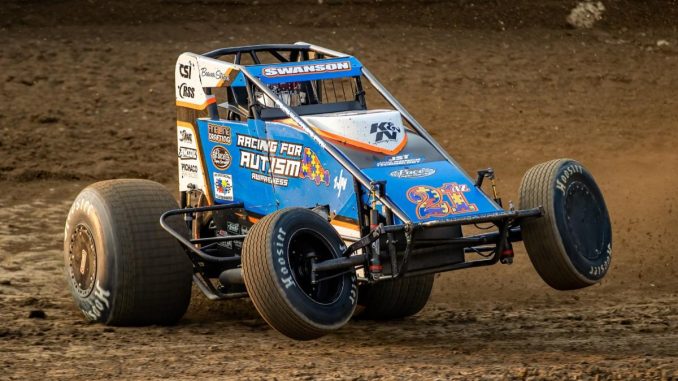 By Richie Murray
Indianapolis, Indiana (September 12, 2023)………Circle City Raceway presents a smorgasbord of opportunities this Friday night, September 15, in Indianapolis, Ind.
For fans, it's the final central Indiana race of the year for the USAC AMSOIL Sprint Car National Championship, and that key word "Championship" is more prevalent than ever this time of the year for drivers and teams with a tight points race on the board with a mere seven events remaining.
It's time to make a final push before the curtain falls on 2023, from the top of the title race to those wanting to make a final splash to close up the season on a sweet note and to make a lasting impression going into the fall and winter months.
It's also time to run through the storylines we're all going to be tuned into for this Friday's showdown in the Circle City.
BATTLE ROYALE BETWEEN GRANT & BACON
First and foremost, as we enter the latter stages of the season, the race for the USAC AMSOIL Sprint Car National Championship becomes top of mind.
The point lead has switched hands 13 times this season among six different drivers. In comparison, in the three-year span between 2020-22, the series point lead changed only 11 times between six drivers. Needless to say, this has already become one of the fiercest title fights in series history, and we're still a full seven events from the finish line.
Reigning champ Justin Grant (Ione, Calif.) took over the lead after last week's series venture to Texas and Arkansas, and now leads four-time titlist Brady Bacon (Broken Arrow, Okla.) by a mere nine-point margin.
Neither driver has won before at Circle City in USAC National Sprint Car competition. Both drivers have come close, however, with each collecting best results of second place along the way. Grant did so in July of 2022 and Bacon followed suit in September of 2022. Grant has recorded a pair of fast qualifying times at Circle City this season alone while Bacon won the first ever sprint car race run at Circle City in 2021, sanctioned by MSCS.
CUMMINS IS ROCK STEADY AT CIRCLE CITY
No driver of late has been as consistently successful at Circle City as Kyle Cummins has, especially this year. In three starts at the 1/4-mile dirt oval this season, the Princeton, Ind. driver has yet to finish outside the top-two.
In May, he finished as the runner-up to Jake Swanson before reeling off two-straight triumphs in May and again in July. He could become the second driver this season to pull off the rare feat of winning three-straight at a single track.
Tom Bigelow is the only driver to win three consecutive USAC National Sprint Car features at a dirt track in Indianapolis, doing so in succession at the Indiana State Fairgrounds during the 1977 campaign.
WESTFALL ON THE CLIMB
Matt Westfall pulled off one of the most popular victories in recent USAC National Sprint Car history last weekend in the series debut at Arkansas' Texarkana 67 Speedway.
There, the veteran racer burst from third to first on the opening lap, then carried onward to a dominant victory, his first with the series in more than 17 seasons!
The Pleasant Hill, Ohio driver hopes his next victory takes a little less time to achieve than the last. After all, his previous best finish of the season with the series before last Saturday came right at Circle City Raceway when he advanced from his ninth starting spot to finish fifth.
SWANSON & MORE LURKING AGAIN
Four drivers have finished inside the top-10 in all three of their USAC National Sprint Car starts this season at Circle City.
The aforementioned Cummins has finished inside the top-two in all three while C.J. Leary (Greenfield, Ind.) has earned a 7th, 9th and 9th in three appearances along with a fast qualifying time in July and is wheeling a car for the same BGE Dougherty Motorsports team which won the Fall Circle City event a year ago in 2022.
Top series Rookie Daison Pursley (Locust Grove, Okla.) has excelled at Circle City this year, pocketing a 9th, 6th and a 10th in three tries with his KO Motorsports team.
However, only one other driver besides Cummins has raced to multiple top-two results at Circle City in 2023, that being Jake Swanson. The Anaheim, Calif. racer won the first night in May, then finished as the runner-up to Cummins the following night. In July, he returned to finish 8th and looks to add on to his tally which already features four wins in what has been a career-best year on the national tour.
FULL CIRCLE IN THE CITY
Not many times does one get a chance to compete at a track on four different occasions in one calendar year. But that's what is on the docket this Friday for USAC National Sprint Car drivers at Circle City.
Many drivers have shown flashes of brilliance at the southeast side Indy oval this year and look to position themselves as a winner come this weekend.
Shane Cottle (Kansas, Ill.) charged from 12th to 3rd at Circle City back in July. Emerson Axsom (Franklin, Ind.) possesses a pair of 4th place finishes in each of his past two tries there this season. Bacon finished 3rd on back-to-back nights in May. Robert Ballou (Rocklin, Calif.) led both May races for a total of 14 laps and finished 5th and 7th there this year.
Logan Seavey (Sutter, Calif.) posted his best USAC National Sprint Car result of the season with a runner-up finish in July. Chase Stockon (Fort Branch, Ind.) put up an 8th and a 7th, both in May while Grant took fourth back in May.
RACE DETAILS
On Friday night, September 15, at Circle City Raceway, the program card features the USAC AMSOIL Sprint Car National Championship in addition to the USAC Midwest Thunder SpeeD2 Midgets and DIRTcar UMP Modifieds.
Pits open at 2pm Eastern with the front gates opening at 5pm and cars on track at 6:30pm followed by qualifying and racing.
General admission tickets will be available at the ticket booth the day of the event. Advance tickets are now on sale at www.circlecityraceway.com. General admission tickets for ages 13-64 are $30. General admission tickets for ages 12 and under are free. General admission tickets for Seniors 65+, Veterans, Military, First Responders and Teacher are $20. Pit passes for ages 11 and older are $45. Pit passes for ages 12 and under are $20.
Both nights of racing at Circle City Raceway can be watched LIVE on FloRacing at https://flosports.link/40w7aPg.
===================
USAC AMSOIL SPRINT CAR NATIONAL CHAMPIONSHIP POINTS: 1-Justin Grant-1979, 2-Brady Bacon-1970, 3-Emerson Axsom-1861, 4-Kyle Cummins-1845, 5-Jake Swanson-1835, 6-C.J. Leary-1752, 7-Robert Ballou-1650, 8-Chase Stockon-1551, 9-Mitchel Moles-1491, 10-Daison Pursley-1455.
USAC NATIONAL SPRINT CAR WINS AT CIRCLE CITY RACEWAY:
2-Kyle Cummins
1-C.J. Leary, Jake Swanson, Kevin Thomas Jr. & Tanner Thorson
USAC NATIONAL SPRINT CAR WINNERS AT CIRCLE CITY RACEWAY:
2021: Tanner Thorson (9/17)
2022: C.J. Leary (7/25) & Kevin Thomas Jr. (9/16)
2023: Jake Swanson (5/24), Kyle Cummins (5/25) & Kyle Cummins (7/24)
TRACK RECORDS FOR USAC NATIONAL SPRINT CARS AT CIRCLE CITY RACEWAY:
1 Lap – 9/16/2022 – Mitchel Moles – 11.819
10 Laps – 9/16/2022 – Jadon Rogers – 2:04.23
12 Laps – 9/16/2022 – Jake Swanson – 2:39.26
PAST USAC NATIONAL SPRINT CAR RESULTS AT CIRCLE CITY RACEWAY:
SEPTEMBER 17, 2021 FEATURE: (30 laps, starting positions in parentheses) 1. Tanner Thorson (2), 2. Chris Windom (1), 3. Jake Swanson (10), 4. Brady Bacon (6), 5. C.J. Leary (3), 6. Shane Cottle (5), 7. Emerson Axsom (9), 8. Kevin Thomas Jr. (4), 9. Justin Grant (11), 10. Chase Stockon (12), 11. Jason McDougal (13), 12. Robert Ballou (20), 13. Koby Barksdale (14), 14. Matt Westfall (16), 15. Jadon Rogers (22), 16. Max Adams (7), 17. Brent Beauchamp (17), 18. Thomas Meseraull (8), 19. Brandon Mattox (21), 20. J.J. Hughes (15), 21. Ricky Lewis (18), 22. Travis Berryhill (19). NT
JULY 25, 2022 FEATURE: (30 laps, starting positions in parentheses) 1. C.J. Leary (8), 2. Justin Grant (12), 3. Brady Bacon (4), 4. Chase Stockon (7), 5. Jason McDougal (3), 6. Matt Westfall (16), 7. Shane Cottle (22), 8. Jake Swanson (5), 9. Robert Ballou (10), 10. Ryan Timms (6), 11. Dave Darland (18), 12. Matt McDonald (20), 13. Brandon Mattox (P-23), 14. Briggs Danner (2), 15. Kevin Thomas Jr. (1), 16. Emerson Axsom (9), 17. Brent Beauchamp (14), 18. Logan Seavey (19), 19. Brody Roa (21), 20. Dalton Stevens (17), 21. Mitchel Moles (11), 22. Kyle Cummins (13), 23. Scotty Weir (15). NT
SEPTEMBER 16, 2022 FEATURE: (30 laps, starting positions in parentheses) 1. Kevin Thomas Jr. (2), 2. Brady Bacon (4), 3. Thomas Meseraull (8), 4. C.J. Leary (3), 5. Matt Westfall (1), 6. Robert Ballou (15), 7. Mitchel Moles (6), 8. Emerson Axsom (5), 9. Jadon Rogers (9), 10. Jason McDougal (14), 11. Jake Swanson (13), 12. Logan Seavey (10), 13. Daison Pursley (19), 14. Koby Barksdale (16), 15. Max Adams (12), 16. Chase Stockon (21), 17. Anton Hernandez (7), 18. Kyle Shipley (17), 19. Brandon Mattox (23-P), 20. Matt McDonald (22), 21. J.J. Hughes (18), 22. Geoff Ensign (20), 23. Justin Grant (11). NT
MAY 24, 2023 FEATURE: (30 laps, starting positions in parentheses) 1. Jake Swanson (4), 2. Kyle Cummins (3), 3. Brady Bacon (5), 4. Justin Grant (6), 5. Robert Ballou (1), 6. Mitchel Moles (8), 7. C.J. Leary (12), 8. Chase Stockon (10), 9. Daison Pursley (16), 10. Carson Garrett (7), 11. Emerson Axsom (17), 12. Rylan Gray (2), 13. Logan Seavey (9), 14. Charles Davis Jr. (14), 15. Scotty Weir (18), 16. Thomas Meseraull (19), 17. Jadon Rogers (15), 18. Matt Westfall (11), 19. Kevin Thomas Jr. (13), 20. Tye Mihocko (20), 21. Tyler Hewitt (22), 22. Ricky Lewis (21). NT
MAY 25, 2023 FEATURE: (40 laps, starting positions in parentheses) 1. Kyle Cummins (2), 2. Jake Swanson (3), 3. Brady Bacon (8), 4. Emerson Axsom (7), 5. Matt Westfall (9), 6. Daison Pursley (14), 7. Chase Stockon (18), 8. Thomas Meseraull (5), 9. C.J. Leary (17), 10. Mitchel Moles (15), 11. Logan Seavey (19), 12. Tye Mihocko (12), 13. Justin Grant (6), 14. Robert Ballou (1), 15. Rylan Gray (13), 16. Kevin Thomas Jr. (11), 17. Jadon Rogers (21), 18. Dave Darland (20), 19. Carson Garrett (4), 20. Charles Davis Jr. (10), 21. Jake Scott (16), 22. Sterling Cling (22). NT
JULY 24, 2023 FEATURE: (30 laps, starting positions in parentheses) 1. Kyle Cummins (4), 2. Logan Seavey (3), 3. Shane Cottle (12), 4. Emerson Axsom (8), 5. Xavier Doney (1), 6. Carson Garrett (2), 7. Robert Ballou (10), 8. Jake Swanson (5), 9. C.J. Leary (9), 10. Daison Pursley (16), 11. Justin Grant (11), 12. Chase Stockon (13), 13. Joey Amantea (21), 14. Matt Westfall (22), 15. Brent Beauchamp (17), 16. Brady Bacon (6), 17. Brandon Mattox (15), 18. Braxton Cummings (19), 19. Kevin Thomas Jr. (20), 20. Sterling Cling (18), 21. Charles Davis Jr. (14), 22. Mitchel Moles (7). NT