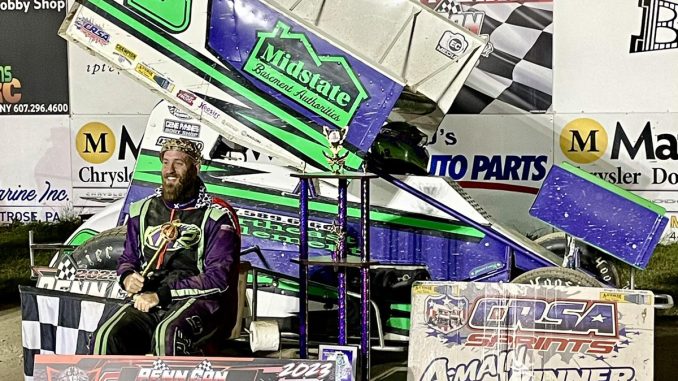 By Steven Ovens
(SODUS, NY) – As the 2023 series pushes toward a close in a few weeks, the A-Verdi Storage Containers CRSA Sprints powered by Super Gen Products joined on again for finale night during King of the Can Weekend at Penn Can Speedway.
27 cars packed the pit area just across the border in Pennsylvania, including one driver known as "Mr. Pierce" Monday through Friday and one of his fourth grade students. Pierce is a teacher and has really leaned into the contrasts of his work as an instructor and hobby as a racecar driver.
Weekly while school is in session, Pierce often incorporates his weekend racing into lessons for his students. Students have connected and often ask about Pierce's weekend accomplishments including viewing any livestream coverage available. This past Saturday, one of those students made the trek to Penn Can Speedway and left as happy as Pierce after seeing his teacher and favorite driver climb up top for a wing dance in Victory Lane.
It was a thrilling race on the short bullring promoted by Keith Beach. Pierce and John Cunningham redraw into the first two rows of the race and would maintain those positions all the way to the end of the event. Pierce was looking for a bounce back effort after a season of continued struggles and bad luck.
The Midstate Basement Authorities, Northeast Implement, 139 Auto No. 9K would find its way to Penn Can Victory Lane with Pierce donning a cape and taking his place on the Golden Throne. John Cunningham tied a career-best run of second place with an upcoming trip to Afton Motorsports Park in October- a place where Cunningham has run very well in the past.
Jordan Hutton just keeps taking care of business in the points championship. It wasn't easy at Penn Can on Saturday as Hutton had to start twelfth by virtue of his victory Friday night at Fonda Speedway. Troy, PA's Nathan Pierce represented well in his home state with his career-best finish of fourth and first career CRSA Top 5. "Mr. Consistency" Dalton Herrick followed Hutton through the pack from his eleventh starting spot to finish fifth and add to his total of CRSA Top 5's with 48- fifth on the series' all-time list.
"We have a student who is here to see his first ever dirt race. I woke up this morning and told my wife it was a great day to go get a win," said Pierce in Victory Lane.
"We have a lot to bring to show and tell this week. Monday (at school) is going to be fun."
For his bounce back efforts in claiming the Penn Can CRSA victory, Pierce earned an extra $25 for the Maguire Family of Dealerships "Magnificent Move of the Race." It ended up being an all Pierce night as Cliff Pierce gained eleven positions in going from nineteenth to eighth to score the Powdertech Powdercoating Hard Charger bonus.
The CRSA Sprints will now head West to Kurt and Bonnie Stebbins' Genesee Speedway on Friday night September 22 for the very first time in Series history. Following Genesee, the series will take a weekend off before visiting Afton Motorsports Park on Friday October 6 for the series championship.
The A-Verdi Storage Containers CRSA Sprints are powered by Super Gen Products. Associate sponsors for 2023 include Pit Stop Convenience Stores, DisBatch Brewing Company, the Maguire Family of Dealerships, Powdertech Powdercoating, PJC Sprayfoam, Profab Enterprises, Magsarus Ignitions, Hoosier Racing Tire, Insinger Performance with their Stinger Race Fuel, My Race Pass and is owned and operated by Mike Emhof Motorsports.
For more information on the series, results, points and 2023 schedule please visit our website www.crsasprints.com
Please visit the A-Verdi Storage Containers CRSA Sprints powered by Super Gen Products on Facebook (@CRSAsprints) and on Twitter (@CRSAsprints).
A-VERDI STORAGE CONTAINERS CRSA SPRINTS POWERED BY SUPER GEN PRODUCTS @ PENN CAN SPEEDWAY OFFICIAL RESULTS- Saturday September 16th, 2023:
A-MAIN RESULTS (25 Laps): 1. 9K-Kyle Pierce[4] ($1,000); 2. J27-John Cunningham[2]; 3. 66-Jordan Hutton[12]; 4. 10-Nathan Pierce[6]; 5. 29-Dalton Herrick[11]; 6. 1Q-Thomas Radivoy[9]; 7. 28-Ron Greek[5]; 8. 4-Cliff Pierce[19]; 9. 22-Tomy Moreau[15]; 10. 33-Scott Landers[8]; 11. 21B-Blake Warner[1]; 12. 4T-Ray Preston[13]; 13. 25G-Tyler Graves[3]; 14. 18-Timmy Lotz[16]; 15. 410-Jerry Sehn Jr[14]; 16. 13T-Trevor Years[18]; 17. 18C-Dan Craun[23]; 18. 98-Alex Adamsky[10]; 19. 09-Jacob Newell[17]; 20. 30-Kirsten Dombroski[21]; 21. D9-Dustin Sehn[20]; 22. (DNF) 22M-Aaron Shelton[24]; 23. (DNF) 77-Bob Hamm[25]; 24. (DNF) 14-James Layton[7]; 25. (DNF) 7S-Michael Smith[26]; 26. (DNS) 16CW-Charles Weslowski; 27. (DNS) 23-John Smith
DNQ: 7S Michael Smith, 09 Jacob Newell, 82 Shilo Boyce, 98 Alex Adamsky
Powdertech Powdercoating Hard Charger Bonus: 4 Cliff Pierce +11 Spots
Maguire Family of Dealerships "Magnificent Move of the Race": 9K Kyle Pierce
Heats (8 laps)
#1: 1. 9K-Kyle Pierce[3]; 2. 14-James Layton[1]; 3. 28-Ron Greek[2]; 4. 10-Nathan Pierce[4]; 5. 29-Dalton Herrick[7]; 6. 13T-Trevor Years[6]; 7. 09-Jacob Newell[9]; 8. (DNF) 18C-Dan Craun[5]; 9. (DNF) 22M-Aaron Shelton[8]
#2: 1. 33-Scott Landers[1]; 2. 1Q-Thomas Radivoy[6]; 3. J27-John Cunningham[3]; 4. 25G-Tyler Graves[5]; 5. 18-Timmy Lotz[4]; 6. 22-Tomy Moreau[8]; 7. 30-Kirsten Dombroski[2]; 8. (DNF) 16CW-Charles Weslowski[7]; 9. (DNS) 77-Bob Hamm
#3: 1. 66-Jordan Hutton[3]; 2. 21B-Blake Warner[1]; 3. 98-Alex Adamsky[2]; 4. 410-Jerry Sehn Jr[4]; 5. 4T-Ray Preston[7]; 6. 4-Cliff Pierce[5]; 7. D9-Dustin Sehn[8]; 8. 7S-Michael Smith[9]; 9. (DNS) 23-John Smith