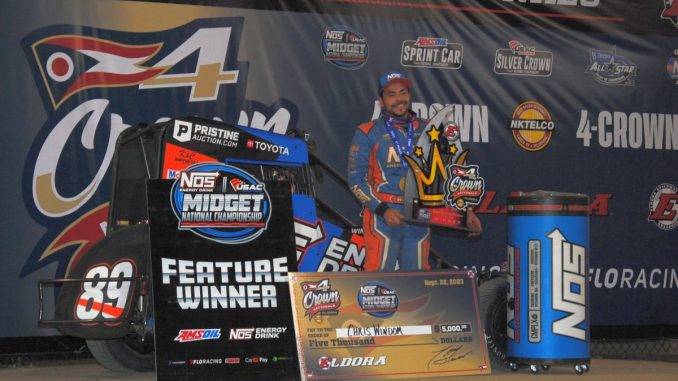 By T.J. Buffenbarger
ROSSBURG, Ohio (September 22, 2023) – Chris Windom picked up right where he left off last year at Friday Eldora Speedway with the USAC NOS Energy Drink National Midget Car Series by pulling into victor lane during the Night BeFour the Crowns Showdown.
Windom, who won the USAC Midget Car portion of the 4-Crown Nationals in 2022, started on the front row and was never seriously challenged in route to his first feature win of the 2023 season.
For Windom, coming back to race a midget for car owner Chad Boat is like slipping on an old, comfortable pair of shoes at one of his favorite racetracks.
"It's just such a fun racetrack when it's like this up on the fence and you got a lot of room and these midgets are so fun to run when it's like that," said Windom of Eldora's high wire act he used to drive to victory. "I've had a decent amount of experience here doing it so I always enjoy coming back and racing with Chad every chance I can we have a lot of fun together so thank you to NOS Energy Drink and everybody on CBI for letting me come back and do this because you know it's so much fun and this is one I look forward to every season."
The initial start of the 25-lap main event was called back, sending Jade Avedisian from the pole position back a row.
Windom took the lead while Daison Pursley and Avedisian trading slide jobs for second on the opening lap when the caution appeared for Chris Simon slowing on the track.
Avedisian took over second position on the restart and looked under Windom for the lead, but that was short lived when the caution appeared for Ian Creager slowing to a stop on the track.
Windom continued to lead as Avedisian, Bryant Wiedeman, and Pursley exchanged slide jobs at each corner. Wiedeman was able to take over second position and briefly closed on Windom for the lead before Windom built up enough momentum to pull away.
By lap 10 Avedisian started to pressure Wiedeman again for the second position, taking the spot with six laps to go. Avedisian was closing in on Windom but got into the fence in turns three and four just enough to allow Windom to pull away.
At the finish it was Windom taking the win over Avedisian, Rico Abreu, Weideman, and Logan Seavey.
The top becoming the dominant line fell right into Windom's wheelhouse as the feature progressed.
"I feel like early in the night guys are able to run the middle and bottom and there's enough juice left on exit tour you can do that but once it cleans off in the sprint cars run it's hard to beat momentum here," said Windom. "If you can get up top and hit your marks and not make a mistake, it's really tough to beat a guy that's up there, so I knew that's where it needed to be and I wasn't going to move until I saw anybody else."
For Avadesian, the jumped start was a missed opportunity to jump out in front early to get the first career USAC National Midget Car Series victory she so desperately wants.
"I was going to go hard from the start. I just really want to win one of these races but if we keep finishing up front, our time will come," said Avedisian. "Congrats to Chris (Windom), he did a really good job. From the start of the race getting put back kind of set us back and then (Windom) getting a jump. The last 10 laps, we were closing the gap on him and then I made a mistake in turn three and lost the gap again."
Logan Seavey went out near the end of qualifications and set fast time with a lap of 16.637 seconds. Ryan Timms, Wiedeman, and Mitchel Moles won heat race events.
USAC NOS Energy Drink National Midget Car Series
Eldora Speedway
Rossburg, Ohio
Friday, September 22, 2023
HONEST ABE ROOFING QUALIFYING: 1. Logan Seavey, 57, Abacus-16.637; 2. Bryant Wiedeman, 81, CBI-16.743; 3. Rico Abreu, 24, Thorson-16.782; 4. Daison Pursley, 19, Reinbold/Underwood-16.845; 5. Chris Windom, 89, CBI-16.846; 6. Jade Avedisian, 71, Kunz/Curb-Agajanian-16.905; 7. Justin Grant, 2, RMS-16.978; 8. Gavin Miller, 97, Kunz/Curb-Agajanian-16.987; 9. Daniel Whitley, 58, Abacus-17.005; 10. Ryan Timms, 67, Kunz/Curb-Agajanian-17.008; 11. Taylor Reimer, 25K, Kunz/Curb-Agajanian-17.071; 12. Jacob Denney, 25, Malloy-17.093; 13. Thomas Meseraull, 7x, RMS-17.207; 14. Jake Andreotti, 25m, Malloy-17.248; 15. Mitchel Moles, 19T, Reinbold/Underwood-17.274; 16. Clinton Boyles, 98x, RMS-17.299; 17. Briggs Danner, 98, Schneider-17.351; 18. Hayden Reinbold, 19AZ, Reinbold/Underwood-17.364; 19. Holly Jones, 4, Bundy Built-17.528; 20. Kyle Simon, 23, Simon-17.757; 21. Ian Creager, 36, Creager-17.944.
SIMPSON RACE PRODUCTS FIRST HEAT: (8 laps, all transfer to the feature) 1. Ryan Timms, 2. Logan Seavey, 3. Justin Grant, 4. Thomas Meseraull, 5. Daison Pursley, 6. Clinton Boyles, 7. Holly Jones. 2:18.90
ROD END SUPPLY SECOND HEAT: (8 laps, all transfer to the feature) 1. Bryant Wiedeman, 2. Jake Andreotti, 3. Chris Windom, 4. Gavin Miller, 5. Taylor Reimer, 6. Briggs Danner, 7. Kyle Simon. 2:20.94
T.J. FORGED/CAR IQ THIRD HEAT: (8 laps, all transfer to the feature) 1. Mitchel Moles, 2. Hayden Reinbold, 3. Rico Abreu, 4. Jade Avedisian, 5. Jacob Denney, 6. Daniel Whitley, 7. Ian Creager. 2:20.78
FEATURE: (25 laps, starting positions in parentheses) 1. Chris Windom (2), 2. Jade Avedisian (1), 3. Rico Abreu (4), 4. Bryant Wiedeman (5), 5. Logan Seavey (6), 6. Daison Pursley (3), 7. Justin Grant (9), 8. Gavin Miller (10), 9. Thomas Meseraull (14), 10. Ryan Timms (7), 11. Jacob Denney (13), 12. Mitchel Moles (8), 13. Daniel Whitley (11), 14. Jake Andreotti (15), 15. Hayden Reinbold (18), 16. Taylor Reimer (12), 17. Clinton Boyles (16), 18. Briggs Danner (17), 19. Holly Jones (19), 20. Kyle Simon (20), 21. Ian Creager (21). NT
FEATURE LAP LEADERS: Laps 1-25 Chris Windom.
USAC NOS ENERGY DRINK MIDGET NATIONAL CHAMPIONSHIP POINTS: 1-Logan Seavey-1227, 2-Justin Grant-1031, 3-Bryant Wiedeman-1021, 4-Jade Avedisian-1000, 5-Ryan Timms-992, 6-Daison Pursley-982, 7-Jacob Denney-907, 8-Gavin Miller-884, 9-Cannon McIntosh-868, 10-Thomas Meseraull-785.
4-CROWN NATIONALS PROSOURCE PASSING MASTER POINTS: 1-Bryant Wiedeman-6, 2-Logan Seavey-5, 3-Thomas Meseraull-5, 4-Rico Abreu-4, 5-Kyle Steffens-4, 6-Trey Burke-4, 7-Chris Windom-3, 8-Justin Grant-3, 9-Hayden Reinbold-3, 10-Dave Berkheimer-3.
OVERALL USAC NATIONAL PROSOURCE PASSING MASTER POINTS: 1-Daison Pursley-171, 2-Logan Seavey-125, 3-Emerson Axsom-108, 4-Shane Cottle-106, 5-Justin Grant-103, 6-Matt Westfall-101, 7-Robert Ballou-98, 8-Brady Bacon-92, 9-Chase Stockon-90, 10-Kevin Thomas Jr.-71.
NEXT USAC NOS ENERGY DRINK MIDGET NATIONAL CHAMPIONSHIP RACES: September 23, 2023 – Eldora Speedway – Rossburg, Ohio – 1/2-Mile Dirt Track – 41st 4-Crown Nationals Presented By NKTELCO
CONTINGENCY AWARD WINNERS:
Dirt Draft Hot Laps Fastest Driver: Ryan Timms (16.735)
Honest Abe Roofing Fast Qualifier: Logan Seavey (16.637)
Simpson Race Products First Heat Winner: Ryan Timms
Rod End Supply Second Heat Winner: Bryant Wiedeman
T.J. Forged / Car IQ Third Heat Winner: Mitchel Moles
Green APU Green Flag Challenge First Lap Leader: Chris Windom
Hard Charger: Thomas Meseraull (14th to 9th)