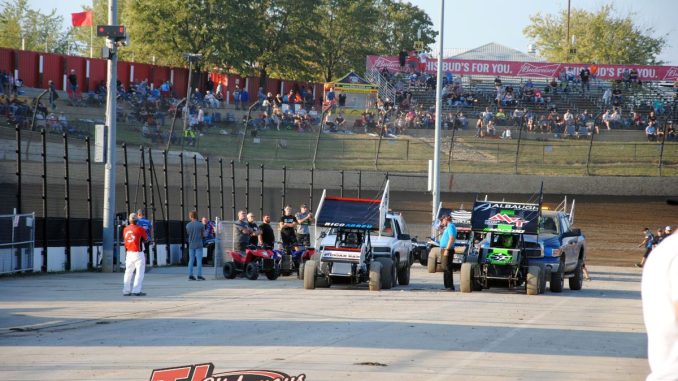 By T.J. Buffenbarger
The opening night of the 4-Crown Nationals weekend is in the books. Here are some takeaways from the evening's action.
During the second half of the year one of the storylines during All Star Circuit of Champions competition was speculating what would happen if Chris Windom started towards the front with the number of cars he ends up passing night in and night out.

Friday that was not a concern with Windom going back to his USAC roots to run a midget for CB Industries at Eldora Speedway. Windom was so sharp in the midget feature one would think he had been following the entire USAC National circuit this season.

Once Windom got in front the result was only in doubt by tripping on the tricky Eldora cushion that was right next to it's unforgiving concrete wall. The Windom/CB Industries combination at the Big E is clearly the one to beat this weekend.

It's difficult to believe that Friday was Windom's first feature win of the 2023 season. He has come close on the All Star Circuit of Champions tour this season, but Friday was a great reminder of how talented Windom is at the discipline he left to further his winged sprint car career.

To repeat that success though, Windom will have to start further back in the field tomorrow as the Friday's results have impact on Saturday's lineups for the USAC National Midget Car Series. With the way Windom has passed cars this season in the winged sprint car he will still be the favorite going into Saturday's program.
Friday was my first chance to witness Jade Avedisian racing in person for the first time. While Avedisian has impressed me from a far with some of her driving performances, watching her tackle Eldora's high banks with no hesitation was something to behold.

The fierce battle for the runner up spot between Avedisian, Bryant Wiedeman, and Daison Pursley was worth the price of admission to Friday's program.

Avedisian was not daunted by Eldora's high banks and concrete walls on Friday. There were several precarious moments in turns three and four, but each time Avedisian would not only recover, but keep hammering the top line seemingly harder than before.

There were moments where she was starting to close in on Windom for the lead. There were plenty of what if moments from Avedisian's performance on Friday. From what may have happened if she was not called for the jump on the start and not catching the wall in turns three and four wrong a couple of times, could she have pulled off that win? Windom was very strong, but Avedisian off the front row would have made things very interesting.

In my mind every bit of the hype with Avedisian is 100% justified after that performance on Friday.
Speaking of fun to watch and Eldora, Rico Abreu seemed to get some of his Eldora swagger back on Friday in route to winning the World of Outlaws feature. Abreu was in many people's eyes the favorite going into the Eldora Million/Kings Royal weekend. Winning during the May races at Eldora and dominating the Ohio Sprint Speedweek show at Eldora until losing the lead due to a flat tire.

While Abreu did up with top five runs in both of those races, the question now becomes when will Abreu take that next step and win one of Eldora's major events?

With Abreu seemingly comfortable at races like #letsracetwo and the 4-Crown Nationals and continuing to win, I could see him being a favorite to win the major Eldora races again in 2024 as long as his current crew remains intact.

Abreu winning a Kings Royal or whatever the other major race ends up being on the July weekend would be close to if not on par to Jac Haudenschild winning a major event at Eldora. Abreu has started to slip into that role as the rim riding hero at Eldora.

For now Abreu will focus on the pair of features he has an opportunity to win during Saturday's 4-Crown Nationals, but I'm already looking ahead to things that could make a difference to take Abreu's Eldora legend to the next level.