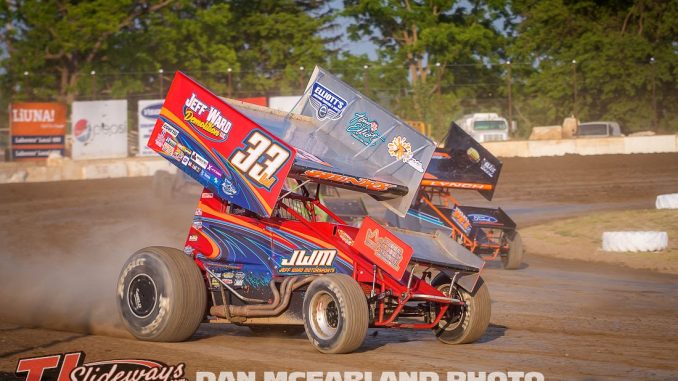 From Brian Liskai
FREMONT, Ohio (September 23, 2023) — Cap Henry completed the trifecta of 410 sprint racing in Ohio Saturday night. The Republic, Ohio driver got his sixth feature win of the year at Fremont Speedway on Fremont Federal Credit Union Night to wrap up his first ever track title to go with a track championship he earned at Attica Raceway Park and the title of the Attica Fremont Championship Series in 2023.
Henry, who now has 11 feature wins total in 2023, scored his 18th career Fremont win, came into the night just one point out of first in the point standings of the Fort Ball Pizza Palace 410 Sprints. Point leader Travis Philo led the first four laps of the feature before getting over the cushion in turn four and ending up on his side. Henry inherited the lead and survived several late race cautions for the win.
Seven time Fremont Speedway track champion Byron Reed would storm to a second place finish in his final sprint car race as he is retiring after 34 years of racing. TJ Michael, Dan McCarron and 20th starter DJ Foos rounded out the top five.
"I'm just so proud of my guys. That was a nerve racking race. Everything that could have gone wrong inside that thing did. The temp gauge was pegged, the steering kept messing up under the cautions, I was so nervous. My guys, Jeff and Gary and Zack and Chris and Chad…all the families involved and all the sponsors…I'm so thankful. I've come close to a track championship here so many times and for whatever reason the Fremont championship was just always hard. The closest I came to winning a championship here before I finished second to Byron (Reed) and it's so cool to see him go out like this," said Henry beside his Jeff Ward Demolition, Elliott's Custom Trailers and Carts, Premier Planning Services, Tony Elliott Foundation, Primal Tee Shop, SCS Gear Box, Napa of Fremont backed No. 33W.
Fremont, Ohio's Paul Weaver took the lead from John Ivy on lap five and held off a late race challenge from Dustin Dinan to score his 7th Fremont Federal Credit Union 305 Sprint feature win of the year and secure his fifth Fremont Speedway division track championship. It was Weaver's 78th career win at the track to lead all competitors in the track's history. Dinan, Bryan Sebetto, Kody Brewer and John Ivy rounded out the top five.
"When I saw Dustin on the bottom I knew I had to move down because it was faster down there. I have to keep winning because there's a group of young guys right there to catch me," said Weaver beside his Steve Brown's B&B Drain Services, M&L Excavating, Hampshire Engines backed No. 1W.
Fremont's Keith Sorg was able to nurse truck to a second straight win in the Burmeister Trophy Dirt Trucks despite a broken right front suspension. It was his seventh career win at the track with Art Howey, Cory McCaughey, Chuck Roelle and Dustin Keegan rounding out the top five. McCaughey's third place finish earned him his first ever Fremont Speedway division championship.
"It was worth all the time, effort and money to build this new truck during the winter," said Sorg of his Fremont Fence, M&L Excavating backed No. 4X.
"These kind of things don't come easy, you have to focus. In 21 years I've finished second in points so many damn times. Finally we did it," said McCaughey.
Fremont Speedway will be back in action Friday, Oct. 6 with the dirt trucks/street stock show down with the super late models joining the racing card as well.
Keep up to date with Fremont Speedway by going to www.fremontohspeedway.com or on Facebook at www.facebook/FremontSpeedway or on Twitter at https://twitter.com/FremontSpeedway.
Fremont Speedway
Fremont, Ohio
Saturday, September 24, 2023
410 Sprints – Fort Ball Pizza Palace
Qualifying
1.15C-Chris Andrews, 12.579; 2.33w-Cap Henry, 12.712; 3.X-Mike Keegan, 12.926; 4.16-DJ Foos, 12.982; 5.29-Zeth Sabo, 12.993; 6.5T-Travis Philo, 13.050; 7.7N-Darin Naida, 13.128; 8.8M-TJ Michael, 13.190; 9.7-Dylan Kingan, 13.216; 10.35-Stuart Brubaker, 13.252; 11.5-Byron Reed, 13.305; 12.12-Brian Lay, 13.321; 13.61-Tyler Shullick, 13.343; 14.2+-Brian Smith, 13.344; 15.22M-Dan McCarron, 13.465; 16.33$-Shane O'Banion, 13.514; 17.17-Reece Saldana, 13.616; 18.88-Jimmy McCune, 13.646; 19.98-Robert Robenalt, 13.755; 20.75-Jerry Dahms, 14.082; 21.21-Larry Kingseed, 16.667;
Heat 1, Group A – (8 Laps)
1. 33w-Cap Henry[3] ; 2. 21-Larry Kingseed[7] ; 3. 15C-Chris Andrews[4] ; 4. 12-Brian Lay[2] ; 5. 17-Reece Saldana[5] ; 6. 98-Robert Robenalt[6] ; 7. 2+-Brian Smith[1]
Heat 2, Group B – (8 Laps)
1. 7N-Darin Naida[2] ; 2. 5T-Travis Philo[3] ; 3. 61-Tyler Shullick[5] ; 4. 88-Jimmy McCune[7] ; 5. 33$-Shane O'Banion[6] ; 6. 7-Dylan Kingan[1] ; 7. 16-DJ Foos[4]
Heat 3, Group C – (8 Laps)
1. 35-Stuart Brubaker[1] ; 2. 8M-TJ Michael[2] ; 3. X-Mike Keegan[4] ; 4. 5-Byron Reed[5] ; 5. 22M-Dan McCarron[6] ; 6. 75-Jerry Dahms[7] ; 7. 29-Zeth Sabo[3]
A-Main 1 – (30 Laps)
1. 33w-Cap Henry[1] ; 2. 5-Byron Reed[11] ; 3. 8M-TJ Michael[7] ; 4. 22M-Dan McCarron[14] ; 5. 16-DJ Foos[21] ; 6. 21-Larry Kingseed[5] ; 7. 17-Reece Saldana[12] ; 8. 5T-Travis Philo[2] ; 9. 2+-Brian Smith[18] ; 10. 35-Stuart Brubaker[8] ; 11. 7N-Darin Naida[3] ; 12. 12-Brian Lay[9] ; 13. 33$-Shane O'Banion[16] ; 14. 88-Jimmy McCune[13] ; 15. 61-Tyler Shullick[10] ; 16. 98-Robert Robenalt[15] ; 17. 15C-Chris Andrews[6] ; 18. 75-Jerry Dahms[17] ; 19. X-Mike Keegan[4] ; 20. 7-Dylan Kingan[19] ; 21. 29-Zeth Sabo[20]
305 Sprints – Fremont Federal Credit Union
Qualifying
1.26-Jamie Miller, 13.833; 2.5DD-Dustin Dinan, 13.932; 3.5Jr-Jimmy McGrath Jr, 13.947; 4.01-Bryan Sebetto, 14.047; 5.1W-Paul Weaver, 14.143; 6.4x-Dustin Stroup, 14.155; 7.28-Shawn Valenti, 14.184; 8.36-Seth Schneider, 14.239; 9.10TS-Tyler Schiets, 14.241; 10.4K-Blayne Keckler, 14.283; 11.2s-Jackson Sebetto, 14.285; 12.16-Lee Sommers, 14.326; 13.49I-John Ivy, 14.361; 14.63-Randy Ruble, 14.447; 15.5-Kody Brewer, 14.469; 16.78-Austin Black , 14.526; 17.X15-Kasey Ziebold, 14.581; 18.5M-Mike Moore, 14.602; 19.51M-Haldon Miller, 14.719; 20.0-Bradley Bateson, 14.925; 21.9R-Reid Riehl, 14.963; 22.22-Justin Lusk, 15.155; 23.27D-Steven Dolphin, 15.180; 24.98-Dave Hoppes, 15.631;
Heat 1, Group A – (8 Laps)
1. 01-Bryan Sebetto[3] ; 2. 5Jr-Jimmy McGrath Jr[4] ; 3. 1W-Paul Weaver[2] ; 4. 10TS-Tyler Schiets[5] ; 5. 36-Seth Schneider[1] ; 6. 22-Justin Lusk[7] ; 7. 9R-Reid Riehl[6] ; 8. 98-Dave Hoppes[8]
Heat 2, Group B – (8 Laps)
1. 5-Kody Brewer[6] ; 2. 16-Lee Sommers[1] ; 3. 63-Randy Ruble[5] ; 4. 0-Bradley Bateson[8] ; 5. 2s-Jackson Sebetto[2] ; 6. 26-Jamie Miller[4] ; 7. 51M-Haldon Miller[7] ; 8. 28-Shawn Valenti[3]
Heat 3, Group C – (8 Laps)
1. 4K-Blayne Keckler[2] ; 2. 49I-John Ivy[1] ; 3. 4x-Dustin Stroup[3] ; 4. 5DD-Dustin Dinan[4] ; 5. X15-Kasey Ziebold[6] ; 6. 78-Austin Black [5] ; 7. 5M-Mike Moore[7] ; 8. 27D-Steven Dolphin[8]
A-Main 1 – (25 Laps)
1. 1W-Paul Weaver[2] ; 2. 5DD-Dustin Dinan[4] ; 3. 01-Bryan Sebetto[5] ; 4. 5-Kody Brewer[3] ; 5. 49I-John Ivy[1] ; 6. 4x-Dustin Stroup[11] ; 7. 26-Jamie Miller[16] ; 8. 5Jr-Jimmy McGrath Jr[8] ; 9. X15-Kasey Ziebold[14] ; 10. 10TS-Tyler Schiets[9] ; 11. 4K-Blayne Keckler[6] ; 12. 63-Randy Ruble[10] ; 13. 16-Lee Sommers[7] ; 14. 78-Austin Black [17] ; 15. 2s-Jackson Sebetto[15] ; 16. 5M-Mike Moore[20] ; 17. 51M-Haldon Miller[19] ; 18. 9R-Reid Riehl[18] ; 19. 0-Bradley Bateson[13] ; 20. 27D-Steven Dolphin[23] ; 21. 98-Dave Hoppes[21] ; 22. 36-Seth Schneider[12] ; 23. 28-Shawn Valenti[22]
Dirt Trucks – Burmeister Trophy
Qualifying
1.25-Chuck Roelle, 17.637; 2.4x-Keith Sorg, 17.894; 3.7b-Shawn Valenti, 17.903; 4.P51-Dave Gumby Jr., 17.961; 5.36m-Cory McCaughey, 18.110; 6.44X-Jim Holcomb, 18.141; 7.32H-Dan Hennig , 18.205; 8.99H-Art Howey Jr, 18.309; 9.33-Brian Arnold, 18.314; 10.8KB-Kent Brewer, 18.400; 11.26-Kyle Lagrou, 18.430; 12.17x-Dustin Keegan, 18.544; 13.9-Curt Inks, 18.572; 14.83-Butch Latte, 18.589; 15.101-Chester Fitch, 18.660; 16.34-Todd Warnick, 18.812; 17.28-Cody Laird, 18.937; 18.23m-Brad Mitten, 18.955; 19.5s-Bradley Stuckey, 19.069; 20.7X-Dana Frey, 19.137; 21.99-Eric Potridge, 19.218; 22.3b-Kaydin Bailey, 19.220; 23.18s-Randy Swiecicki, 19.374; 24.20S-Caleb Shearn, 19.395; 25.3-Devan McEwan, 19.653; 26.51-David Bankey, 19.854; 27.4M-Jamie Miller, 21.438; 28.57MS-Zack Kramer, 99.100;
Heat 1, Group A – (8 Laps)
1. 4x-Keith Sorg[4] ; 2. 32H-Dan Hennig [2] ; 3. 44X-Jim Holcomb[3] ; 4. 8KB-Kent Brewer[1] ; 5. 26-Kyle Lagrou[5] ; 6. 5s-Bradley Stuckey[9] ; 7. 101-Chester Fitch[6] ; 8. 23m-Brad Mitten[8] ; 9. 28-Cody Laird[7] ; 10. 57MS-Zack Kramer[10]
Heat 2, Group B – (8 Laps)
1. 7b-Shawn Valenti[4] ; 2. P51-Dave Gumby Jr.[3] ; 3. 33-Brian Arnold[1] ; 4. 99H-Art Howey Jr[2] ; 5. 83-Butch Latte[5] ; 6. 34-Todd Warnick[6] ; 7. 20S-Caleb Shearn[7] ; 8. 51-David Bankey[8] ; 9. 4M-Jamie Miller[9]
Heat 3, Group C – (8 Laps)
1. 25-Chuck Roelle[4] ; 2. 36m-Cory McCaughey[3] ; 3. 17x-Dustin Keegan[2] ; 4. 7X-Dana Frey[5] ; 5. 3-Devan McEwan[9] ; 6. 18s-Randy Swiecicki[8] ; 7. 9-Curt Inks[1] ; 8. 99-Eric Potridge[6] ; 9. 3b-Kaydin Bailey[7]
B-Main 1 – (10 Laps)
1. 5s-Bradley Stuckey[1] ; 2. 23m-Brad Mitten[6] ; 3. 28-Cody Laird[9] ; 4. 34-Todd Warnick[2] ; 5. 99-Eric Potridge[8] ; 6. 18s-Randy Swiecicki[3] ; 7. 20S-Caleb Shearn[4] ; 8. 101-Jamie Miller[12] ; 9. 57MS-Zack Kramer[11] ; 10. 51-David Bankey[7] ; 11. 9-Curt Inks[5] ; 12. 3b-Kaydin Bailey[10]
A-Main 1 – (20 Laps)
1. 4x-Keith Sorg[3] ; 2. 99H-Art Howey Jr[1] ; 3. 36m-Cory McCaughey[6] ; 4. 25-Chuck Roelle[7] ; 5. 17x-Dustin Keegan[11] ; 6. 44X-Jim Holcomb[5] ; 7. 28-Cody Laird[18] ; 8. 33-Brian Arnold[10] ; 9. P51-Dave Gumby Jr.[4] ; 10. 7X-Dana Frey[14] ; 11. 83-Butch Latte[13] ; 12. 23m-Brad Mitten[17] ; 13. 7b-Shawn Valenti[8] ; 14. 5s-Bradley Stuckey[16] ; 15. 3-Devan McEwan[15] ; 16. 99-Eric Potridge[20] ; 17. 34-Todd Warnick[19] ; 18. 32H-Dan Hennig [2] ; 19. 26-Kyle Lagrou[12] ; 20. 8KB-Kent Brewer[9]