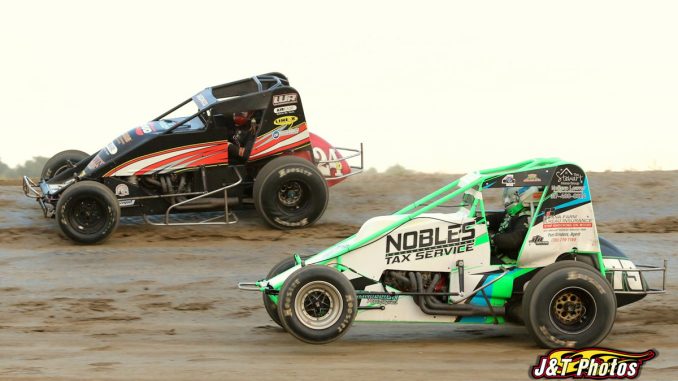 By Aaron Fry
The penultimate event for the 2023 season of the Buckeye Outlaw Sprint Series tour is set for this Saturday, September 30th at the Montpelier Motor Speedway in Montpelier, Indiana. In May, the tour brought 40 entries to the historic quarter mile oval when the last driver to pull into the pit area was the first one across the finish line! It was Braxton Cummings scoring the win over current tour point leader, Ricky Lewis. But a mere write-up could not do the main event justice in terms of the action it provided. Most in attendance would have nominated it for "race of the year" as Cummings, Lewis and Dallas Hewitt battled 3 wide at times, for the lead, in heavy lapped traffic.
Very near clinching the season championship, Ricky Lewis will lead the field into Montpelier with Korbyn Hayslett in the runner-up spot, only 7 points ahead of Isaac Chapple who sits in the third spot. Cody Gardner and Lee Underwood round out the current top 5 with Jesse Vermillion, Brian Ruhlman, Blake Vermillion, Steve Little and Dustin Ingle rounding out the top 10.
On Saturday, pit gates will open at 3 with general admission gates opening at 4. BOSS driver meeting will be at 5:45 with hot laps at 6 and racing at 7:30. Adult general admission tickets are $20 while kids 12 and under are free with adult admission. For competing teams, cars must be on 4 corner Hoosier Tires and the right rear must be one of the following: D15A, Medium or H15. There is no entry fee for the BOSS sprints and Montpelier Speedway promoter, Chad King, graciously provides the transponders free of charge!
The payout for Saturday's 25 lap main event is the standard BOSS payout for this season which is as follows: 2000, 1000, 750, 650, 550, 500, 450, 425, 400, 375, 350, 340, 330, 320, 310, 300, 300, 300, 300, 300. Heat races will also pay the top 4: 40, 30, 20, 10 thanks to MadTree Brewing of Cincinnati, Outsider's Merchandise & Apparel, and Elizabeth Gardner Photography. Bonus awards will be provided by Hoosier Tire, Indy Race Parts, E A Home Supply, Cowen Truck Line Inc, All Pro Aluminum Cylinder Heads and All Star Performance.
Mufflers are NOT required for this weekend. The BOSS series will have a limited supply of tires and methanol available. Please call ahead to reserve specific sizes or chalk marks or specific amounts of fuel. We hope to see everyone at Montpelier this Saturday!