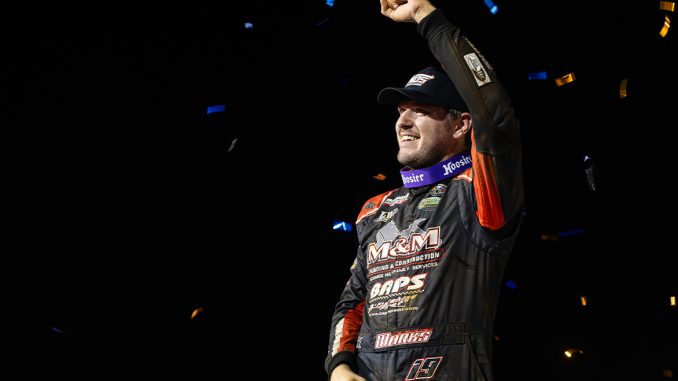 By Alex Nieten
MECHANICSBURG, PA (September 30, 2023) – Chalk up the 61st Champion Racing Oil National Open to the Pennsylvania Posse.
Brent Marks is a native of Myerstown, PA, cut his teeth in the Sprint Car hotbed before embarking on a national schedule for a few seasons, and has refocused a majority of his racing on the region in recent years. On Saturday night at Williams Grove Speedway, Marks made his home state fans proud by topping the 2023 National Open for the Posse.
Marks started on the pole of the 40-lap Feature and slipped back to third early before rallying to snatch the top in the second half of the main event on his way to victory in the final leg of Sprint Car racing's Triple Crown and a huge $75,000 paycheck.
The grandstands erupted as the "Myerstown Missile" took the checkered flag. In Victory Lane, the roars thundered even louder as he rose atop the wing of the Murray-Marks #19. One of PA's own had taken down the World of Outlaws NOS Energy Drink Sprint Cars at the state's premier event.
"It feels awesome. To be standing up here in front of this crowd is just absolutely amazing," Marks said. "The support in Pennsylvania is second to none. I can't thank all of the fans for coming out tonight enough and supporting this event and supporting us. Got a win for the PA Posse."
Adding to his 2019 National Open triumph, Marks became the 13th driver in history to top the crown jewel multiple times. The win also served as his 13th with The Greatest Show on Dirt. Four of those have occurred at Williams Grove. The Posse now own back-to-back National Open titles after Lance Dewease notched his fifth "Natty O" in 2022.
While Marks began the main event from the front courtesy of winning the Toyota Racing Dash, the route to victory was no walk in the park. The 32-year-old led the opening circuit, but Justin Peck threw a successful slide job on the second lap to take over the lead. In the next set of corners, sixth-starting Daryn Pittman rolled by Marks on the bottom to snatch second.
Peck maintained roughly a one second advantage over Pittman for the next handful of laps. But as the leaders approached traffic, Pittman began to close in on the Buch Motorsports #13. On the 12th lap, Peck slipped up exiting Turn 2 allowing Pittman to power into the lead behind the wheel of the Kreitz Racing #69K.
World of Outlaws and Posse fans united in their joy as Pittman moved into the top spot. The 2013 World of Outlaws champion and former regular in Pennsylvania entered the weekend with five National Open runner-ups on his résumé but no wins. The semi-retired racer has only competed a handful of times this year but made sure to climb aboard a potent ride for the race that had long eluded him.
Marks lurked close behind as Pittman claimed the lead. Only three laps after Pittman passed Peck, Marks also moved ahead of him to grab second and set his sights on Pittman.
A pair of restarts bunched the field together as the Feature neared the halfway point, but Pittman aced both of them in his pursuit of National Open glory and pulled ahead. While Pittman initially gapped Marks on the second restart, Marks began to mount a charge as he got the #19 rolling on the top.
The race reached the 20-lap halfway mark, and it became clear was Marks was closing. The margin visibly shrank lap after lap as Pittman stayed glued to the bottom while Marks remained committed to the cushion. On Lap 22, Marks got a huge run out of Turn 4 and powered alongside Pittman down the front straightaway before sliding him in Turns 1 and 2. Pittman looked under Marks exiting the second corner but couldn't nose back ahead.
"Our care is just a long run car. We always struggle a little bit at the beginning of a race with a full fuel load," Marks explained. "We just need laps. That's all it took tonight, just getting laps. The top started to clean off a little bit more and come in more than it was, and Daryn was running around the bottom down there."
Even after getting passed, Pittman continued to put up a fight as he didn't let Marks pull away at first. The Owasso, OK native kept the powder blue machine a few car lengths behind Marks lap after lap in search of his first National Open.
Eventually, Marks began to inch away from Pittman as the lead duo made their way through traffic, the margin extending beyond a second and a half at one point. One last glimmer of hope gleamed on the 32nd circuit when Pittman slashed Mark's advantage from 1.1 seconds to nearly half a second in traffic.
But ultimately, Pittman also found himself slightly held up by the same cars, allowing Marks to again grow the gap. Marks expertly worked his way through lapped cars on his way to a comfortable 2.4 second lead when the checkered flag flew.
"To get my second National Open title is really special," Marks said. "We had a shot to win this back in 2021, and I hit a lapped car and spun out while leading and last year we finished second. This kind of felt like a little bit of redemption for me. Just hats off to this whole team. The Murray-Marks Motorsports team is just awesome."
Pittman crossed the finish line in second for his sixth National Open runner-up in a fifth different car as Kreitz Racing came up a spot short of two consecutive National Open victories. The effort was worth a $25,000 payday. Driving from sixth to first and leading 11 laps but ultimately coming up short again left Pittman with a tough pill to swallow.
"Second still sucks. I've just been so close," Pittman said. "That one's hard to swallow. Honestly, I just feel like I let these guys down. At the end of the day, this car is amazing, and I'm disappointed. Man, if we would've pulled that off, I can guarantee they were going to have to find a driver to start and park that second Feature because you weren't ever going to see me here again. I would've gladly walked away with a National Open win and hung up my career at Williams Grove."
Rounding out the top three was the night's Simpson Performance Products QuickTime Award winner – Rico Abreu. The St. Helena, CA native pocketed $10,000 for the third place run as he notched his 15th World of Outlaws podium of the year.
"It's amazing to race in front of such a big crowd here at Williams Grove Speedway," Abreu commented. "Those guys just had a little bit faster pace than us. The more I moved around the more I felt kind of numb leaving the corners, and I just needed to be up top."
Sheldon Haudenschild and Brad Sweet completed the top five.
Sweet's fifth coupled with his win in the second Feature of the night allowed him to extend his points lead up to 90 markers.
Danny Dietrich scored KSE Racing Hard Charger honors with a drive from 27th to 9th.
CASE No.1 Engine Oil Heat One went to Rico Abreu. NOS Energy Drink Heats Two through Four were topped by Justin Peck, Brad Sweet, and Brent Marks.
Buddy Kofoid won the Micro-Lite Last Chance Showdown.
UP NEXT: The World of Outlaws NOS Energy Drink Sprint Car Series returns to Port Royal Speedway for the two-day Nittany Showdown, Friday-Saturday, Oct. 6-7. For tickets, CLICK HERE.
If you can't make it to the track, catch all of the action live on DIRTVision.
RESULTS:
NOS Energy Drink Feature (40 Laps): 1. 19-Brent Marks[1]; 2. 69K-Daryn Pittman[6]; 3. 24-Rico Abreu[4]; 4. 17-Sheldon Haudenschild[7]; 5. 49-Brad Sweet[3]; 6. 13-Justin Peck[2]; 7. 2-David Gravel[5]; 8. 15-Donny Schatz[17]; 9. 48-Danny Dietrich[27]; 10. 7BC-Tyler Courtney[8]; 11. 5-Spencer Bayston[15]; 12. 18-Giovanni Scelzi[22]; 13. 11-Cory Eliason[10]; 14. 3Z-Brock Zearfoss[11]; 15. 9-Kasey Kahne[9]; 16. 8E-Freddie Rahmer[26]; 17. 83JR-Michael Kofoid[21]; 18. 99-Skylar Gee[18]; 19. 41-Carson Macedo[12]; 20. 21-Brian Brown[16]; 21. 83-James McFadden[14]; 22. 1S-Logan Schuchart[25]; 23. 71-Anthony Macri[19]; 24. 26-Zeb Wise[24]; 25. 39M-Lance Dewease[13]; 26. 91-Kyle Reinhardt[20]; 27. 8-Aaron Reutzel[23]
FULL CIRCLE: Brad Sweet Scores Second Williams Grove Win of 2023 Season
Sweet won the first Williams Grove race of the 2023 World of Outlaws season in May and the last on Saturday night
The World of Outlaws NOS Energy Drink Sprint Car Series' 2023 journey to Williams Grove Speedway ended the same way it started – with Brad Sweet in Victory Lane.
Less than 30 minutes after finishing fifth in the 61st Champion Racing Oil National Open, "The Big Cat" found another gear and won the 25-lap Feature – that was postponed from Friday – for his second Williams Grove triumph of the year. His first came in May.
"Really had a great race car right there," Sweet said. "Wish we had that for the National Open. But it is hard to win these races. Everyone is always trying things and it's in a small window.
"My guys have been giving me good race cars. Not only here, but everywhere lately. We've been in contention to win; it seems like night in and night out."
Sweet started outside pole, alongside Toyota Dash winner Tyler Courtney. When the Feature commenced, "Sunshine" got the early jump and pulled ahead. However, the NAPA Auto Parts #49 kept the pressure on every corner.
Sweet dove under Courtney going into Turn 3 on Lap 2, but the NOS Energy Drink #7BC propelled ahead from the momentum gained on the top lane.
Their battle was interrupted with a caution on Lap 5 for a slowed Chase Randall. Upon the race's resumption, Sweet took another shot at a Turn 3 slider. This time, success.
New leader, Brad Sweet, on Lap 6.
Three laps later, he was already ahead by nearly two seconds.
Courtney was left to try and fend of Carson Macedo for second, but a new hope emerged at the halfway point. While Sweet dealt with slower traffic, Courtney cut his lead in half.
With nine laps to go, Courtney closed within a second. With four to go, under half a second.
A potential July scenario was playing out again for Sweet where he got passed on the last corner by Logan Schuchart for the win.
However, Courtney lost his charge, getting passed by Macedo and David Gravel in the final two laps.
The four-time and reigning World of Outlaws champion went on to visit Victory Lane for the 10th time this season with the Series, extend his points lead – now 90 over Gravel – and score multiple wins at Williams Grove in a season for the first time in his career.
"We finally got the win with (my daughter) Savannah with me – she got to go on the wing – and my wife," Sweet said. "My wife has spent a lot of miserable nights here at Williams Grove, (with us) having to take provisionals and stuff, so it is cool to see it come full circle and us get a win."
After blowing a motor on the final lap of the National Open, Macedo and his Jason Johnson Racing crew thrashed in under 30 minutes to get a new motor in the car and have it ready for another 25 laps. Their resilience was rewarded with a second-place run.
"This JJR 41 team did an incredible job," Macedo said. "That was about as quick as you can change a motor and try to make adjustments… I'm really proud of them. You work so hard and turn around and come back and get a runner up finish. I felt like we were pretty strong there at the end. I could get through (Turns 1 and 2) better than most guys."
Gravel finished third for his 30th podium finish of the season – a Series high.
"I wish we could get to lap traffic there and dice it up a little bit more but just ran out of laps and got to third there on the last lap," Gravel said.
"Overall, a solid weekend, but Brad (Sweet) beat us both nights and that's not what you want. We're going to keep working hard and digging and Port Royal (Speedway) is a pretty good track for us, so I'm really excited for [the Nittany Showdown, Oct. 6-7]."
Before the rain fell and postponed Friday's Feature to Saturday, Gravel had a strong start to the event, scoring the Simpson Quick Time Award and winning the CASE No.1 Engine Oil Heat #1.
Courtney finished fourth and, after winning his second National Open title, Brent Marks finished fifth. Ten-time Series champion Donny Schatz won the KSE Hard Charger Award, making his way from 27th to 13th.
UP NEXT: The World of Outlaws NOS Energy Drink Sprint Car Series returns to Port Royal Speedway for the two-day Nittany Showdown, Friday-Saturday, Oct. 6-7. For tickets, CLICK HERE.
If you can't make it to the track, you can watch every lap live on DIRTVision.
RESULTS:
NOS Energy Drink Feature (25 Laps): 1. 49-Brad Sweet[2]; 2. 41-Carson Macedo[4]; 3. 2-David Gravel[6]; 4. 7BC-Tyler Courtney[1]; 5. 19-Brent Marks[13]; 6. 39M-Lance Dewease[7]; 7. 8E-Freddie Rahmer[8]; 8. 13-Justin Peck[9]; 9. 69K-Daryn Pittman[15]; 10. 11T-TJ Stutts[14]; 11. 83JR-Michael Kofoid[10]; 12. 18-Giovanni Scelzi[19]; 13. 15-Donny Schatz[27]; 14. 21-Brian Brown[5]; 15. 8-Aaron Reutzel[12]; 16. 27-Troy Wagaman Jr[20]; 17. 17-Sheldon Haudenschild[29]; 18. 3Z-Brock Zearfoss[11]; 19. 48-Danny Dietrich[24]; 20. 5-Spencer Bayston[30]; 21. 39T-Kyle Moody[26]; 22. 44-Dylan Norris[28]; 23. 1S-Logan Schuchart[25]; 24. 1X-Chad Trout[18]; 25. (DNF) 9-Kasey Kahne[23]; 26. (DNF) 58-Chase Randall[17]; 27. (DNS) 26-Zeb Wise; 28. (DNS) 83-James McFadden; 29. (DNS) 71-Anthony Macri; 30. (DNS) 24-Rico Abreu