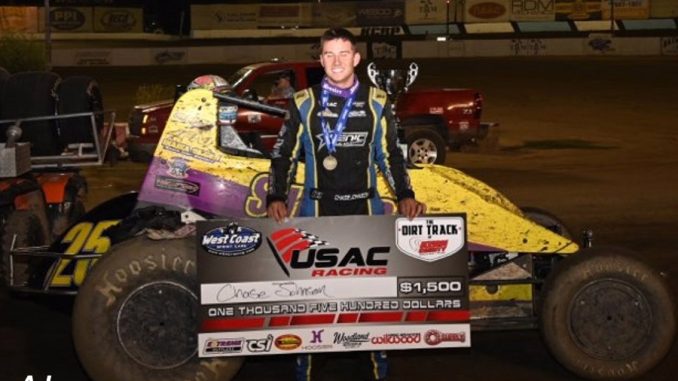 By Lance Jennings
BAKERSFIELD, CALIFORNIA – OCTOBER 9, 2023… Leading all 30-laps, second starting Chase Johnson of Penngrove, California sailed to last Saturday's $1,500 "George Snider Classic" victory at The Dirt Track at Kern County Raceway Park. After rains washed away the Short Track Nationals in Arkansas, Johnson secured Chris Muraoka's #25 Surecan LLC / O'Brien Race Cars Triple X ride and claimed the eighth USAC West Coast Sprint Car victory of his career. Hard Charger David Gasper, fast qualifier Brody Fuson, Logan Calderwood, and Heath Holdsclaw rounded out the top five drivers.
Johnson began his night by qualifying fifth overall and followed that up by running second to Adam Christian in his heat race. Once out front, the versatile driver dominated the feature, only to have several caution flags halt the event. Chase had excellent restarts, managed his way through slower traffic, and was not to be denied for his third win at the fast 1/3-mile oval.
Bakersfield, California's Brody Fuson established the new track record and captured his second Woodland Auto Display Fast Time Award with a time of 14.113 seconds over the 23-car roster. Driving Bob & Toni Van Meter's #51 Race Pa Motorsports / W.E. Spike, Fuson won the 10-lap Extreme Mufflers Heat Race, and was involved in an early flip with newly crowned champion with Ryan Timmons on the second lap. While Timmons was done for the night, Fuson restarted at the back and charged to a third place finish. Brody had just claimed the USAC Western States Midget Championship and climbed to second in the final USAC West Coast Sprint Car standings.
Santa Clara, California's Adam Christian raced to his first USAC heat race victory in the 10-lap Brown & Miller Racing Solutions sponsored event. The rookie contender and owner/driver of the #12 Yak Graphics Triple X was fourteenth quick in time trials and finished eighth in the feature. Christian finished his campaign ranked tenth in the point chase.
Ron LaPlant of Oroville, California earned Rookie of the Year honors for the 2023 season. The owner/driver of the #69 RJL Truck & Tractor / Feather Falls Casino Eagle qualified ninth overall, won his first USAC heat race in the 10-lap Competition Suspension Incorporated event, and scored fourteenth in the feature after a late race flat front tire knocked him out from second. LaPlant had a shot at the championship but fell to fourth in the West Coast standings.
Starting eighteenth, Goleta, California's David Gasper earned the night's BR Motorsports / Rod End Supply Hard Charger Award after finishing second in the 30-lap "Sammy Bahr / Ray Stansberry Feature." Driving the Gasper Racing / Kittle Motorsports owned #18 AR Air Repair Triple X, Gasper was eighteenth in time trials and scored fifth in his heat race. The rookie contender and two-time California Lightning Sprint Champion placed fifth in the final point standings.
Camie Bell of Bakersfield, California claimed the night's Wilwood Disc Brakes "Lucky 13 Award" after running thirteenth in the main event from twenty-first. Driving the family owned #29C American Fabrication Industrial Finishes / Hydraulic Controls entry, Bell qualified twenty-first overall, ran seventh in hear heat race, and climbed to twelfth in the point chase.
The USAC West Coast Sprint Car Series thanks, BR Motorsports, Brown & Miller Racing Solutions, Competition Suspension Incorporated, Extreme Mufflers, Finishline Promotions, FloRacing, High Tech Performance, Hoosier Racing Tires, P1 Racing Images, Rod End Supply, Saldana Racing Products, SCRAFAN.COM, Sidewaze Designs, Steve Lafond, Tear-Off Heaven Fotos, Wilwood Disc Brakes, and Woodland Auto Display for their support.
For more information on the USAC West Coast Sprint Car Series, visit usacracing.com and the social media for USAC Racing. You can also find exclusive content on the USAC West Coast Facebook, Twitter and Instagram pages.
USAC WEST COAST SPRINT CAR SERIES RACE RESULTS: October 7, 2023 – The Dirt Track at Kern County Raceway Park – Bakersfield, California – "George Snider Classic" & "Championship Night"
WOODLAND AUTO DISPLAY FAST QUALIFIER: 1. Brody Fuson, 51, Van Meter-14.113 (New Track Record); 2. T.J. Smith, 32, Sarale-14.466; 3. Ryan Timmons, 29T, Timmons-14.586; 4. Chris Ennis, 86, Ennis-14.596; 5. Chase Johnson, 25, Muraoka-14.600; 6. Kyle Edwards, 39, Edwards-14.694; 7. Tom Dunkel, 17A, Dunkel-14.697; 8. Logan Calderwood, 6, Calderwood-14.720; 9. Ron LaPlant, 69, LaPlant-14.819; 10. Jake Andreotti, 8M, May-14.841; 11. Heath Holdsclaw, 33, Case-14.873; 12. A.J. Bender, 8W, May-14.939; 13. Tom Hendricks, 14, Hendricks-14.973; 14. Adam Christian, 12, Christian-15.007; 15. Matt Day, 97, Day-15.244; 16. Aaron Altaffer, 84, Altaffer-15.343; 17. Malyssa Perkins, 85M, Perkins-15.682; 18. David Gasper, 18, Gasper/Kittle-15.802; 19. Elexa Herrera, 5E, Herrera-15.912; 20. Jon DeWees, 63D, DeWees-16.008; 21. Camie Bell, 29C, Bell-16.105; 22. Gage Stickler, 17, Diani-16.653; 23. Tyler Hatzikian, 27, Hatzikian-19.613.
EXTREME MUFFLERS FIRST HEAT: (10 laps) 1. Fuson, 2. Hendricks, 3. Ennis, 4. Dunkel, 5. Altaffer, 6. Herrera, 7. Stickler, 8. Andreotti. NT.
BROWN & MILLER RACING SOLUTIONS SECOND HEAT: (10 laps) 1. Christian, 2. Johnson, 3. Smith, 4. DeWees, 5. Holdsclaw, 6. Calderwood, 7. Perkins. NT.
COMPETITION SUSPENSION INCORPORATED THIRD HEAT: (10 laps) 1. LaPlant, 2. Timmons, 3. Bender, 4. Day, 5. Gasper, 6. Edwards, 7. Bell. NT.
SAMMY BAHR & RAY STANSBERRY FEATURE: (30 laps, With Starting Positions) 1. Chase Johnson (2), 2. David Gasper (18), 3. Brody Fuson (6), 4. Logan Calderwood (10), 5. Heath Holdsclaw (12), 6. Kyle Edwards (9), 7. Chris Ennis (3), 8. Adam Christian (8), 9. Jon DeWees (20), 10. Tom Hendricks (14), 11. Aaron Altaffer (16), 12. Gage Stickler (22), 13. Camie Bell (21), 14. Ron LaPlant (7), 15. A.J. Bender (13), 16. Malyssa Perkins (17), 17. Elexa Herrera (19), 18. T.J. Smith (5), 19. Tom Dunkel (1), 20. Matt Day (15), 21. Ryan Timmons (4), 22. Tyler Hatzikian (23). NT.
—————————-
** Andreotti flipped during lap 7 of the first heat. Fuson and Timmons flipped during lap 2 of the feature. Smith flipped during lap 6 of the feature. Andreotti did not start feature.
FEATURE LAP LEADERS: Laps 1-30 Johnson.
BR MOTORSPORTS / ROD END SUPPLY HARD CHARGER: David Gasper (18th to 2nd)
WILWOOD DISC BRAKES LUCKY 13 AWARD: Camie Bell
FINAL USAC WEST COAST SPRINT CAR POINTS: 1-Ryan Timmons-406, 2-Brody Fuson-373, 3-Kyle Edwards-359, 4-Ron LaPlant-343, 5-David Gasper-315, 6-Tom Hendricks-260, 7-Tyler Hatzikian-255, 8-Jon DeWees-249, 9-Chris Ennis-236, 10-Adam Christian-224.
FINAL WOODLAND AUTO DISPLAY TOP QUALIFIER POINTS: 1-Ryan Timmons-28, 3-Brody Fuson-22, 3-Kyle Edwards-19, 4-David Gasper-13, 5-Troy Rutherford-12, 6-Cody Majors-9, 7-Logan Calderwood-6, 8-Kaleb Montgomery-5, –T.J. Smith-5, 10-Chris Ennis-4.
FINAL SAMMY BAHR & RAY STANSBERRY FEATURE POINTS: 1-Ryan Timmons-340, 2-Kyle Edwards-316, 3-Ron LaPlant-307, 4-Brody Fuson-305, 5-David Gasper-263, 6-Tyler Hatzikian-238, 7-Tom Hendricks-231, 8-Jon DeWees-221, 9-Chris Ennis-197, 10-Adam Christian-193.
FINAL PASSING MASTER POINTS: 1-Jon DeWees-34, 2-Ron LaPlant-29, 3-Tom Hendricks-23, –Heath Holdsclaw-23, 5-Camie Bell-19, 6-David Gasper-18, 7-Elexa Herrera-17, 8-Adam Christian-14, –Brody Fuson-14, 10-Ryan Timmons-13.