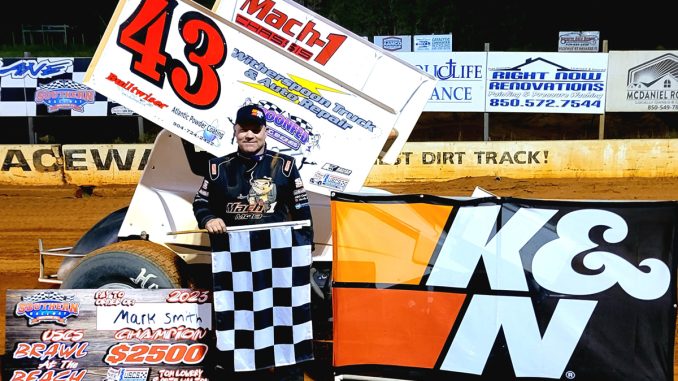 From Pete Walton
MILTON, FL – Saturday, October 21, 2023 – Mark Smith of Sunbury, PA swept the Fall Brawl Weekend for the United Sprint Car Series with a win in the 25-lap Feature Race Saturday night at Southern Raceway. That followed up Smith's victory on Friday night at Hattiesburg Speedway in Hattiesburg, MS.
Max Stambaugh of Lima, OH finished second, and third went to Zane DeVault of Plymouth, IN. National Sprint Car Hall of Fame Inductee Terry Gray of Bartlett, TN took the fourth spot to wrap up his 15th United Sprint Car Series National Championship. Lance Moss of Cherryville, NC started 18th and finished fifth to earn the Wilwood Brakes Hard Charger of the Race Award.
Jeff Willingham of Ripley, MS was sixth, and Shane Morgan of Gulfport, MS finished seventh. Eighth went to Dennis Misuraca of Sanford, FL and Tony Higgins of Lake Comorant, MS took the ninth spot. Jason Breeland of Sandy Hook, MS rounded out the top ten.
In preliminary action, Smith earned the pole position for the Feature Race after winning the six-lap Hoosier Racing Tire Speed Dash. The three eight-lap Heat Races were won by Morgan in the Engler Machine & Tool First Heat, DeVault in the Butlerbuilt Second Heat, and Smith in the Willbanks Heating & Air Third Heat.
Saturday night's event at Southern Raceway concludes the 2023 United Sprint Car Series season. Series officials will now begin to fill dates for their 28th season in 2024. More information about the 2024 season will be posted in the coming weeks on the series website at www.uscsracing.com, and on their Facebook page.
United Sprint Car Series Marketing Partners are K&N Filters, Engler Machine & Tool, Hoosier Racing Tire, Hero Graphics, DMI, J&J Supply of NC, Racing Electronics, JE Pistons, DHR Suspension, Wilwood Disc Brakes, KSC Racing Products, PRO Shocks, Schoenfeld Headers, and Arizona Sport Shirts.
OFFICIAL RESULTS for the USCS Outlaw Thunder Tour presented by K&N Filters winged sprint car "Brawl at the Beach" at SOUTHERN RACEWAY in Milton, Florida on Saturday, October 21, 2023:
FEATURE RACE – 25 Laps: 1. (1) Mark Smith, Sunbury, PA; 2. (2) Max Stambaugh, Lima, OH; 3. (4) Zane DeVault, Plymouth, IN; 4. (7) Terry Gray, Bartlett, TN; 5. (18) Lance Moss, Cherryville, NC; 6. (10) Jeff Willingham, Ripley, MS; 7. (5) Shane Morgan, Gulfport, MS; 8. (12) Dennis Misuraca, Sanford, FL; 9. (11) Tony Higgins, Lake Comorant, MS; 10. (9) Jason Breeland, Sandy Hook, MS; 11. (15) Paul Jones, Kokomo, IN; 12. (17) D.L. Brashier, Ethel, LA; 13. (3) Danny Smith, Chillicothe, OH; 14. (8) Michael Miller, Pascagoula, MS; 15. (13) Sean Wimpee, Mobile, AL; 16. (16) Jake Brashier, Denham Springs, LA; 17. (6) Luke Hill, Safety Harbor, FL; 18. (14) Steve Diamond, Apollo Beach, FL.
HOOSIER SPEED DASH – 6 Laps: 1. M. Smith; 2. Stambaugh; 3. D. Smith; 4. DeVault; 5. Morgan; 6. Hill.
HEAT RACES – 8 Laps:
ENGLER MACHINE & TOOL 1ST HEAT: 1. Morgan; 2. Hill; 3. Stambaugh; 4. Higgins; 5. Diamond; 6. J. Brashier
JJ Supply of NC 2ND HEAT: 1. DeVault; 2. D. Smith; 3. Breeland; 4. Willingham; 5. Jones; D. Brashier DNS.
Racing Electronics 3RD HEAT: 1. M. Smith; 2. Gray; 3. Miller; 4. Misuraca; 5. Wimpee; 6. Moss DNS.