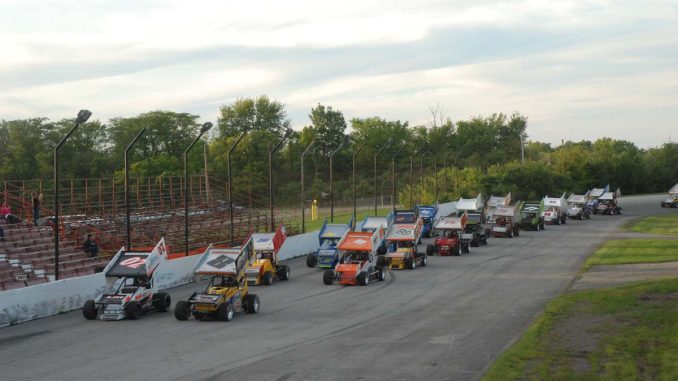 From Must See Racing
Holly, Michigan (October 31, 2023) Must See Racing announced today that the 2024 season for both the MSR National Series Presented by Engine Pro and Maxima Racing Oils Midwest Lights Series will kick off at Sandusky Speedway with both series in action April 20, 2024.
This will be the first visit to Sandusky Speedway for the National Series since 2019 while the MSR Midwest Lights last competed in October 2022 during Cavalcade Weekend.
Sandusky Speedway has long been the home of Supermodifieds, but sprint car racing has a brief history with the track. In 1989 Jeff Gordon claimed an All Star Circuit of Champions 410 victory before he found NASCAR fame. There have been other 410 sprint car series compete at Sandusky prior to the inaugural appearance of MSR in 2019.
Jimmy McCune won the last and only 410 National event at Sandusky Speedway on August 25, 2019. He was also the days Fast Qualifier with a lap of 15.266 second around the historic half-mile. That Sunday afternoon event drew 22 cars and provided plenty of side-by-side racing throughout the day.
The April 20, 2024, season opener will offer a practice session on Friday April 19. Teams will be able to get acclimated to the track and shake cars down for the first time after a long winter. The following night will see complete racing programs for both series with qualifying, heat races, and feature events.
Must See Racing continues to offer a sneak peek at its 2024 schedule by releasing specific dates each week from the schedule ahead of its release date. The next date that will be released from the 2024 schedule will be November 7.
Tracks already announced from the 2024 National schedule include Owosso Speedway, Birch Run Speedway, and Lancaster Motorplex.
For the latest breaking Must See Racing news please follow us on Facebook or visit www.mustseeracing.com.