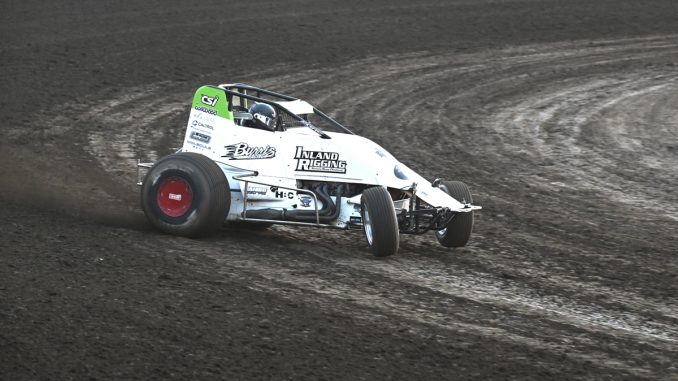 (Cypress, CA, November 8, 2023) When Brody Roa arrives at Perris Auto Speedway with his Inland Rigging #17R sprint car this Saturday night, it will be the third time he has been there as a USAC champion. However, it will be the first time he gets to Southern California's premiere racetrack as the USAC/CRA champ. The Garden Grove, California racer sewed up the title in last week's Western World Championship at the Cocopah Speedway.
93C9A959-1E90-4FDE-9574-C0A964011468_1_201_a.jpg
2023 USAC/CRA Sprint Car Series champion Brody Roa. AJ Johnson photo.
Roa has had a dominating season in the West Coast series. He won the first two races at Cocopah in January and has led the championship point standings the entire season. Along the way, he won eight of the first 16 series races. The USAC/CRA season culminates at Perris on Saturday. It will be the 17th race on the 2023 schedule and Roa is seeking another victory to send his batting average above .500 in the series.
"We ran good all year long," the 2024 USAC/CRA Series champion said. "In all honesty, I felt at the last few races we were not on the same level. Especially at Cocopah. We kind of did what we needed to do to keep the championship from coming down to Perris. We did not want to get to the last race worrying about points and worrying about what we had to do."
"We are going to try to end the year the way we started it. We are going to show up like we did all year, with the best car we can, prep it as best we can, and make the best decisions we can. Now that we have the war won, we want to end up on top at the last race."
Things had been going smoothly all season for Roa in the USAC/CRA Series. In addition to his eight wins (he scored a ninth win at an open comp race at Imperial Valley three weeks ago), he had three second-place finishes and a fifth in the first 14 races of the year. He only placed out of the top five twice. One of those was a sixth at Mohave Valley four weeks ago. The only USAC/CRA race he did not finish on the lead lap this year came at the Salute to Indy at Perris in May when he got clobbered by a lapped car late in the race while he leading.
Things looked good for Roa heading into the two nights of action last week at Cocopah. After all, he posted a pair of wins there to kick off the year in January. However, things just did not go as well as planned. The weekend started good when he recorded the third fastest qualifying time and then placed third in his heat on Friday. It was going well in the main before disaster struck when his right rear tire went down eight laps from the finish.
"We were up to fifth and I was still driving extremely conservative," the wily veteran said. "I was ticked off when I popped that tire. I knew from the drop of the green that I had to save that thing (right rear tire) to the end. I got to fifth, and it popped with eight to go. I was a little upset. I was wondering how the other drivers are saving tires. I am driving it in as straight as possible with no wheel spin and just trying to get around the track."
"The tire actually delaminated. It actually started shaking eight or 10 laps before it blew. I just thought it was the rubber chattering the tire like it does. But when we got back into the pits and looked at it, there were three blocks on the inside and three blocks on the outside. The center was just torn off. That was a bummer because we were having kind of a decent run on a not-so-great track."
Twenty-four hours later the team was hoping for better results but it was just one of those weekends.
"Second night was a little challenging," Roa lamented. "We pulled a really late pill and did not qualify that good. I guess I was a little too aggressive with the line I was trying to qualify on. That kind of set us back and we started really deep. I picked off six cars right off the bat and got to 12th but by the time I got there, I could not even see the next car."
"It was pretty treacherous on the top where I was running. I think about half the cars were on the top and half were on the bottom. I like running on the top rather than putting around on the bottom. With the big curb and as close to the wall as it was, I probably babied it around the cushion more than I should have."
Roa's first two USAC sprint car championships came in 2016 and 2019. In 2016 he won the USAC West Coast Sprint Car title. Three years later in 2019, he earned the crown in the now-defunct USAC Southwest Series. This year's CRA title exceeds both of those in his eyes.
"I think obviously at the top," Roa confirmed when asked if this year was the biggest of the three championships. "We have tried for this one for a long time and it is cool to finely get it done. I do not think it has set in yet. It is definitely cool and exciting to get it after trying for so long."
Roa was to be joined at Cocopah by his teammate and car owner Tommy Dunkel who was going to wheel his #17A sprint car in the ASCS 360 portion of the show. However, an axle problem on his trailer forced Dunkel to abort his trip to the Southwestern Arizona track. This Saturday, Dunkel will be racing with Roa in the USAC/CRA show at Perris. It will be his first time racing a powerful 410 sprint car.
"I am stoked for Tommy to make his 410 debut," Roa affirmed. "He gave us so much to get this championship this year. I am glad we could get it done a race early so we can get him in the second car on Saturday. It is super cool for him to give a 410 a shot. I think he is in for quite a surprise. They are totally different animals. He will be good and hopefully have a good time doing it."
After Saturday's race, the Inland Rigging drivers will be off before participating in the 82nd Annual Turkey Night Grand Prix at the Ventura Raceway on Thanksgiving weekend.
All active military members with proper ID will get into Saturday night's race at Perris for just $5.00. In addition, they will receive one free pass for an accompanying guest.
Adult tickets for Saturday's race are $30.00. Seniors 65 and over get in for $25.00. For kids 6-12 it is only $5.00 and children 5 and under are free. The fairgrounds charge $10.00 for parking.
Perris Auto Speedway is located on the Lake Perris Fairgrounds at 18700 Lake Perris Drive in the City of Perris. The track website is http://www.perrisautospeedway.com/ and the office phone number is (951) 940-0134.
The team wants to thank the following sponsors for making the 2023 season possible. Inland Rigging, Dunkel Farms, United Asset Sales, Osborne Speed & Machine, "Biker" Bruce Fischer, ALR Virtual Services, Burris Racing, Caltrol, Jambo Barbeque Pits, Competition Suspension, K-1 Race Gear, Molecule, Rod End Supply, Driven Racing Oil, Baldwin Filters, and NGK Spark Plugs.
Brody Roa's 2023 Schedule and Race Results
January 27 Cocopah Speedway USAC/CRA Sprint Cars 1st A Main
January 28 Cocopah Speedway USAC/CRA Sprint Cars 1st A Main
February 25 Kern County Raceway Park USAC West Coast Sprint Cars Rained Out
March 3 Central Arizona Raceway USAC/CRA Sprint Cars Rained Out
March 4 Central Arizona Raceway USAC/CRA Sprint Cars Rained Out
March 11 Imperial Valley Raceway SoCal Open Comp 17th A Main
March 18 Perris Auto Speedway USAC/CRA Sprint Cars 2nd A Main
March 24 Kings Speedway USAC/CRA Sprint Cars Rained Out
March 25 Thunderbowl Raceway USAC/CRA Sprint Cars Rained Out
April 1 Mohave Valley Raceway USAC/CRA Sprint Cars 2nd A Main
April 15 Perris Auto Speedway USAC/CRA Sprint Cars 5th A Main
April 22 Kings Speedway USAC/CRA Sprint Cars 1st A Main
April 29 Kern County Raceway Park USAC/CRA Sprint Cars 1st A Main
May 6 Mohave Valley Raceway USAC/CRA Sprint Cars 1st A Main
May 20 Thunderbowl Raceway USAC/CRA Sprint Cars 2nd A Main
May 27 Perris Auto Speedway USAC/CRA Sprint Cars 15th A Main
June 10 Perris Auto Speedway USAC/CRA Sprint Cars 1st A Main
June 24 Bakersfield Speedway USAC/CRA Sprint Cars 1st A Main
July 15 Perris Auto Speedway USAC/CRA Sprint Cars 1st A Main
August 12 Santa Maria Raceway USAC/CRA Sprint Cars Canceled
August 19 Perris Auto Speedway USAC/CRA Sprint Cars Rained Out
September 7 Devils Bowl Speedway USAC National Sprint Cars 6th A Main
September 8 Texarkana 67 Speedway USAC National Sprint Cars Rained Out
September 9 Texarkana 67 Speedway USAC National Sprint Cars 14th A Main
September 23 Perris Auto Speedway USAC/CRA Sprint Cars 2nd A Main
October 14 Mohave Valley Raceway USAC/CRA Sprint Cars 6th A Main
October 21 Imperial Valley Raceway SoCal Open Comp 1st A Main
November 3 Cocopah Speedway USAC/CRA Sprint Cars 15th A Main
November 4 Cocopah Speedway USAC/CRA Sprint Cars 12th A Main
November 11 Perris Auto Speedway USAC/CRA Sprint Cars
Tom Dunkel's 2023 Racing Results
January 12 Chili Bowl Midget Nationals Prelim. Night 12th C Main
March 11 Imperial Valley Raceway SoCal Open Comp 16th A Main
April 1 Mohave Valley Raceway USAC/CRA Sprint Cars 9th B Main
April 8 Ventura Raceway VRA Sprint Cars 1st A Main
May 6 Mohave Valley Raceway USAC/CRA Sprint Cars 11th A Main
May 13 Ventura Raceway USAC West Coast Sprint Cars 11th A Main
June 17 Ventura Raceway USAC West Coast Sprint Cars 19th A Main
June 24 Bakersfield Speedway USAC/CRA Sprint Cars 14th A Main
July 8 Ventura Raceway VRA Sprint Cars 2nd A Main
July 15 Perris Auto Speedway USAC/CRA Sprint Cars 8th A Main
August 19 Perris Auto Speedway USAC/CRA Sprint Cars Rained Out
September 2 Ventura Raceway VRA Sprint Cars 2nd A Main
September 16 Ventura Raceway USAC West Coast Sprint Cars 8th A Main
October 7 Kern County Raceway Park USAC West Coast Sprint Cars 19th A Main
October 14 Imperial Valley Raceway So Cal Open Comp DNS