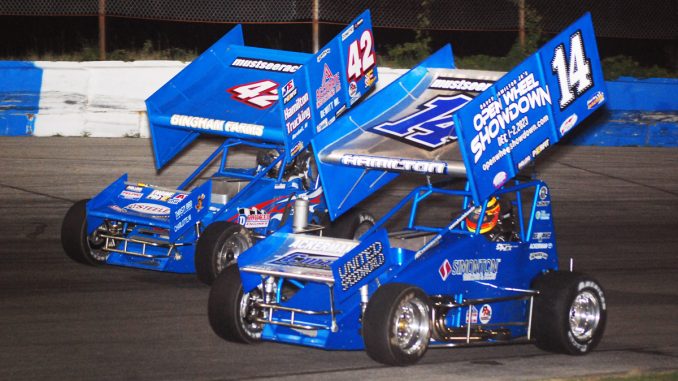 From Must See Racing
(November 14, 2023) Must See Racing officials today announced three more dates from the soon-to-be released 2024 schedule. The series will be returning to Berlin Raceway in Marne, Michigan and Plymouth Motor Speedway in Plymouth, Indiana in 2024.
BERLIN RACEWAY – Berlin Raceway in Marne, Michigan has been a staple to the Must See Racing schedule almost every year since its inaugural season in 2010. The partnership between MSR and Berlin Raceway will continue in 2024.
Since the first MSR race held at Berlin Raceway in 2010, the series has returned almost every year since, and oftentimes with multiple dates. No track on the current MSR schedule has had a longer standing relationship with MSR than Berlin Raceway.
Berlin has been the site of some of the best racing the series has offered in its 15 years of existence. All three races in 2023 were barn burners that went right down to the finish. Jason Blonde held off a hard charging Bobby Santos III to claim the win on May 20. Canadian Ryan Litt returned after facing serious injuries in a Supermodified event early in 2023 at Berlin Raceway. He claimed the August 12 final MSR visit to Berlin Raceway of the season. It was his first time back since his accident. Jimmy McCune also picked up a win on July 22.
The series is scheduled to visit Berlin Raceway on May 18 and August 10. Both events will be part of the popular 'ENGINE RO FAST CAR DASH' mini-series.
PLYMOUTH MOTOR SPEEDWAY – The Series will return to Plymouth Motor Speedway on June 15 for the second consecutive year. Must See Racing made its debut at Plymouth Motor Speedway for the first-time last September. The track had been covered with dirt for several years and it had been over a decade since winged asphalt sprint cars roared around the track before 2023.
Last year's event was highly entertaining. Bobby Komisarski set quick time and put on a show charging to the front, in an attempt to chase down eventual winner Davey Hamilton Jr. The track has proved to be the perfect venue for winged asphalt 410 sprint cars.
This year's event will bring back the best 410-winged asphalt drivers in the country including local Plymouth star Tyler Roahrig. Keep an eye on this particular date for a big announcement in the coming weeks.
For more information on Must See Racing please like and follow us on Facebook or visit www.mustseeracing.com.