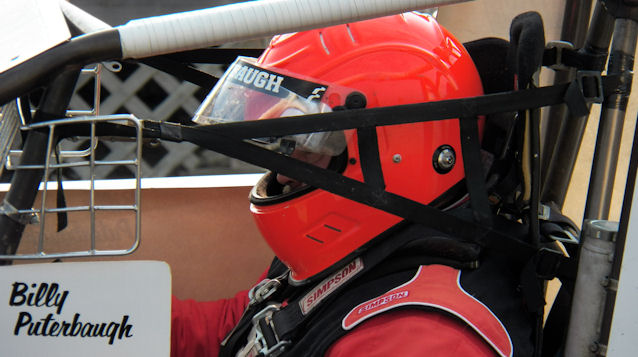 From MudclodBob
Billy Puterbaugh Jr. and Shane Cottle started side by side 3rd and 4th, and that set the stage for a torrid battle in a non stop feature at Gas City I-69 Speedway on another warm Friday evening. On the initial start Adam Byrkett encountered trouble and brought out the caution. That was a break for front row starter Critter Malone as he had a scary start with cars scattering to avoid trouble.
On the complete restart 4th place starting Shane Cottle quickly jumped out front but 3rd starting Puterbaugh fell in right on his tail. After five laps it was evident we were in for a good feature with Puterbaugh drawing close several times as Jonathan Hendrick, Critter Malone, Brett Burdette, John Sciscoe and Chris Gurley were all on the move.
Lap number 10 saw Puterbaugh pull nearly even with Cottle on the black, tacky, super fast track. By the 15th circuit it was still Cottle with Puterbaugh right on his bumper. Lap 16 found Cottle approaching lapped cars, and as Cottle was caught behind traffic Puterbaugh pounced and dove under Cottle into 1st. From there it was Puterbaugh holding on with Cottle in hot pursuit.
At the checkers it was Puterbaugh, Cottle, Brett Burdette, Jon Sciscoe, Jonathan Hendrick, Chris Gurley and Scotty Weir. Puterbaugh stated in victory lane that lapped traffic definitely helped him.
Critter Malone, Jon Sciscoe and Shane Cottle won the heats for the 24 cars on hand. Chris Gurley took the B main. Robbie Seward flipped on the front-strecth in the B. He was not injured.
SPRINTS
Heat #1 Winner – Critter Malone
Heat #2 Winner – Jon Sciscoe
Heat #3 Winner – Shane Cottle
B-Main Winner: Chris Gurley
Feature
1. Billy Puterbaugh, Jr.
2. Shane Cottle
3. Brett Burdette
4. Jon Sciscoe
5. Jonathan Hendrick
6. Chris Gurley
7. Scotty Weir
8. Critter Malone
9. Conner Donelson
10. Matt Goodnight
11. Josh Spencer
12. Ted Hines
13. Jamie Fredrickson
14. Travis Welpott
15. Jason Holt
16. Logan Jarrett
17. Tyler Hewitt
18. James Bradshaw
19. Joe Liguori
20. Adam Byrkett