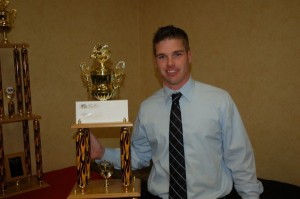 From Must See Racing
Coldwater, MI – February 11, 2012 – Multiple awards and over $55,000 in point fund monies and contingency awards were handed out at the 2011 Must See Racing Xtreme Sprint Series (MSRXSS) awards banquet Saturday night.
Tampa, Florida's Troy DeCaire was honored as the 2011 MSRXSS champion for the second time in as many years. DeCaire is the only champion the series has known after completing only its second season in 2011.
Master of Ceremonies, Dave Argabright, helped to honor and recognize the drivers and car owners who finished twentieth and better in 2011 MSRXSS points. Veteran television personality, Rick Benjamin got the evening started as he detailed what is in store for the series in 2012. New venues and a new television package that is being finalized,are just a few of the exciting things in store for the teams this coming season.
Several sponsors awarded product contingency awards including: Oliver Connecting Rods, ICON Pistons, PAC Valve Springs, Real Racing Wheels, Nitroplate, Mahle Clevite, Dick Meyers Autometer, Mahle, and Engine Pro.
MSRXSS owners Jim and Nancy Hanks were presented a special appreciation award by Linda Bloom. The award was on behalf of the MSRXSS teams as a warm gesture for everything that is done by the Hanks family. The Hanks family has been highly active in promoting the sport and helping to keep costs down for the racers.
The Trufuel MSRXSS eagerly awaits the start of its 2012 season. The series will kick off 2012 season with a trip into the southern part of the country. The inaugural Royal Oak Southern Shoot Out will see the series at Five Flags Speedway in Pensacola, FL April 13 and Mobile International Speedway in Mobile, AL the next night. A total purse of $25,400 is up for grabs each night. This will be the furthest the series has traveled from its Michigan home base.
For more information on the series including the 2012 schedule go to www.mustseeracing.com
Drivers and owners receiving special awards on the night included:
DRIVER OF THE YEAR – Jimmy McCune
OWNER OF THE YEAR – Ron Koehler
ROOKIE OF THE YEAR – Jo Jo Helberg
MOST IMPROVED DRIVER – Jerry Caryer
HARD LUCK AWARD – Travis Miniea
BEST LOOKING CAR – WBR L.L.C.
CREW CHIEF OF THE YEAR – Dick Meyers
SPORTSMANSHIP AWARD – Jason Blonde
FAST TIME AWARD – Brian Gerster
MULTIPLE FEATURE WINNER – Jimmy McCune
MULTIPLE FEATURE WINNER – Jo Jo Helberg
MULTIPLE FEATURE WINNER – Brian Gerster
SPARK PLUG AWARD – Aaron Pierce
YOUNG GUN AWARD – Tom Tolbert
ENGINE BUILDER OF THE YEAR- Dick Kercher