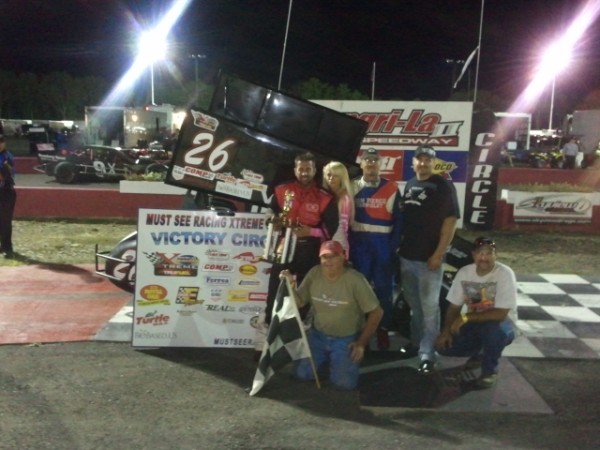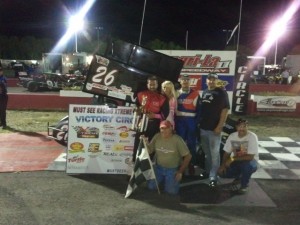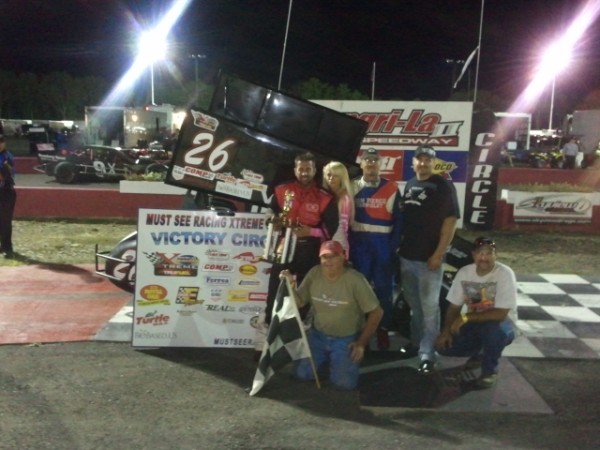 From David Sink
Tioga Center, NY – (July 5, 2012) – Aaron Pierce finally had Lady Luck give him a break and captured his first TRUFUEL Must See Racing Xtreme Sprint Series (MSRXSS) win of 2012 Thursday night at Shangri-La II Speedway.
Until Thursday night's victory, Pierce had experienced several tough breaks to start his 2012 MSRXSS season. Several crashes and DNF's had left the Daleville, IN driver frustrated to say the least. In victory lane Pierce explained what a confidence booster his first win of 2012 was. "This win tonight gives us a little momentum. I've been a little discouraged with all the bad luck lately. If we can get it (car) this good for Saturday, they've (competitors) got a problem".
The MSRXSS made its first visit into the Northeastern part of the country Thursday night for the first of two races in the state of New York. The traveling 410 c.i. winged pavement series was greeted by a very large crowd. The series will visit Oswego Speedway Saturday night for the second and final night of the New York swing.
Jo Jo Helberg got the excitement rolling early when he set a new track record on the 1/2 mile concrete/paved oval. Helberg clicked off a lap of 14.243 seconds (126.378 mph) to etch his name in the history books.
Heat race wins went to Brian Olson, Jason Cox, and Hank Lower.
Pole sitter Jimmy McCune got the jump and lead the opening 19 laps. Pierce realized that none of the other cars were running the bottom part of the track and decided to try it out since it was left wide open. Pierce began working his way to the front and eventually made the pass for the lead on lap 19 and never looked back. Jimmy McCune finished second followed by Jacob Wilson, Jason Cox, and Jo Jo Helberg rounding out the top five.  " I started running the bottom because it was the only place I could get air on the wing" Pierce explained in victory lane."The car was phenomenal over the bumps.Some guys were having trouble getting over the bumps but our car was glued".
Pierce acknowledged the huge crowd and the excitement level throughout the night that the MSRXSS brought. "I really like this place and hope we come back.Its rough and you really have to have your stuff right to win here" concluded Pierce.
The series will head to Oswego Speedway Saturday for a joint show with the ISMA Supermodifieds as part of the annual ' King of Wings ' event. The first-ever appearance of winged 410 c.i. sprints to Oswego will have added excitement with the possibility of a new track record. The MSRXSS has been dubbed the ' Fastest Short Track Cars In The World '. The series has set new track records at six of the seven events thus far in 2012.
Feature Finish-30 Laps
26p   Aaron Pierce
88    Jimmy McCune
07    Jacob Wilson
40    Jason Cox
7      Jo Jo Helberg
41    Brian Olson
55    Dave Baumgartner
26b  Jeff Bloom
51    Mike Larrison
 75c Jerry Caryer
 81   Sondi Eden (DNF)
 4    Tim Cox (DNF)
 2    Larry Austin (DNF)
 5    Troy DeCaire (DNF)
 37   Hank Lower (DNS)