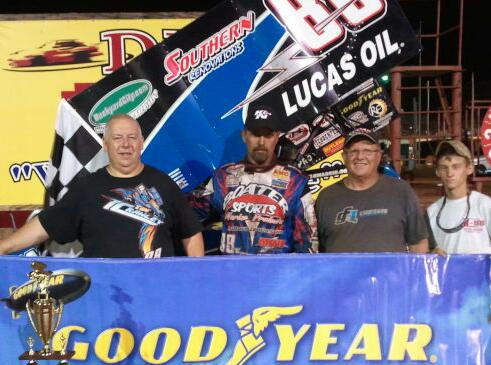 By Pete Walton
July 14, 2012 – Woodstock, GA – Current United Sprint Car Series National points leader, Tim Crawley from Benton, Arkansas raced past K&N Filters Pole Position starter and early race leader, Derek Hagar from Marion, Arkansas at the races mid-point and led the final fifteen laps of the 30-lap Dixie Sprint Car Nationals main event to the www.rockauto.com USCS victory lane at famed Dixie Speedway on Saturday night. It was Crawley's ninth United Sprint Car Series win of the 2012 season. Hagar followed in the runner-up position with 2008 USCS Rookie of the Year, Anthony Nicholson from Bartlett, Tennessee in third place. Defending and 10-time series Champion, Terry Gray also from Bartlett, Tennessee followed in fourth place and Matt Linder from Hoschton, Georgia rounded out the top five.
Crawley started outside the front row next to Hagar. On the initial start of the contest Hagar blasted into the lead from his K&N Filters Pole Award starting position. On lap three the caution flew for Bob Auld's loop exiting turn two of the three0eighths mile D-Shaped red clay oval. The 2006 USCS presented by Goodyear Rookie of the Year jumped out front again and held a three to five car length lead over Crawley until lap fifteen when Crawley surged past him on the outside as they encountered lapped traffic. Crawley pulled away to a ten car length lead until a lap twenty-eight spin by rookie Stacey Mashburn from Newnan, Georgia set up a final two lap dash to the www.rockauto.com USCS victory lane. Crawley held of the challengers for his fourth win in the last five starts ahead of Hagar, last week's Batesville Motor Speedway winner, Anthony Nicholson, Terry Gray and previous Dixie Sprint Car Nationals winner Matt Linder.
The 2010 USCS Rookie of the Year, Morgan Turpen from Oakland, Tennessee, who was the only female sprint car entry in the field, led the next flight of finishers with a sixth place finish. The event's 2011 winner, 17 year-old Eric Riggins from Charlotte, North Carolina followed Morgan Turpen in seventh place after fighting engine problems most of the evening. USCS presented by Goodyear Rookie of the Year contender, Tristan Tidmore from Hernando, Mississippi finished in eighth position followed by veteran Lance Moss from Cherryville, North Carolina and Clint Weiss from Seale, Alabama rounded out the top ten.
Tim Crawley kicked off the night's USCS winged sprint car action by winning the six-lap Goodyear Power Dash. Anthony Nicholson won the Engler Tool and Machine First Heat. Derek Hagar won the Butlerbuilt Second Heat. Clint Weiss, who started dead last in the main event, passed the most cars in the A-main event to garner the Wilwood Engineering Hardcharger Award.
Derek Hagar collected the K&N Filters Pole Award. The first through fifth rotating JE Pistons Top Guns Award was collected by Matt Linder who finished fifth. Anthony Nicholson received the K&N filters Podium award that goes to the third place finisher at each event. Matt Linder also earned the Keizer Aluminum Wheels Top Five Award via her fifth place finish. Clint Weiss also received the DMI/Bulldog Rear Ends Top Award for his tenth place finish.
The next USCS Outlaw Thunder Tour presented by Goodyear event is on Saturday, August 11th at Clayhill Motorsports in Atwood, Tennessee. The event awards USCS Mid South Thunder Tour regional series as well as USCS National Championship points. For an updated schedule of USCS events, rules and info please visit www.uscsracing.com or call the USCS office at 770-460-7223.
USCS Outlaw Thunder Tour presented by Goodyear results @ Dixie Speedway on July 14, 2012
Goodyear Speed Dash: Tim Crawley, Terry Gray, Derek Hagar, Anthony Nicholson, Matt Linder and Tristan Tidmore.
Engler Machine and Tool First Heat: Anthony Nicholson, Terry Gray, Eric Riggins, Jeff Willingham, Lance Moss, Bob Auld, Stacey Mashburn and Clint Weiss DNS, Joe Larkin DNS.
Butlerbuilt Second Heat: Derek Hagar, Tim Crawley, Morgan Turpen, Matt Linder, Brian Thomas, Tristan Tidmore, Kyle Amerson Nick DeFeo DNS.
USCS presented by Goodyear Dixie Speedway July 14,2012 – Feature – 30 Laps
Finish Start Car Driver/Hometown
1 2 88 Tim Crawley, Benton, AR
2 1 1a Derek Hagar, Marion, AR
3 4 16 Anthony Nicholson, Bartlett, TN
3 3 10 Terry Gray, Bartlett , TN
5 5 1x Matt Linder, Hoschton, GA
6 7 80 Morgan Turpen, Cordova, TN
7 6 47 Eric Riggins, Jr., Charlotte, NC
8 12 13 Tristan Tidmore, Hernando, MS – Rookie
9 9 23 Lance Moss, Cherryville, NC
10 15 0x Clint Weiss, Seale, AL
11 8 28 Jeff Willingham, Ripley, MS
12 14 29 Kyle Amerson, Matthews, AL
13 10 67 Brian Thomas, Pendergrass, GA
14 13 83 Bob Auld, Largo, FL
15 11 33m Tracey Mashburn, Newnan, GA
16 DNS 96d Nick DeFeo, Marietta, GA
17 DNS Joe Larkin, Suwannee, GA
USCS presented by Goodyear Sprint Car Race Awards:
Goodyear Speed Dash winner award: #88 Tim Crawley www.racegoodyear.com
Engler Machine and Tool First Heat winner award: #16 Anthony Nicholson www.englermachine.com
Butlerbuilt Second Heat winner award: #1a Derek Hagar www.butlerbuilt.net
K&N Filters Pole Award: #1a Derek Hagar www.knfilters.com
Wilwood Eng. Hard Charger Award: #0x Clint Weiss (started 15th finished 10th ) www.wildwood.com
JE Pistons Top Guns Award: 1x Matt Linder ( 5th place) # www.jepistons.com
K&N Filters Podium Award: #16 Anthony Nicholson (3rd place) www.knfilters.com
Keizer Wheels Top Five Award: #1x Matt Linder www.keizerwheels.com
Diversified Machine Inc/DMI Top 10 Award: #0x Clint Weiss www.diversifiedracing.com