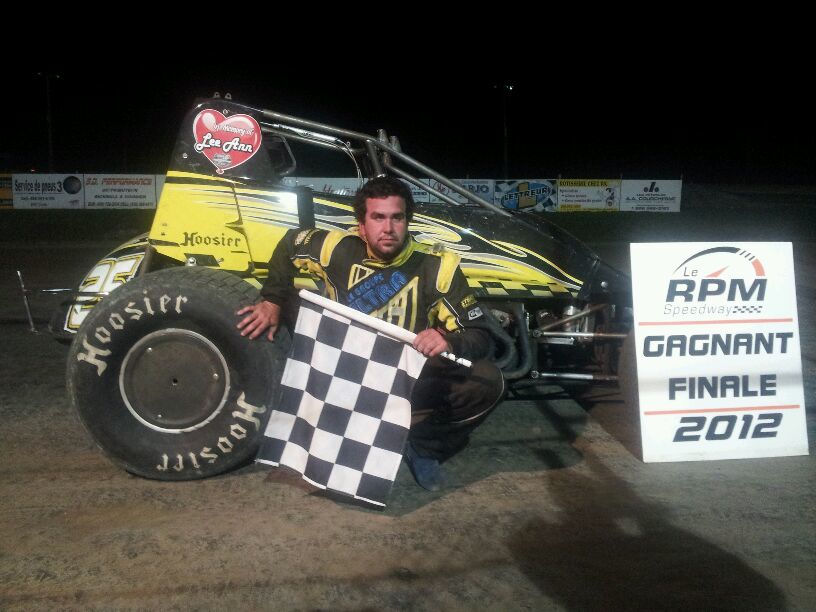 By Dean Reynolds

ST. MARCEL, QC – As the Lucas Oil Empire Super Sprints (ESS) is closing down their 30th season, history was made Sunday night at the Le RPM Speedway in Quebec. For the first time ever the teams from ESS took their wings off and put on a show for the fans with the Quebec Wingless Challenge.
The big crowd at RPM had a lot to cheer about as one of their own in Michael Parent from Granby, QC took the checkered flag and the $1800 top prize that came with it. Taking the lead from his third place starting position right at the drop of the green flag he held off three-time ESS champ Steve Poirier for the popular victory.
"This feels pretty good to win ESS' first wingless event." noted the driver from the Le Groupe Ultra #25. "The car had so much bite in the corners, I felt real comfortable out there. Steve (Poirier) even said to me that he couldn't catch me because of the corner speed."
For Parent, referring back to his unique racing history was key. "Running flat track ATV's helped me, it's kinda the same thing. Getting sideways and trying to stay fast."
Poirier started on the pole with Mike Stelter along side. When the green flag dropped, Parent got the jump and took the lead. For Stelter, his shot at the win came to an end on the first lap when he spun out his mount in turns one and two.
On the restart, Parent got the jump again but the yellow was quickly displayed for a spun Donald Lemire and Lee Ladouceur.
The next 11 laps went green with Parent continuing to hold off Poirier, Jason Barney, Mario Clair and Alain Bergeron all where within a few car lengths of each other.
The final caution was on lap 12 for a spun Etienne Girard and that provided a wild restart that almost changed the outcome of the event.
"When I went into turn one my car slid up the track, I didn't want that as I knew someone would try to get under me." Parent said on the last restart. "I had to hit the brakes hard and try to get the car back down to the bottom. I got lucky no one passed me."
The final eight laps Parent stayed low and smooth to collect his second career ESS victory. Poirier, who struggled with brake issues all day, came home in second.
"I just didn't have any brakes all day, we spent ten hours on them, changed everything and still nothing." Poirier said. "With a wingless car and a slick track you needed them. I just couldn't make a pass as I had to coast into the corners. I was thinking of going to the outside and try but it just didn't look like there was much there."
For Poirier, the wingless event reminded him of his modified days. "It was fun, I just wish I could have raced the way I wanted to but we will take second."
Quebec modified star Mario Clair had a successful outing as a teammate to ESS rookie Etienne Girard placing third with Bergeron and Barney rounding out the top five.
ESS/RPM Wingless Notes: Three cars did get upside down during evening. In a special afternoon hot lap session, Stelter spun his sprint and Bergeron made contact flipping over the top. Both drivers climbed out smiled and hugged each other which the crowd loved. Their cars were fixed for the night program….Kevin Loveys was in the Poirier back up machine and showed good speed including passing the boss in warm-ups. But, the rear axle snapped going into turn one causing his sprint to flip over the turn one wall. The car wasn't that badly damaged but done for the night…In the first heat, Patrick Vigneault jumped the cushion and got into the turn one wall and flipped. He almost had repairs made for the A-Main….Eric Varin Roofing sponsored a $1000 point fund for the winged and wingless events at RPM, Michael Parent won that title over Jason Barney, Dale Gosselin, Steve Poirier and Mario Clair.
Empire Super Sprints Quebec Wingless Challenge A-Main – Michael Parent ($1800), Steve Poirier, Mario Clair, Alain Bergeron, Jason Barney, Mike Stelter, Etienne Girard, Donald Lemire, Dale Gosselin, Lee Ladouceur.
Did Not Start – Patrick Vigneault, Kevin Loveys.
The Lucas Oil Empire Super Sprints are brought to you by: Lucas Oil, Le Groupe Ultra, SUNY Canton, Universal American, Hoosier Racing Tires, Fondations 4 Saisons, Cobra Coaches, Westward Painting Company, Mach 1 Chassis, Lee's Repair Auto and Truck, Fondations 55, Eric Varin Roofing, North Eastern Pool and Spa, Car Mate Trailers, Brodix Cylinder Heads, Ohsweken Speedway, Northwood 2 Construction/Lasalle Motorsports, AKS Firearms, Jasmin Peloquin Sport, 730 Truck Stop, Riverside Bar and Grill, FX Chevy and many, many associate sponsors!!