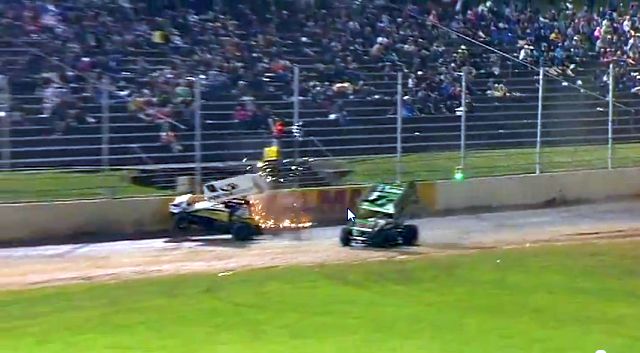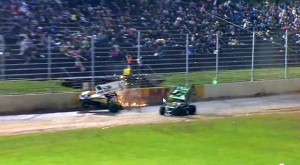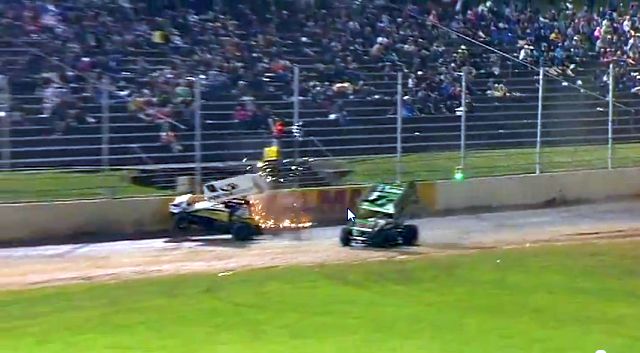 Auckland, NZ — (January 1, 2013) — Jonathan Allard and Kyle Larson won the first sprint car and midget car features respectively of the 2013 season Monday night at Western Springs Speedway.  Allard edged Peter Murphy by .094 seconds in a wild, wall banging finish to the sprint car race while Larson continues to impress dominating the midget car event.
Allard and Murphy were locked into a last lap battle for the sprint car victory.  Murphy got on the outside of Allard through turns one and two.  The duo made contact coming off turn two and Murphy bounced off the wall.  Murphy then drove his car deep into turns three and four while Allard continued to run the bottom.  As they came off the fourth corner the two made contact with Allard nosing into the wall, crossing the finish line first.  Murphy had to settle for second with Danniel Eggleton, Ryan O'Connor, James McDonald, and Greg Pickerell rounding out the top five.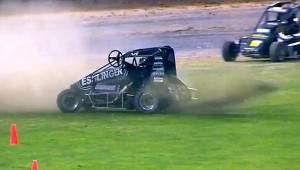 Kyle Larson cruised to victory in the finale tune up before the International 50-lap feature event on Thursday.  Bryan Clauson, Michael Pickens, Scott Buckley, and Steve Buckwalter rounded out the top five.
Sprint Car Feature:  1. Jonathan Allard, 2. Peter Murphy, 3. Daniel Eggleton, 4. Ryan O'Connor, 5. Jamie McDonald, 6. Greg Pickerell, 7. Jamie Duff, 8. Raymond Griffen, 9. Rob Corscadden, 10. Dean Brindle, 11. Dean Shadbolt, 12. Harry Thompson, 13. Dion Kendall, 14. Andrew Marks, DNF:  Skinny Colson, Rodney Wood, Scott Fountain, Bradley Tyrell.
Midget Car Feature:  1. Kyle Larson, 2. Bryan Clauson, 3. Michael Pickens, 4. Scott Buckley, 5. Steve Buckwalter, 6. Hayden Williams, 7. Cory Kruseman, 8. Duane Hickman, 9. Dave Gick, 10. Chris McCutcheon, 11. Chris Gwilliam, 12. Harley Taylor, 13. Peter Hunnibell, Not Classified,        DNF: Rose Halfpenny, Dave Darland, Brad Mosen, Jerry Coons, Brock Maskovich, Ricky Logan, Jared Wade