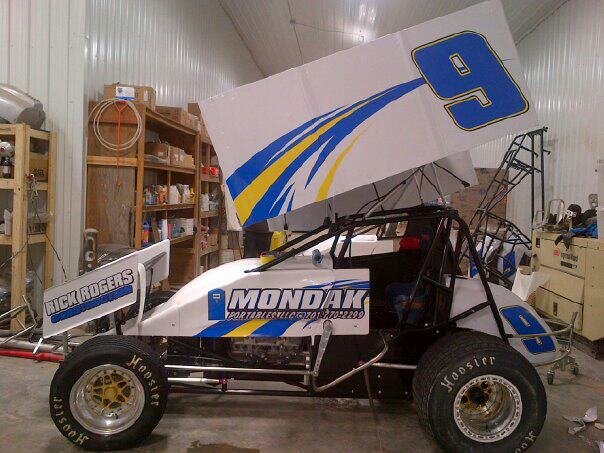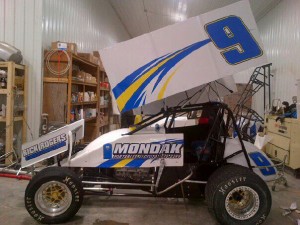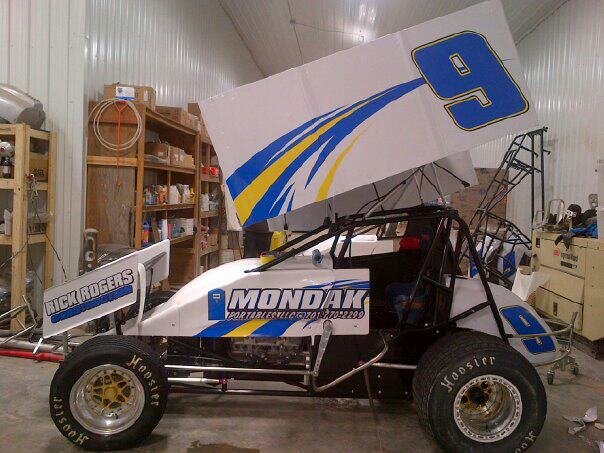 From Peterson Media
In the middle of the 2012 season, Jayme Barnes teamed up with Williston, ND car owners, Rick and Barb Rogers, and piloted the Destiny Motorsports No.17 machine in a very limited schedule out west.
Fast forward to 2013, and the team has a new look, new number, and new, aggressive race schedule.
"I am very happy, and excited to get going with 2013," said Barnes. "We came together last year and had success, and this year we have put together a very grueling schedule, but it should be a blast."
No sporting a white car with blue and yellow graphics, Destiny Motorsports will sport the number nine when they fire off for their season opener next Wednesday night.
After milling over schedules of various sanctioning bodies across the country, the team decided to not chase points anywhere, and run a 'true-outlaw' schedule running coast to coast.
"It's always been a dream of mine to run across the country, and I'm looking forward to it," Barnes said. "Rick and Barb Rogers are great people, and have supplied us with some great equipment, and I'm excited to compete against the world's best on a nightly basis."
Allen Terrell, Barnes' longtime friend, and crew chief, has been brought in to turn wrenches on the Mondak Portables/Rick Rogers Construction/Eagle Motorsports machine, a partnership that Barnes is very happy will continue.
"The two of us have had success in the past, and anytime you can work with someone for that long and get comfortable with, makes driving a car a little bit easier," he said.
Kicking the season off in Georgia next Wednesday night with the All Star Circuit of Champions, they will follow the series to Florida and compete with them at Volusia, before taking part with the World of Outlaws at the same facility.
Following the 410 portion on Florida, they will bolt in their 360 power, and compete for four nights at East Bay. The team then plans to compete with the Lucas Oil ASCS National tour at the beginning of March, before following the Outlaws with their West coast swing.
"It's going to be tough, and humbling at times, but I'm up for the challenge, and very thankful for this opportunity."
Jayme and his team would like to thank Mondak Portables, Rick Roger Construction, Eagle Motorsports, Speedmart, Wesmar Racing Engines, Driver Websites, and Benic Enterprises for their support through the 2013 season.
2013 BY THE NUMBERS: Starts-0, Wins-0, Top 5's-0, Top 10's-0
ON TAP: Jayme and his Destiny Motorsports team will make their 2013 debut on February 6-7 at the Screven Motorsports Complex, before heading to Bubba Raceway Park on the 8-9.
STAY CONNECTED: Stay updated with Jayme Barnes and Destiny Motorsports by connecting via social media, www.facebook.com/destinymotorsports, and on Twitter, @DestinyMS9. There is a website currently being constructed, and will be launched in the coming weeks.