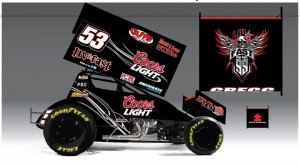 From Peterson Media
Continuing to make big changes to his GUTS Racing team, Andy Gregg is excited to welcome LivFast Clothing Co. on board for the 2013 season.
Located in Reno, NV, LivFast Clothing Co. is evolving as one of the action sports industries biggest  clothing and merchandising companies, the same industry Gregg cut his teeth in growing up, making this an ideal partnership.
" It has been a long time coming to partner with LivFast Clothing Co., and I'm super excite to partner with them," said Gregg. "With my dirtbike background, and my every day job, it's exciting to bring that element into the sprint car scene, and hopefully see their clothing line take over our fan base."
LivFast is a clothing line that has recently partnered with the largest retailer in the world, Wal-Mart, to bring extreme action sportswear to you. Currently LivFast Clothing Co. is featured in Wal-Mart's in Northern Nevada, Idaho, and currently working at getting in their western state locations.
For the past few years, Gregg Andy has had a strong working relationship with LivFast Clothing Co. In 2013 they have decided to take their relationship to next level and partner up on the racing side of things.
"Andy Gregg is one of the top sprint car drivers on the West Coast," said Tim O'Brien, Founder of LiveFast Clothing Col.  "A true fan favorite, Andy brings a "on the gas" style swagger to our team. Andy is the type of driver that brings fans to the track and has a huge younger generation following."
"LivFast is an amazing company, and the partnerships they have with companies such as Wal-Mart and Monster Energy are great, and hopefully we can all build a relationship with eachother," Gregg added.
Fans are encouraged to check LivFast out online by visiting their website at www.livfast.com or checking them out on facebook at www.facebook.com/livfastclothing, and remember, LivFast, Ride Hard.
ON TAP: Andy will open his season on March 2, 2013 at the Marysville Raceway Park for the Sherm Toller Memorial.
STAY CONNECTED: Stay up to speed with Andy by following him on twitter @andygregg16x.