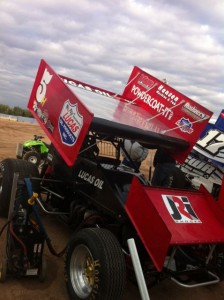 From Peterson Media
Making his return to regular racing in 2013 driving for VanDyke Motosports, Justyn Cox had an up and down weekend with the Lucas Oil ASCS National Series over the weekend in Tucson, AZ.
Scheduled for two night's of action, Cox and his JRI Shocks/K&N Products/Rodgers Racing Engines powered team kicked their weekend off on Friday night as he lined up on the pole of his heat, which he went out and won, locking himself into the feature.
Pulling the four in the redraw, Cox and his JRD Endeavors/STL/College Cyclery lined up for the feature in the second row, and the Sacramento, CA driver had a great start has he stayed in the lead pack on the racy track.
Running in the top five for the entire race, trouble with just six laps remaining as Cox made a self admitted mistake.
"I was running the bottom, and got two low and made some contact with a tractor tire," he said.
The contact was light, but the damage was heavy, and Cox's night would be over.
"I made a mistake, and it cost us a top-five finish," he said. "Harley, Scotty, and Fez worked hard all night and gave me a good car, the driver just got in the way."
Returning to action on Saturday night, Cox would start his heat in the third spot, and finish in the same spot, not earning any passing points, forcing him to the B, where he would start fourth.
With only three cars transferring, Cox grabbed the third spot on the tricky track, and held on to transfer to the feature event.
Lining up in the seventh row, Cox knew he would have his work cut out for him, as passing had been a tough deal all night long.
"The guys gave me a great car, but it was flat, tough to pass," he explained.
Being careful to hold his spot, and not make a mistake to lose his spot, JC would hang on to a 14th place finish.
"It was tough, but we were able to hang on and not make any mistakes. I haven't raced much the last year, so it was good to get out, and go up against some of the best in the country. I can't thank Harley VanDyke, and all my guys enough for this chance."
Justyn and his VanDyke Motorsports team would like to thank K&N Products, JSI Shocks, Rodgers Racing Engines,  JRD Endeavors, Sacramento Theatrical Lighting, and College Cyclery for their support during the 2013 season.
2013 BY THE NUMBERS: Races-3, Wins-0, Top 5's-0, Top 10's-0
ON TAP: Cox and his team will return to action with the ASCS National Tour this weekend at the Cocopah Speedway in Peoria, AZ.
STAY CONNECTED: For the latest news on Justyn become a fan of his on facebook at www.facebook.com/JustynCoxRacing or follow him on twitter @justyncox_jc.