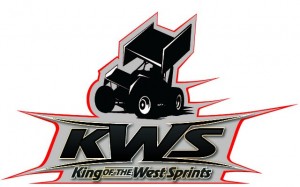 From Gary Thomas
Rio Vista, CA – (March 14, 2013) – The King of the West 410 Sprint Car Series is happy to welcome Riverside, California based K&N Filters to its growing list of contingency partners for the upcoming 2013 racing season that kicks off Saturday April 20 at the Antioch Speedway.
At each of the 28-nights of competition for the King of the West Sprint Car Series this year, K&N Filters will award the main event winner with a $100 certificate and the runner up with a $50 certificate. K&N will also support the season ending championship awards banquet with other giveaways as well.
"A lot of engine builders in the industry stand by K&N Filters and I know that for my racing endeavors I certainly do too," said three-time USAC Silver Crown champion & last year's KWS Pombo/Sargent Classic winner Bud Kaeding. "K&N makes the best oil and air filters on the market and I've been proud to be associated with them for many years now."
K&N Engineering in Riverside, California is the world's leading manufacturer of washable performance air filters and air intake systems. K&N invented the reusable high flow cotton air filter in 1969 and has been perfecting the technology ever since. K&N is a world class filtration company selling air filters, oil filters, and intake systems worldwide.
K&N sells over 5,000 products designed for cars, trucks, motorcycles, engines, and industrial applications. From their Million Mile Warranty to their Consumer Protection Pledge, K&N stands behind their products and their consumers 100%. The distinctive K&N logo represents performance from one of the original performance companies. For more information, visit http://www.knfilters.com
Three-time King of the West 410 Sprint Car champion Jonathan Allard and his Williams Motorsports team are also associated with K&N Filters and had this to say: "K&N Filters provide us with the components that we need to win races. My Crew Chief Ashley Smith busts his tail in the shop during the week using K&N products to get our car ready to go compete and have the opportunity to win races and championships."
To be eligible for the K&N Filters contingency awards with the King of the West Sprint Car Series, competitors must display the K&N Filters decal on their car. The K&N decals will be provided each night at the KWS command center.
The 2013 racing season for the King of the West 410 Sprint Car Series will get underway on Saturday April 20 at the Antioch Speedway in Antioch, California. Three-time & defending series champion Jonathan Allard will look to open the season in a big way, but will face a strong field of challengers at the always action packed one-third mile clay oval.
Among the drivers looking to take over the top spot from Allard this season is Sacramento's Kyle Hirst, who assumes the seat of the Dennis & Teresa Roth owned Roth Enterprises No. 83jr sprint car. Hirst last year drove the Roth Motorsports mount to a King of the West victory in Antioch and also claimed the 50-lap finale at the prestigious Trophy Cup in Tulare.
Just a few of the other title contenders are sure to include Sacramento's Willie Croft, who is behind the wheel of the Clyde Lamar owned 3c machine this year, 13-time champion Brent Kaeding, former titlist Jason Statler, New Zealand Sprint Car Champion Peter Murphy, past Silver Dollar Speedway 410 champion Bobby McMahan, former Trophy Cup titlist Craig Stidham and more.
More drivers set to take on the Antioch Speedway April 20 will include two-time KWS champ Tim Kaeding of San Jose, Scotts Valley's Evan Suggs, St. Helena's Rico Abreu, Fremont's Shane Golobic, Prunedale's Justin Sanders, Visalia's Cory Eliason, Fair Oak's Chad Compton, Chico's Brad Bumgarner & Kenny Allen, Auburn's Richard Brace Jr., Oakhurst's Doug Gandy, Laton's Geoffrey Strole, Rhode Island transplant Eli Deshaies, Rio Vista's Danielle Simpson, Grass Valley's Pat Harvey and others.
The Antioch Speedway is located at the Contra Costa County Fairgrounds on the corner of 10th & L Streets in Antioch, California. Take SR-4 East (Highway 4) to the Somersville Road North Exit. Follow Somersville Road to 10thStreet. Turn Right on 10th Street. The address for the track is 1201 W. 10th Street Antioch, CA 94509.
Information on the fire breathing King of the West 410 Sprint Car Series can be found online at http://www.kwssprints.com and by tuning in to "KWS Tonight" every Thursday evening throughout the season on the homepage of the website.
Be sure to like us on the KWS Facebook Page at http://www.facebook.com/kingofthewestsprints and become a member of our Twitter community at https://twitter.com/KwsSprintRacing along with subscribing to us on You Tube by checking out http://www.youtube.com/user/kingofthewestsprints?feature=mhee
You can also follow us on Instagram by searching "kwssprints" and contact us via phone at the King of the West office (707) 374-2222. For questions or comments please don't be hesitate to shoot us an email at kwsseries@yahoo.com