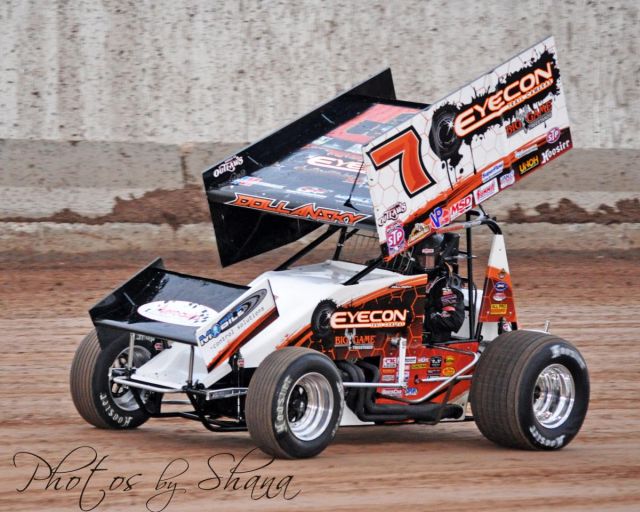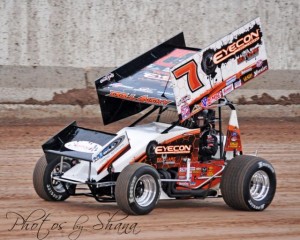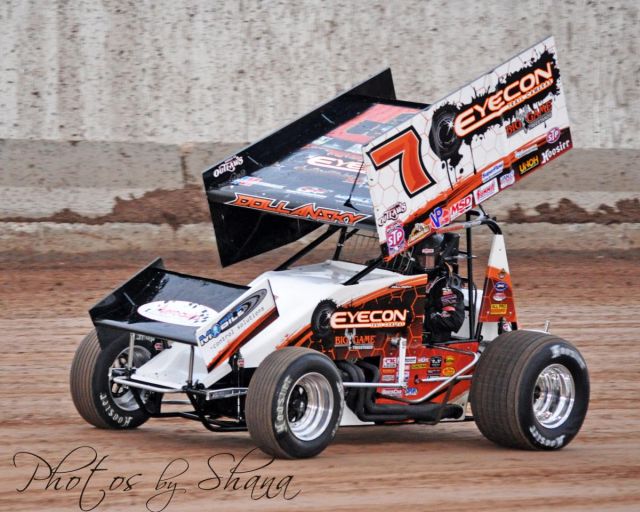 From Craig Dollansky
The early season West Coast swing for Craig Dollansky and the rest of the STP World of Outlaws rolled on Friday. Set to open up the month of April, the Eyecon Trail Cameras #7 team prepared for action at Antioch Speedway for their third overall appearance and first of two stops in 2013.
With 35 drivers signed in for competition at the tight 3/8-mile track in California, qualifying saw Dollansky stop the clock at 12.096 seconds, 21st fastest. Missing the sixteen car inversion for heat races meant the Aggressive Hydraulics Maxim would be on the outside looking in for the start of heat one. Battling a track that received a significant amount of rain earlier in the week, passing was at a premium with the Elk River, Minnesota native just missed a transfer spot finishing 6th. Forced to run the B-Main, Dollansky started on the pole and led all 12 laps moving on to the main event.
In the 30-lap A-Main, the MobileStar backed sprinter started inside row eleven. Gaining four spots by lap 3, Dollansky tried to work past Jac Haudenschild as the main event continued but couldn't advance. Passing again proved difficult for not only Dollansky, but all the competitors as nobody made significant progress in the feature that went green to checkered with the 'The Crowd Pleaser' finishing 17th.
With racing action tonight at Calistoga Speedway rained out, the Eyecon Trail Cameras #7 team will now turn attention to Kings Speedway in Hanford, California where STP World of Outlaws competition resumes next Friday, April 12th.