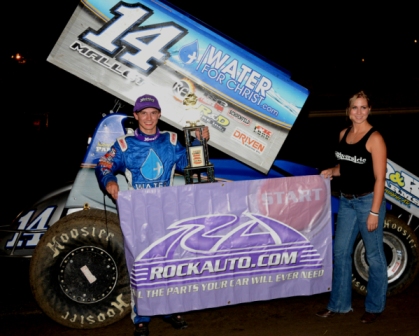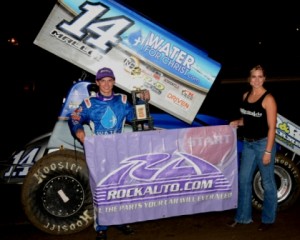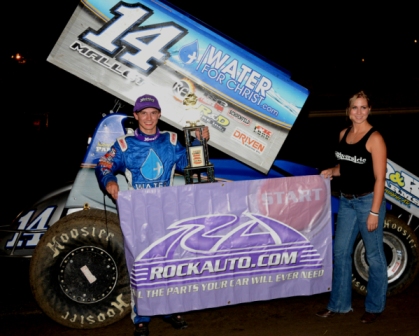 From Pete Walton
West Memphis, AR – (June 29, 2013) – The 2011 United Sprint Car Series Outlaw Thunder Tour Rookie of the Year, Jordon "the Jet" Mallett from Greenbrier, Arkansas passed second year USCS sprint racer, Justin Webb from Drummonds, Tennessee on lap twelve and raced his way into the www.rockauto.com USCS victory lane for a career second time at historic Riverside International Speedway on Saturday night in the USCS Sprint Speedweek 2013  placefinal.
The young gun (Mallett) diced his way through lapped traffic like a seasoned veteran and held off veteran Zack Pringle from Benton, Arkansas for the win. Pringle collected the runner-up check with defending series Champion, Tim Crawley also from Benton, Arkansas finishing in the K&N Filters Podium Award third position. Early race leader, Justin Webb finished in fourth place and ten-time series Champion, Terry Gray from Bartlett, Tennessee rounded out the top five.
Six-time 2013 feature winner, Derek Hagar from Marion, Arkansas charged from twenty-third starting position to lead the next group in sixth. Multi-time track Champion and 1998 USCS National Champion, Eddie Gallagher from Olive Branch, Mississippi finished seventh. Rookie Howard Moore from Memphis, Tennessee followed in an impressive eighth place. Casey Rowland from Nesbit, Mississippi finished in ninth place and Rookie Brandon Hanks from Burlison, Tennessee won the second B-Main, then charged from sixteenth to tenth place in the A-Main.
Terry Gray won the six-lap Hoosier Speed Dash. Gray, Justin Webb, Anthony Nicholson, A.G.Rains  and Zack Pringle all won heat races.
USCS Outlaw Thunder Tour Sprint Speedweek 2013 Finale.
Riverside Int. Speedway – West Memphis, AR – Saturday, June 29, 2013 results:
Hoosier Speed Dash winner: Terry Gray, Tim Crawley, Derek Hagar, Marshall Skinner, Anthony Nicholson and A.G. Raines.
Heat Race winners: Terry Gray, Justin Webb, Anthony Nicholson, A.G. Raines and Zack Pringle.
B-Main #1 winner: Greg Merritt
B Main #2 winner: Brandon Hanks
A-Main 30-laps:
1.      14 Jordon Mallett, Greenbrier, AR
2.      14z Zack Pringle, Benton, AR
3.       88 Tim Crawley, Benton, AR
4.       31 Justin Webb, Drummonds, TN
5.      10 Terry Gray, Bartlett, TN
6.      9Jr. Derek Hagar, Marion, AR
7.      1 Eddie Gallagher, Olive Branch, MS
8.      23 Howard Moore, Memphis, TN
9.      C4 Casey Rowland, Nesbit, MS
10.   3H Brandon Hanks, Burleson, TN
11.   16 Anthony Nicholson, Bartlett, TN
12.   39 Brad Bowden, Hernando, MS
13.   0 Andy McElhannon, Hernando, MS
14.   3 A.G. Rains, West Memphis, AR
15.   26 Marshall Skinner, Marion, AR
16.   40H Chad Jones, Senath, MO
17.   38 Tony Agin, Ft. Myers, FL
18.   44 Ronny Howard, Nesbit, MS
19.   12m Greg Merritt, Nesbit, MS
20.   12D Dalton Davis, Millington, TN
21.   42 Henry Gustavus, Marion, AR
22.   40 Raymond Stull, Independence, MS
23.   2 Lee Sowell, Lake Nesbit, MS
Did Not Start:
28 Jeff Willingham, Ripley, MS
13 Taylor Tidmore, Hernando, MS
5 Jerod Roller, Olive Branch, MS,
22 Kevin Kilpatrick, Walls, MS
27 Curt Terrell, Bartlett, TN
61 Cody Howard, Byhalia, MS
32x Robert Richardson, Pangburn, AR
25 Ray Bugg, Iuka, MS
2k Brandon Kilpatrick, Walls, MS
17g Cody Gardner, Little Rock, AR
11 Jake Roach, Sardis, MS
11p Skylar Pipkin, Millington, TN
58 Wade Oliver, Southaven, MS
USCS Outlaw Thunder Tour Race Awards:
Hoosier USCS Sprint Speed Dash: 10 Terry Gray
Engler Machine and Tool First Heat: 10 Terry Gray
Butlerbuilt Second Heat Award: 31 Justin Webb
K&N Filters Pole Award: 31 Justin Webb
JE Pistons Top Guns Award: 31 Justin Webb (4th place)
K&N Filters Podium (3rd place) Award: 88 Tim Crawley
Wilwood Disc Brakes Hardcharger Award: 9Jr. Derek Hagar
Keizer Aluminum Wheels Top Five Award: 10 Terry Gray
DMI/Bulldog rear Ends top Ten Award: 3H Brandon Hanks
305 sprint car feature results:
1. Tim Sites
2. Brad Bowden
3. Henry Gustavus
4. Eddie Gallagher
5. Matthew Baldwin
6. Ronny Howard
7. Ryan Roy
8. Brad Mcelhannon
9. Chaney Young
10. Barry Blue
11. Keith Mayes
12. Andy Mcelhannon
13. Samantha Gargus
14. Jason New
15. Tim Crawley
16. Mike Hoover