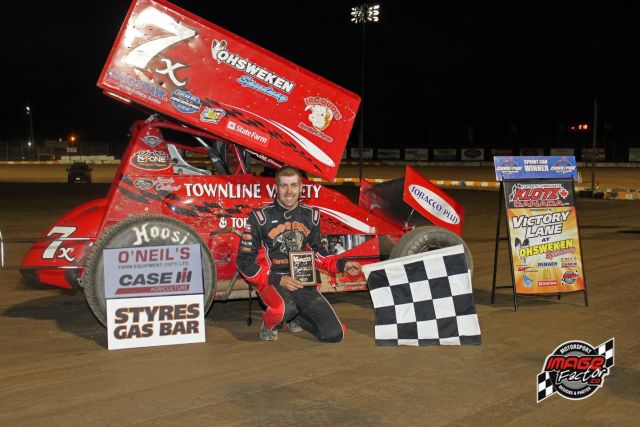 From Rich Vleck
Brockville, ON — (July 20, 2013) — Last July, Jamie Collard led wire-to-wire to win at Brockville over Devin Caron and Jared Zimbardi; a year later, the Patriot Sprint Tour event unfolded nearly the same way.
Collard, of Burford, Ontario, led all 25 laps of the A-Main of Saturday's Patriot Sprint Tour/CAOSS Sprint Challenge to claim the $2,000 top prize at the Brockville Ontario Speedway to become the first repeat winner in Patriot Sprint Tour competition this season.
"This feels great," exclaimed Collard in Victory Lane. "The track was really similar to what we had last year and we were just hooked up."
It was clear early in the evening that the ¼-mile high-banked oval known as "The Beast of the East" was going to slick off quickly and eventually begin to take rubber. As the 23 cars got ready for the feature, the inclination of abrasion became a reality and forced teams to be cautiously aggressive.
"I was holding back a little bit at the start because I wanted to save the right rear tire because I knew it was going to wear right out," added Collard.
Collard, who entered the night as the most-recent winner on the Patriot Sprint Tour, finished second in his heat race, which was good enough to get him in the A-main redraw where he was given the pole position. On the initial start, Collard won the drag race into turn one over outside polesitter Jared Zimbardi and then set sail from the field.
Caution flags would appear on lap four and lap six. On the third restart, Michael Parent, who started fourth, moved underneath and Devin Caron for second and began to apply pressure on the leader just before the night's only red flag on lap eight for a Dale Gosselin flip. Gosselin would walk away from his No. 3 but would be taken to a hospital for precautionary measures.
"I saw the 25 was coming up through but under the red flag Devin Caron came up and told me he had got him on the bottom so I hugged it down there a little bit more," noted Collard. "My biggest worry was that my right rear was going to blow."
After the field got back underway, Collard once again stretched out his advantage, but after six laps, he reeled in the back of the field and almost instantly Parent closed to gap. Collard was having a tough time holding Parent back when the yellow flag fell on lap 16 and gave him a chance to breathe.
In the closing laps, Parent was still giving chase to Collard, but when he attempted to move by a lapped car that had just made his way back in to the racing groove, Parent stabbed the brakes and surprisingly spun around his No. 25 ending his chance at his first PST feature win.
Jared Zimbardi would inherit the runner-up spot back, but could not reel in Collard, as the driver Miles Hill's No. 7x would capture his fifth win in PST competition. By virtue of his win, Collard is now tied atop the PST Canada Standings.
Zimbardi's second-place effort might seem unimpressive on paper, but after losing two spots early on with used tires he used a tight setup to reclaim the runner-up spot.
Devin Caron had his best career finish last July at Brockville when he finished second to Collard; the former PST Rookie of the Year was in the position again on Saturday, but would slip back to third in just his second sprint car start of the year.
In the final nine laps of the event, arguably the fastest car on the track was Justin Barger, who was running full-throttle around the track and in doing so drove from 7th up to finish in 4th. Barger is now tied with Collard for the PST Canada point lead.
Steve Poirier started in 11th but was up to fifth by lap eight. Poirier got as high as fourth but would fall back to finish in fifth.
Tommy Wickham would drive up to finish 6th for the fourth time this year, just ahead of Etienne Girard, who won his first career heat earlier in the night and ran up to 7th. Jason Barney entered the night as the PST Canada point leader and despite struggling would cross in eighth. Jeff Cook was the hard-charger on the night driving from 21st up to 9th. Chris Jones won his heat and was inside the top five most of the night but slid back to 10th.
Along with Girard and Jones claiming heat wins, Alain Boisvert captured his first heat win in what was his second start in a sprint car. Boisvert would slide back to 12th in the feature. Mitch Brown was the winner of the Original Pizza Logs Four Laps of Fame.
For more information visit www.PatriotSprintTour.com.
Patriot Sprint Tour Canada Series Results: 7/20/13, Brockville Ontario Speedway, Brockville, Ontario, CANADA.
A-Main (25 Laps)- 1. Jamie Collard (7x), 2. Jared Zimbardi (35), 3. Devin Caron (24K), 4. Justin Barger (5), 5. Steve Poirier (28FM), 6. Tommy Wickham (75), 7. Etienne Girard (422), 8. Jason Barney (87), 9. Jeff Cook (10c), 10. Chris Jones (11J), 11. Glenn Styres (0), 12. Alain Boisvert (73), 13. Lee Ladouceur (51), 14. Tyler Rand (84), 15. Michael Parent (25), 16. Keith Dempster (5K), 17. Patrick Vigneault (55), 18. April Wilson (15AW), 19. Mitch Brown (10), 20. Kyle Fraser (01), 21. Paul Pekkonen (98), 22. Dale Gosselin (3), 23. Rick Wilson (42w).
Lap Leaders- Collard 1-25.
Original Pizza Logs Four Laps of Fame Dash (4 Laps)- 1. Mitch Brown (10), 2. Tommy Wickham (75), 3. Steve Poirier (28FM), 4. Keith Dempster (5K), 5. Lee Ladouceur (51L), 6. Patrick Vigneault (55).
Heats (8 Laps Each)-
Race 1: Boisvert, Collard, Vigneault, Caron, Dempster, Pekkonen, Fraser.
Race 2: Jones, Parent, Ladouceur, Brown, Poirier, Rand, Cook, Gosselin.
Race 3: Girard, Barger, Zimbardi, Wickham, Styres, Barney, A. Wilson, R. Wilson.
PST Canada Series Standings (Top 10)- Barger and Collard 553, Poirier 552, Barney 549, Zimbardi 520, Styres 505, Wickham 502, Brown 485, Dempster 402, Jones 377.
Original Pizza Logs Dash Series Standings (Top 5)- Suprick 15, Poirier 14, Collins 13, Dempster and Brown 12.
Gater Racing News Hard Charger of the Season Standings (Top 5)- Barney 33, Howland 26, Wickham 25, Kreutter 21, Collard 20.