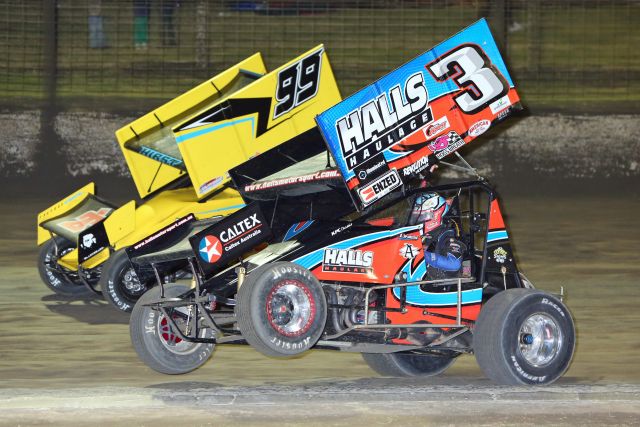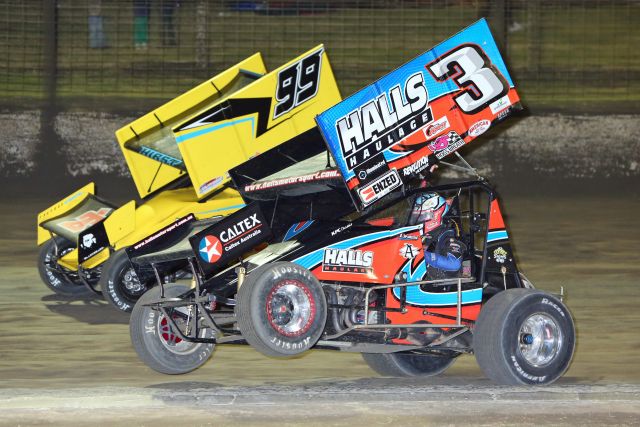 From Daniel Powell
One of the country's leading Sprintcar drivers, Steve Lines, has been confirmed as one of the entrants in the 2013 Top End Challenge that's going to be held later this month at Northline Speedway in Darwin, Northern Territory.
The Halls Motorsport team driver, who won last season's Grand Annual Sprintcar Classic and finished third in the Australian Title, returns to Northline Speedway for the first time since last season's Chariots of Thunder Series. During last season's visit, the South Australian was hampered by engine woes, and it consequently robbed him of challenging for the win.
The Top End Challenge will be the first hit out of the 2013-14 season for Lines. He's not only looking to make amends for last season's disappointing Northline Speedway trip, but get his 2013-14 season campaign off to a winning start.
In excess of 20 competitors, including fellow interstate entrants that includes Trent Pigdon from Western Australia and Wayne Logue from Victoria, will contest the Top End Challenge that's going to be held over two consecutive weekends: Friday and Saturday night of August 23 and 24 for the Darwin Title, and then the Friday and Saturday night of August 30 and 31 for the Northern Territory Title.
Apart from a lot of healthy competition, there's $2,000 up for grabs for the feature-race winner on both Saturday nights. There's also encouraging tow money on offer for competitors travelling from interstate. There will be $1,500 on offer in tow money for interstate competitors. In total, there's going to be a prize pool of $15,000.
The Top End Challenge format will be two rounds of heat races (10 laps) and a preliminary feature race (20 laps) on the Friday nights, while the Saturday night events will consist of a further two heat races (10 laps), B main (15 laps), and feature race (40 laps).
All entrants must have 360 Sprintcars that are SCCA registered. Other requirements are running the new rules of the front torsion bar plugs, and Hans and neck devices have to be within five years of its stamp.
Top End Challenge nomination forms can be obtained by emailing racing@darwinspeedway.com.au, or to find out more information contact Jason McIver 0408 818 544 or Mark King 0447 021 705.
Nomination forms can also be downloaded from the www.nt360sprintcars.com.au website.
To find out more about NT 360 Sprintcars, visit their official website: www.nt360sprintcars.com.au