Inside Line Promotions
MACON, Ill. (Sept. 24, 2013) – Andrew Felker has been so close to a victory the past couple of weeks he can taste it.
Unfortunately last Saturday he had to settle for his sixth runner-up performance this season after leading half of the POWRi Lucas Oil National Midget Series feature at Macon Speedway.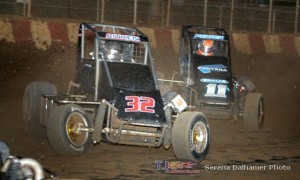 "It's always good to end up on the frontstretch after the race, but we should have picked up the win," he said. "We just got to racing at the wrong time of the race. It sucks the last two weeks to lead the first half of the race and not finish them off with wins."
Felker charged from fourth place to win his heat race with a late pass, earning him the most points of any driver during the heats and the pole of the main event.
"About the first probably four laps I got stuck running third," he said of his heat race. "For the most part everybody had been running on the bottom. I got underneath the second-place guy and he kept holding me up on the exit of the corners. We got a caution and I committed to the top. Everybody who was going up there was getting way too tight and pushing. When you got in there you couldn't lift. You just had to stay in it hard and drive it into the corner hard."
Felker took over second place on the restart and gained the lead going down the backstretch toward the white flag.
The main event was just as exciting from the front row.
"On the first lap Tyler Thomas got a good jump on us," he said. "I beat him off turn four. We ran about four laps and had a red flag. Then ran two more and had a red flag. From there we went green."
After the couple of delays early in the feature, Felker led most of the first half of the race before he and Thomas began trading slide jobs.
"I went to slide him in (turns) three and four and he kinda slid himself," he said. "We killed so much momentum. It allowed Danny Stratton to get the lead. I reeled in Stratton in lapped traffic. Everybody was pretty much on the top. I ended up sliding Danny for the lead on Lap 27 and he got back around us."
After quickly taking the lead with a handful of laps remaining, Felker was unable to make a late-race move and settled for second place. It marked his 17 th top five of the season and his ninth consecutive top-10 result.
"It was a real good race, a good battle for the lead," he said. "Behind me they said there were four or five of them trading sliders and bouncing off the fence."
Felker is set to compete this Saturday at Belle-Clair Speedway in Belleville, Ill., for the Charlene Meents Memorial with the POWRi Lucas Oil National Midget Series.
QUICK RESULTS –
Sept. 21 – Macon Speedway in Macon, Ill. – Heat race: 1 (4); Feature: 2 (1).
SEASON STATS –
42 races, 1 win, 17 top fives, 31 top 10s, 37 top 15s, 40 top 20s
UP NEXT –
Saturday at Belle-Clair Speedway in Belleville, Ill., for the Charlene Meents Memorial with the POWRi Lucas Oil National Midget Series
MEDIA LINKS –
Website: http://www.AndrewFelkerRacing.com
Twitter: https://twitter.com/AndrewFelker11a
VIDEO –
Here is a link to XSANTV's in-car footage of Felker finishing second at Jacksonville Speedway in Jacksonville, Ill., on April 26: http://youtu.be/tSwLTs5L1Zk
SPONSOR SPOTLIGHT – Engler Machine & Tool, Inc.
Established in 1980, Engler Machine & Tool, Inc., builds fuel injection systems, custom made pulling chassis, gears, shafts, specialty CNC products, racing engines and some custom machining. For more information, visit http://www.EnglerMachine.com.
"I've been with Engler Machine & Tool for three and a half years now and you can't get better customer service than Engler," Felker said. "I wouldn't drive a race car without Engler injection on it."
Felker would also like to thank Auto Xpress, 66 Truck & Foreign Salvage, Fontana Automotive, MelMark Pipe & Supply, Schluckebier Farms, Pro Powder Coating, CSI Shocks, All-Pro Auto Interiors, Aggressive Graphics, Momo's Racing Engines, KBR Performance, Weld Wheels, KMK Enterprises, Heath II, Wilwood, Maxim Racewear and Leading Edge Composites for their continued support.