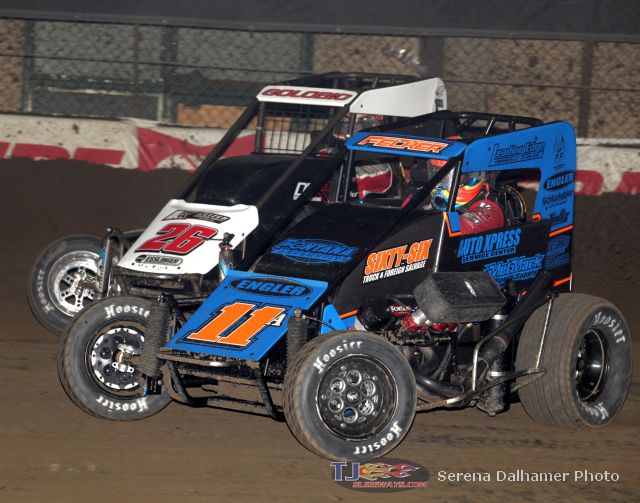 Inside Line Promotions
– KOKOMO, Ind. (April 15, 2014) – It was a rush for Andrew Felker to make it to the Kokomo Grand Prix last Friday.
"We were finishing building a motor all day Friday," he said. "We got the parts at noon and finished building the motor and got off the dyno at 4:30 with an hour and a half drive to the track. We got there after hot laps were over."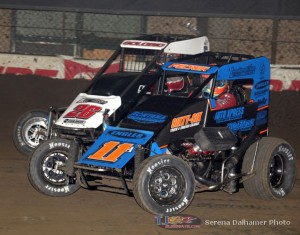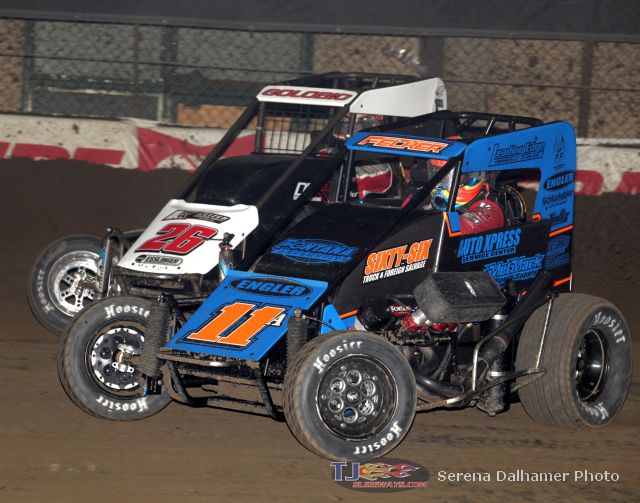 Felker missed hot laps and was unable to qualify because of an electrical issue during the opening part of the Honda USAC National Dirt Midget Series and POWRi Lucas Oil National Midget Series co-sanctioned event at Kokomo Speedway.
That started Felker 12th in his heat race.
"I got up to fifth at one point," he said. "The car was really good. We were just off on the gear without having any laps on the track."
After placing sixth in his heat race, Felker was relegated to the back of the C Main. However, he charged from 14th to a runner-up result, which transferred him to the rear of the B Main. He then rallied from 18th to third in the consolation race before he ran out of fuel with three laps remaining.
That forced Felker to use a USAC provisional to start 26th in the main event.
"I really used the same line that I had through the C Main and B Main," he said. "We were running above the cushion a little bit. It was a little rougher, but we found our groove all night. I'd come off turn two and across the bottom of turns three and four."
Felker charged to a 12th-place finish, which earned him the Hard Charger Award for passing the most cars.
"I felt like I had a top-five car," he said. "Just starting that far deep, I wore out the car getting to that point."
Felker returned to Kokomo Speedway for Saturday's finale, which he kicked off by qualifying 19th quickest. He battled within the top four positions throughout his heat race, but ended fifth after losing the final lock-in position on the final lap.
Felker then survived the B Main after losing all of his tearoffs midway through the race. He came out on top of a three-wide battle at the checkered flag to finish seventh, which earned him a transfer to the main event.
"They reworked the track and I committed to the bottom," he said. "As the race went I kept tightening it up. I kept making adjustments. I felt like the bottom kept getting better and better as the top went away."
Felker maneuvered from 18th to record a seventh-place result, which was his sixth top 10 of the season.
"I was happy with a seventh-place finish after the start of the night," he said. "I definitely had a fast car. The new motor has a lot of power."
Felker will take this weekend off before returning to POWRi action on April 25 at Jacksonville Speedway in Jacksonville, Ill., and April 26 at Macon Speedway in Macon, Ill.
QUICK RESULTS –
April 11 – Kokomo Speedway in Kokomo, Ind. – Qualifying: DNQ; Heat race: 6 (12); C Main: 2 (14); B Main: 14 (18); Feature: 12 (26).
April 12 – Kokomo Speedway in Kokomo, Ind. – Qualifying: 19; Heat race: 5 (2); B Main: 7 (8); Feature: 7 (18).
SEASON STATS –
11 races, 0 wins, 2 top fives, 6 top 10s, 8 top 15s, 8 top 20s
UP NEXT –
April 25 at Jacksonville Speedway in Jacksonville, Ill., and April 26 at Macon Speedway in Macon, Ill., with the POWRi Lucas Oil National Midget Series
MEDIA LINKS –
Website: http://www.AndrewFelkerRacing.com
Twitter: https://twitter.com/AndrewFelker11a
Facebook: https://www.facebook.com/AndrewFelkerRacing
APPAREL –
Felker has t-shirts for sale at each of his races. To view his race schedule, visit http://www.AndrewFelkerRacing.com.
SPONSOR SPOTLIGHT – CSI Shocks
Located in Brownsburg, Ind., CSI Shocks, a.k.a. Competition Suspension, is a leader in the shock industry within short-track racing. Since its inception in 2009, drivers using CSI Shocks have won more than 500 races. For more information, visit http://www.CSIshocks.com.
"Since we've gone to the CSI Shocks program it has stepped things up with our program," Felker said. "Since they came out with the RS-X2, it's been a key to our success all year."
Felker would also like to thank Auto Xpress, 66 Truck & Foreign Salvage, MelMark Pipe & Supply, Engler Machine & Tool, Momo's Racing Engines, Fontana Automotive, Schluckebier Farms, Pro Powder Coating, All-Pro Auto Interiors, Aggressive Graphics, KBR Performance, Weld Wheels, KMK Enterprises, Heath II, Wilwood, Maxim Racewear, Leading Edge Composites and Liquid Nitro for their continued support.
INSIDE LINE PROMOTIONS –
Inside Line Promotions specializes in affordable public relations and media management for motor sports drivers, teams, sponsors, tracks, series, events, organizations and manufacturers. ILP Founder Shawn Miller leverages professional journalism with new media technologies and social networking to improve your exposure and the return on investment for your sponsors.
To meet the media relations needs of your program and to join Team ILP, contact Shawn at 541-510-3663 or InsideLinePromotions@gmail.com. For more information on Inside Line Promotions, visit http://www.InsideLinePromotions.com.