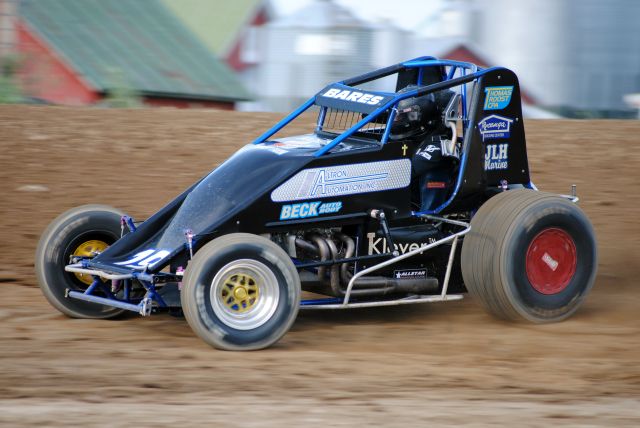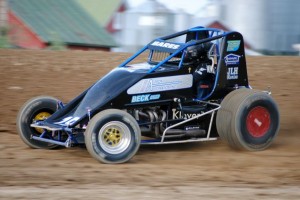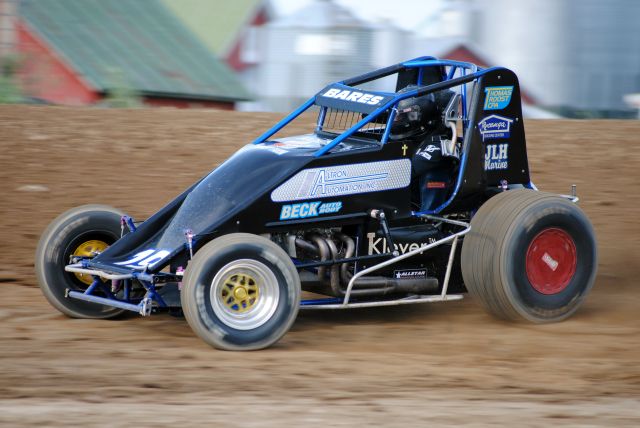 By T.J. Buffenbarger
Crystal, MI – (May 24, 2014) — Joe Bares used patience to his advantage to win Saturday night's Lane Automotive Michigan Traditional Sprints feature Sunday night at Crystal Motor Speedway.  "The Top Cop" recovered from losing the lead mid-race to Mike Burkin and used a three wide move on a late race restart to regain the top position and the victory.
Bares and Burkin started on the front row for the 25-lap feature event. Bares took the lead on lap one, but Burkin go a run and was able to run side by side for the lead. Burkin took the lead on lap two with Brett Mann moving up to third on lap three.   Two laps later Steve Irwin was on the move and slid past Mann for third off turn four.
Meanwhile Burkin was walking away from the field until Chris Durand brought out the caution flag after sliding off turn four while working lap seven.   Burkin was up for the challenge and pulled away after the restart.
Burkin hit lapped traffic and allowed Bares to close. Burkin got hung up behind Josh Turner and ended up losing the lead to Joe Bares. Shortly after the caution flag flew for Turner stopped in turn four. The caution allowed Burkin to retain the lead. During the caution Mann pulled off the track with mechanical issues after running third.
During the restart Bares, Irwin, and Burkin raced three wide for the lead with Bares taking the top spot as Burkin went off the track in turn three to bring out the caution flag again.
After another caution for Cooper Clouse sliding off the track in turns one and two Joe Bares pulled away with just four laps to go and was never seriously challenged. Irwin held on for second with Kevin Hawk rounding out the podium.