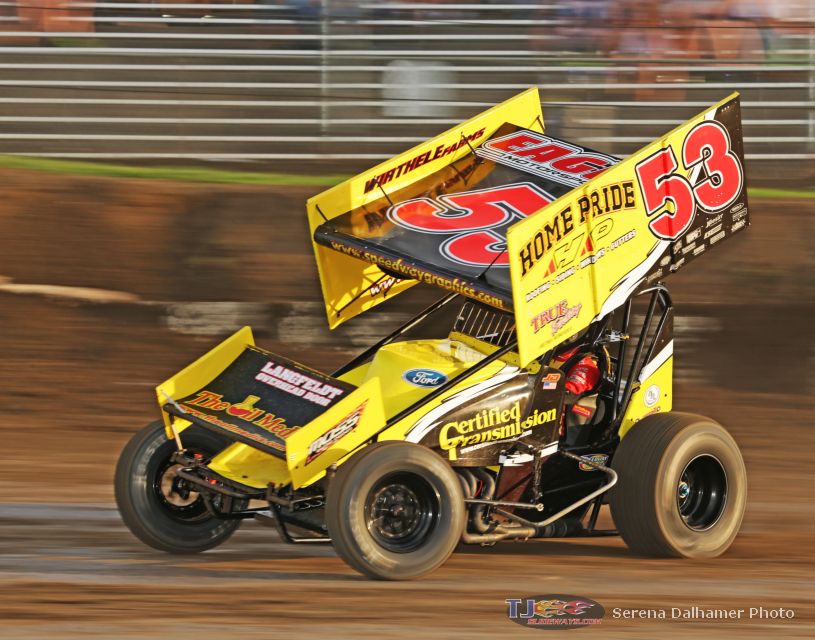 Inside Line Promotions
– PARK CITY, Kan. (June 17, 2014) – History remained in favor of Jack Dover as he garnered another Bud Shootout victory last weekend.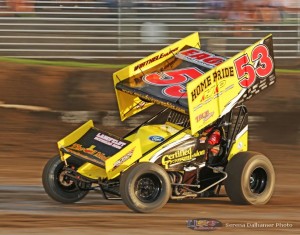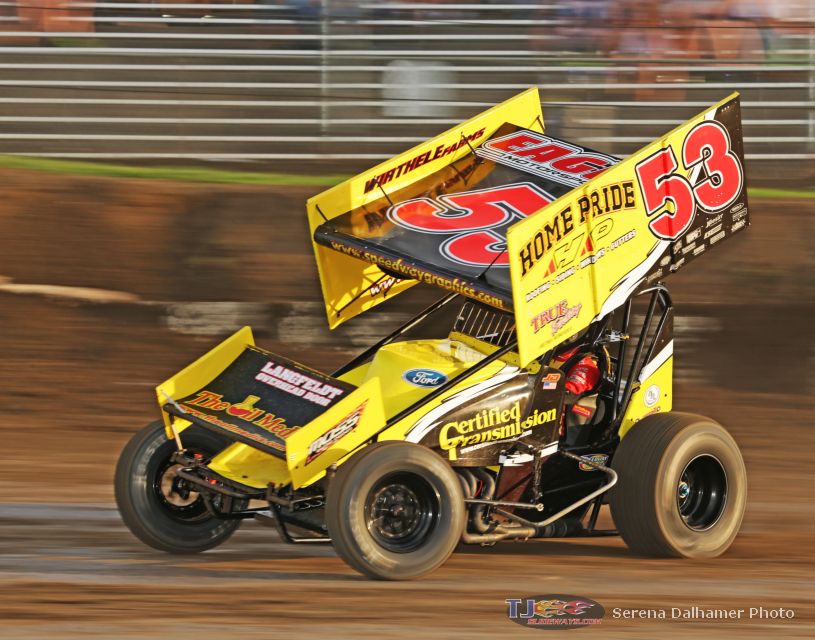 Dover dominated the 14th edition of the ASCS Warrior Region race last Friday at U.S. 36 Raceway near Cameron, Mo., where he was also victorious during the marquee event in 2010 and 2012.
The night opened with Dover winning his heat race from the pole position – a victory that provided a $500 bonus. That earned him enough points to advance into the feature redraw.
"I told the little girl who drew for me that I needed the No. 1 and she said, "I can do it. No problem,'" he said. "She pulled the No. 1."
That put Dover on the pole of 30-lap feature.
"We put a good distance on them in the heat race so I didn't do much to the car for the feature because the track didn't change much," he said. "We put some new tires on and some fuel in the car and went out there. We weren't challenged. At the end I kind of paced myself."
The victory was Dover's fifth of the season.
After taking Saturday off to celebrate his mother's birthday, Dover returned to action on Sunday at 81 Speedway with the NCRA. Dover piloted from fifth to fourth place in his heat race, which lined him up on the outside of the fifth row for the main event.
"I put a used right rear tire on that I probably should have thrown away," he said. "It was blistered and chunked out. It was definitely used and abused. But starting that far back I was like why not. I just wanted to save money starting that far back."
The tire didn't matter as Dover powered from 10th to fourth place on the opening lap. He advanced to third place on Lap 3 before gaining the runner-up position on a restart of that lap. Dover then took the lead with a slide job in turns one and two on Lap 11.
"To be honest the first lap when I was up to fourth and the tire was actually working I knew we were pretty good," he said.
Despite a couple of late cautions, including one that set up a green-white-checkered finish, Dover cruised to the win. It was his sixth victory of the season at his sixth different track in four states.
"It shows how strong our team is and how good our motors are," he said.
Dover will return to action this Saturday at Junction Motor Speedway in McCool Junction, Neb., with the Nebraska 360 Sprints.
QUICK RESULTS –
June 13 – U.S. 36 Raceway near Cameron, Mo. – Heat race: 1 (1); Feature: 1 (1).
June 15 – 81 Speedway in Park City, Kan. – Heat race: 4 (5); Feature: 1 (10).
SEASON STATS –
14 races, 6 wins, 12 top fives, 14 top 10s, 14 top 15s, 14 top 20s
UP NEXT –
Saturday at Junction Motor Speedway in McCool Junction, Neb., with the Nebraska 360 Sprints
MEDIA LINKS –
Website: http://www.JackDoverRacing.com
Twitter: https://twitter.com/JackDoverRacing
Facebook: https://www.facebook.com/jackdoverracing?fref=ts
SPONSOR SPOTLIGHT – Moss Racing Engines
Moss Racing Engines manufactures Ford racing engines. The company was started by Chris Moss, who worked under the Roush Yates Racing Engines banner before creating his own company in 2013.
"You can call Chris any time of the day or night and he'll help you," Dover said. "The engines are reliable. He hasn't had any engine failures so that says a lot for his name and product."
Dover would also like to thank Home Pride Companies, Inc., Certified Transmission, Eagle Motorsports, Thorpe's Body Shop, Trail Performance Coatings, Inc., The Oil Medics, ButlerBuilt Professional Seat Systems, Keizer Wheels, Schoenfeld Headers, Shaver Racing Engines, Langfeldt Overhead Doors, K&N Filters, FK Rod Ends, DMI, Speedway Motors and Vortex Wings for their continued support.
PARTNERSHIP OPPORTUNITIES –
Jack Dover Racing is close to being able to compete across the country by returning to the Lucas Oil ASCS National Tour, where Dover has finished in the top 10 both seasons he has raced full time with the premier 360 sprint car series. He is also ready to compete with the World of Outlaws STP Sprint Car Series en route to his dream of racing in NASCAR. The only variable missing is a reliable truck and trailer. For more information on partnership opportunities, e-mail teamdover@gmail.com.
INSIDE LINE PROMOTIONS –
Inside Line Promotions specializes in affordable public relations and media management for motor sports drivers, teams, sponsors, tracks, series, events, organizations and manufacturers. ILP Founder Shawn Miller leverages professional journalism with new media technologies and social networking to improve your exposure and the return on investment for your sponsors.
To meet the media relations needs of your program and to join Team ILP, contact Shawn at 541-510-3663 or InsideLinePromotions@gmail.com. For more information on Inside Line Promotions, visit http://www.InsideLinePromotions.com.