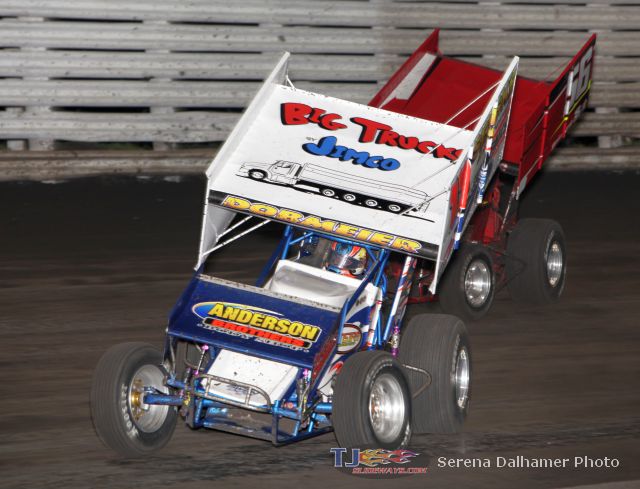 By Bill W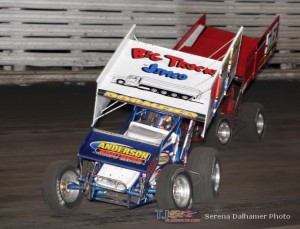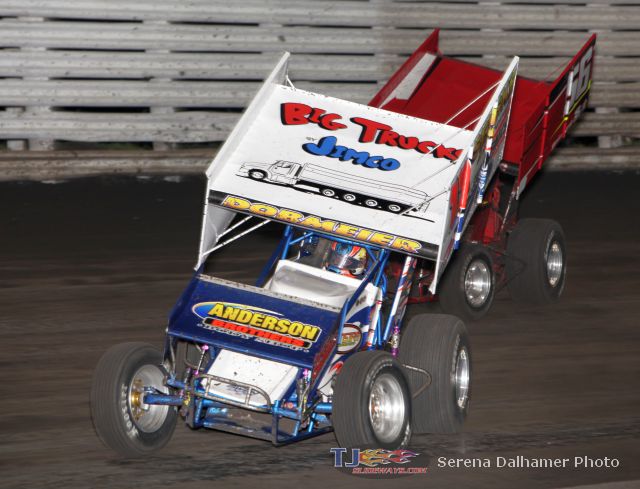 July 8, 2014 – Fourth of July week received all the fireworks it needed in the form of "Dynamite" Mark Dobmeier.  The Grand Forks, North Dakota sprint car ace reeled off three wins in three nights, including a defeat of the World of Outlaws at the Huset's Speedway near Brandon, South Dakota.  Other wins came with a $3,000 score at Huset's last Thursday and win at the hometown River Cities Speedway on Friday.  This weekend finds the Lunstra/Dobmeier #13 team at their usual triumvirate of tracks, River Cities, Knoxville Raceway in Iowa and Huset's, with a possible Thursday stop with the NOSA series at the Norman County Raceway in Ada, Minnesota.
Last Wednesday at Huset's, Mark timed in sixth quick with the World of Outlaws.  "We qualified in a tough spot to win the heat race," he says.  "We were able to get up to second.  There was no chance of the Dash, so that put us starting tenth in the feature.  We were running well though.  We qualified well and ran well in the heat."
It didn't take long to make a charge in the main event.  "We kind of got rock'n and rollin' right away," says Mark.  "We were picking off cars right and left.  We had a good car with potential, we just had to find our way through the frontrunners to get there.  I knew we had a good car and I kept going at it."
During his charge, Mark was spurred on by the Huset's faithful.  "We had a yellow and we were sitting in fourth place at the time," he says.  "I could actually hear the roar of the crowd sitting in the car.  When there are 10,000 fans there on their feet cheering for you, it gives you a little extra jolt of adrenaline!"
The restart was a good one for Mark.  "We were able to pick off (Donny) Schatz right away and got by Kinser," he says.  "We set our sights on (Sammy) Swindell.  I knew we were a little better than him, because I got to him in a hurry.  I just had to find a way around him.  We came to a lapped car and he went to the inside of him, and I went around him on the outside.  He spooked the lapped car up so I kind of wedged it through that hole.  We made it through that unscathed, but we bent the left rear wheels a bit going for the lead.  Fortunately, the tires stayed inflated."
Another caution set up another double-file restart.  "We ended up restarting right beside Sammy, and we had lane choice," says Mark.  "I wasn't sure which lane to pick.  He slid me a couple times from there.  He tried one in three and four, and I was able to drive around him and take the lead for good at that point.  I thought we were clean sailing, and then the track started taking rubber and the lapped cars got faster and faster.  I had to hunker down on the bottom a little bit, and coming out of turn two I was slipping up a bit.  I couldn't hold it down there.  On the final lap, Schatz showed me his nose on the backstretch and I was able to hold him off and finish it off.  It was definitely an action packed race!"
Mark's third career win with the Outlaws gave him momentum heading into a special $3,000 to win event on Thursday at Huset's.  "We qualified well (2nd), and started fifth in the feature," he says.  "I got to second behind (Terry) McCarl.  He had a fast pace set zipping around the cushion.  I could catch him, but I couldn't do much with him.  We had a lapped car towards the end to mix it up a little bit.  He made a choice to go to the bottom, and couldn't quite get by, so I snuck around him on the top."
The second win in two nights set up his third at River Cities on Friday.  "We started in the back of the heat, and we were able to win that," says Mark.  "We started ninth in the feature, and we got to a restart where I was sitting seventh.  We were able to hit the top and get around six cars into second, and we got the lead with about ten to go.  The track was definitely quite a bit drier than usual.  It was just enough to make it work around the top."
Saturday brought a diversion from the norm.  "We tried to go to Knoxville on Saturday, and made it to Brookings, South Dakota before they called the races off," says Mark.  "I did something I hadn't done in years, and I went to the parent's lake cabin in northern Minnesota.  I kind of surprised everyone there.  They hadn't seen me there in the summer for years.  We had fun, and headed for Huset's the next morning."
Despite not getting another win, Mark managed a top five at Huset's on Sunday.  "It was a bit on the drier side," he says of the track.  "We qualified fourth and went from fifth to second in the heat.  In the feature, we started seventh and ran fourth.  It wasn't a typical Huset's track.  It was gut slick from the top to bottom.  You could run the heck out of the top but not gain much ground."
The Lunstra/Dobmeier team would like to thank Senske and Son Transfer, Big Trucks by Jimco, Sioux Falls Ford, Steffe's Auctioneers, Dammer Trucking, ACME Tool, Strong Box and Tire Boss for all their help!